Sac State students participate in snowshoeing experience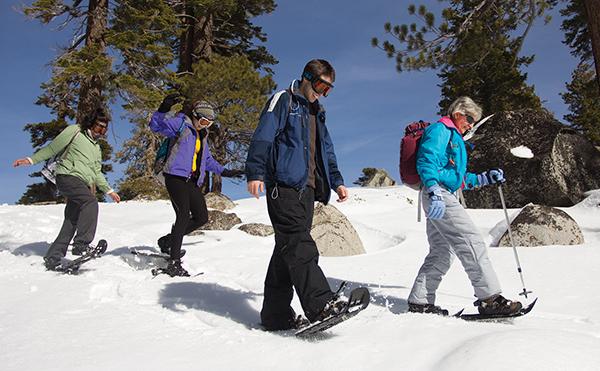 Ten Sacramento State students and alumni trudged through snow-covered slopes on Saturday as part of Associated Students Inc. Peak Adventures' snowshoeing adventure.
The snowshoeing trip's organizers and attendees geared up at 8 a.m. for a trip to Echo Summit, located approximately 90 miles from Sacramento. The cost $40 for Sac State students and $57 for non-students, which included guides, equipment and transportation.
Saturday's hike was this semester's first snowshoeing trip for Peak Adventures, which organizes winter activities like skiing as well as summer activities such as rafting. The outdoors-focused organization runs based on student fees, revenue and ASI grants.
Tom Higgins, trip leader for ASI Peak Adventures, said Peak Adventures tried to schedule a snowshoeing trip for the week prior, but it was cancelled due to the higher than normal temperatures.
"It's going to be perfect today," Higgins said before the trip. "The beauty of California is that you can experience the snow while in spring-like weather,"
The trip was marked as a two on the difficulty scale, which means it's geared for intermediates, but Higgins said the trip was more designed for people of all skill-sets.
"Most of the people that do this trip are first-timers," Higgins said. "It's more of a vigorous introduction than anything else."
Anna-Maria Gshwandtner, an alumna who was one of Sac State's first graduates of the gerontology program, said she felt the trip was perfectly suited to its participants.
"While it was definitely a good aerobic exercise, we weren't completely wiped out after doing it," Gshwandtner said. "Actually, after the hike was done we had an extra hour to relax before we were taken home, and a group of us used that opportunity to take another short walk."
After the pre-trip meeting and drive, the group hiked through the snow for three hours. The trip leaders took the group through parts of the Pacific Coast Trail, which extends from Canada to Mexico, as well as portions of the Tahoe Rim Trail, which stretches across the rim of Lake Tahoe's basin.
"There weren't any footprints on the trail we were on – we were the only snowshoeing group out there," Gshwandtner said. "We did see some animal tracks out there though."
Due to the length of the hike, participants were asked to bring bottles of water and pack some food to keep their energy up.
"We stopped at the side of a lake that had frozen over when we took a break to eat our lunch," Gshwandtner said. "It was a very serene, scenic moment."
Peak Adventures has planned for another snow-shoeing trip to take place on Saturday, provided the temperature is not too high. A "Starlight Snowshoe Hike" has been scheduled for the week following, which will allow students to experience snow-shoeing in the night.
The organization has scheduled skiing lessons at Boreal and Squaw Valley ski resorts periodically this month, along with a snow camping trip for next month.
"The fun thing about Peak Adventures' trips is that you can be with people as they realize they can do something for the very first time," Higgins said.
Brett Johnson can be reached at [email protected].