Early results show improved performance for track and field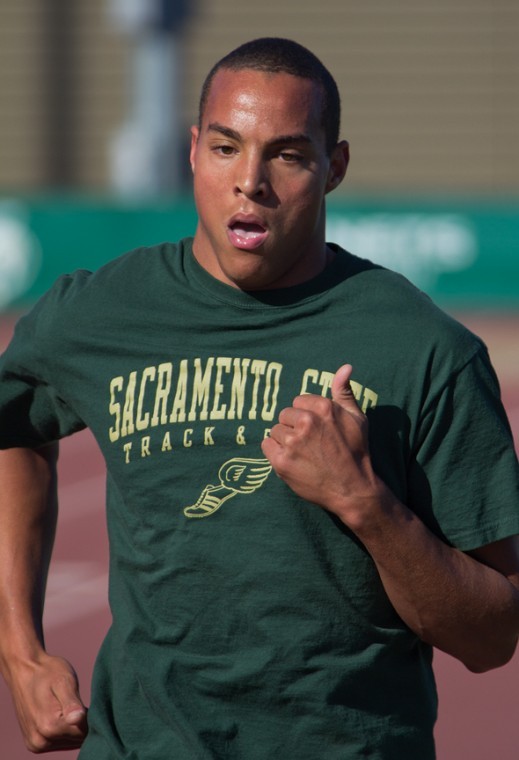 Coming off a clean sweep of last year's conference crowns, Sacramento State's Director of Track and Field/head coach Kathleen Raske would like the fans to know one thing: These Hornets are hungry for another title.
With a strong showing at the Bronco Invitational in Nampa, Idaho, Sac State's indoor track and field teams kicked off their 2012 season and set out to prove they are gunning for another championship. And with last year's trophies in tow, this year's batch of Hornets hopes to put on a worthy follow-up performance nothing short of last year's dominance.
"Our athletes are very competitive," Raske said. "If you put a challenge in front of them they're going to rise above."
Raske said her athletes held a phenomenal preseason camp over the past several weeks, "one of the best ever," and that she liked what she saw from her athletes in the opener.
"Comparing results from last year to this year, we had a very good opener," Raske said. "They were much more productive. I was really pleased with the results."
Raske said this should come as good news to Hornet fans. And Raske has given Hornet fans reason to trust her.
Since she took over in 2004, the Hornets have steadily skyrocketed through the stratosphere of the Big Sky Conference. Over the past five seasons alone, the men and women have combined to take home a total of six conference titles.
"Our strength is we're a well-balanced team," Raske said. "We're strong in every aspect."
Ify Agwuenu, senior captain for the women's team, agreed with her coach. Agwuenu, who competes in throwing events like the shot-put, really likes the makeup of this year's group of girls in particular.
"I think we have a pretty strong, well-rounded team this year and a lot of experience," Agwuenu said.
Still, Raske said success can never be taken for granted and that the 2012 season will be no 60-meter sprint in the park.
"Every year we know we have challenges," Raske said. "And probably even more this year."
The men's squad is facing a rebuilding year despite being ranked No. 2 in preseason polls. They're a younger team this year, having lost Emilio Hernandez and NCAA All-American Ronald Brookins to graduation during the offseason.
Even though the women were chosen as preseason favorites to repeat as conference champs, in order to meet those expectations they'll have to surmount one of the steepest challenges in collegiate indoor track and field: Flagstaff in February.
Northern Arizona University will host this year's conference championship in Flagstaff, Ariz., on Feb. 24 and 25. Five of the six previous times the school has hosted the championships, NAU's women's team has taken home the title, with its lone loss coming at the hands of Weber State University in 2003.
"It's definitely a home-field advantage," Raske said. "Over the last 20-something years, they've only lost once."
Raske and Agwuenu both remember the last time Sac State fell short in Flagstaff.
"I was there, so I know how it felt to not get called in first place," Agwuenu said, referring to Sac State's loss in the 2009 conference championships.
Agwuenu said she has no intentions of leaving Flagstaff this time without the crown.
"We can't lose to them," Agwuenu said. "We need to show them that what happened last time isn't going to happen again."
History has shown that visiting men have fared a little better on Northern Arizona's turf, but the male Lumberjacks don't just hand over conference titles either. They've won 13 titles over the past 25 years. That's more than half of conference championships that have been contested since 1987.
Kirk Anderson, senior captain, said the Hornets have a chance to be the first men's team outside of Idaho to take a championship at Flagstaff as long as they continue to work hard and do not allow themselves to become distracted.
"It's so important to keep your mind focused," Anderson said. "You're not just a zombie out there going through the motions, you have to actually think about what you're doing."
Anderson said he believes NAU holds an advantage over other schools because the elevation is higher in Flagstaff at 6,910 feet above sea level.
"It's the distance runners who really feel it the most," Agwuenu said.
Over the last five years, Sac State and NAU have developed an interstate rivalry. The two schools have won each of the last five on the men's side as well as each of the last four on the women's side.
Anderson believes his teammates can rise to the occasion and hurdle every obstacle facing them this season, literally.
"The group of guys we have is very young, but they're very motivated and have been given the opportunity to prove their mettle," Anderson said.
Agwuenu also wants to see how her newcomers fare.
"We have a lot of sprinters this year," Agwuenu said. "That's something that was lacking last year. I'm really excited to see how our freshmen sprinters do."
Raske said both her teams have what it takes to win it all again this year, but said she's trying to remain grounded and take things one meet at a time.
"We're realistic," Raske said. "We're hoping to be a top-three team."
Agwuenu said she is hoping for a little more.
"If we do what we're capable of doing, and beyond that, we'll be fine," Agwuenu said. "If we stay hungry we're going to take care of business."
David Somers can be reached at [email protected]