Cru at Sac State stays active over break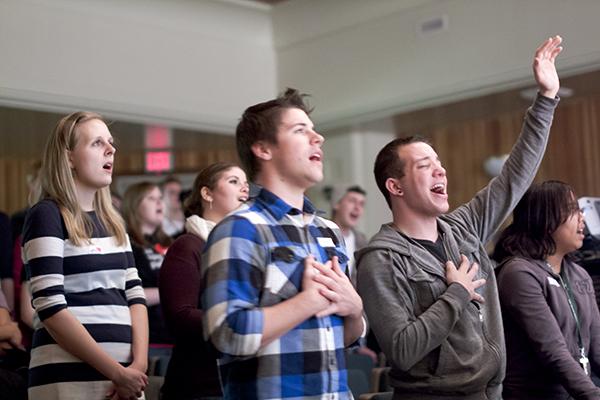 Members of "Cru at Sac State" remained active in the organization by strengthening their beliefs, creating connections with other members and staying focused on Biblical concepts despite the winter break.
Cru, short for Campus Crusade for Christ, took 20 members to a four-day conference in San Diego on Dec. 28.
The San Diego Winter Conference, titled "Boundless," brought an estimated 800 students from different campuses around the nation. Some of the Cru organizations traveled from Arizona, Hawaii and multiple areas of California.
"It was an opportunity for them to build relationships and get away from the craziness of life to focus on God," said Sacramento State's Cru Director Greg Triplett.
According to the conference website, it was called "Boundless" to portray that people tend to think too small when it comes to what God can do.
"The purpose of the conference is for the students to have a bigger view of who God is," Triplett said.
From the car drive there, to becoming new roommates for those four days, the trip gave the Cru members at Sac State a chance to spend more time together than they do while school is in session.
At the conference, the students were able to get to know each other, socialize, listen to a number of speakers, attend sessions and connect with Cru members from other campuses.
The hosts of the conference also provided a room filled with computers for the students to use Facebook, Twitter, Tumblr or any type of social media to reach out and ask friends if they needed prayer.
One of the days of the conference was dedicated to conducting community activities around San Diego. The attendees split up into groups and paired with a local church. Some groups dispensed care packages filled with daily necessities to low-income communities, while others walked around the neighborhoods and beaches to share their faith with whomever they came across.
The Sac State students who attended agreed the conference went above and beyond their expectations.
"I didn't really have many expectations because I have never been to a conference before," said Sac State Cru leader Mario Gonzales, senior physics major. "But it was nice to talk to other Christians who didn't grow up in a Christian home."
The members said they walked away from the experience with material that intensified their beliefs and sparked excitement for the new semester.
"What I learned is that the message of God is for everyone. It surpasses boundaries and we want to bring that back to campus," Gonzales said.
In addition to attending the conference over winter break, each of the Cru leaders was also assigned to read and analyze a book from the New Testament to encourage involvement with the organization.
"Our goal was to try to get a group of people to read along and study it with us. It was a way for us to stay plugged in," said Sac State Cru leader Jonathan Eggert, sophomore civil engineering major.
Located in a diverse campus, Christian students are not the only audience they are striving to reach. There are a few non-Christian students who attend meetings as well.
"Some of the students who come just have spiritual questions. Not all of them have a Christian background – we'll take anyone," Triplett said.
Cru has planned a number of events for the spring semester outside of its weekly meetings to be more active on campus. Monthly praise and worship meetings, social dinners, BBQs, outreaches and retreats are a few of the future scheduled events.
They plan to branch beyond their own group and connect with other departments. New ideas were put into motion that will affiliate the organization more with the school in an effort to make their presence known and expand.
"We want to plug into campus and connect with others campuses as well," said Sac State Cru director Caellin Douglas.
An upcoming event Douglas has planned is titled the "EII Forum," which will take place on Feb. 22. The forum will consist of multiple guest speakers who will not only speak from a business standpoint but also a faith-based standpoint.
"We're trying to reach different segments of campus that we haven't reached before," Douglas said.
The organization has approximately 80 involved members. Cru leadership hopes to increase their membership rate by at least 25 percent this semester and it is excited for whatever may be in store.
"The conference got me pumped to get back to campus. God wants to do big things here," Eggert said.
Maikalina Madali can be reached at [email protected].