Author Eva Rutland holds discussion at Sac State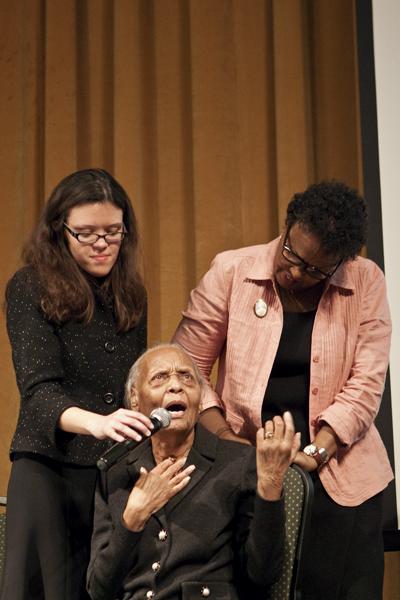 Author Eva Rutland shared the happiness and hardships experienced by an African-American mother during the vehemently racist period prior to the Civil Rights Act at Sacramento State on Thursday.
Rutland was joined by her daughter Ginger Rutland, a member of The Sacramento Bee's editorial board and granddaughter Eva Fields for an interactive forum in the University Union's Redwood Room. The discussion revolved around Rutland's re-released memoir "When We Were Colored: A Mother's Story," which depicts the life of a middle-class African-American family in the segregated '50s.
The forum, which was brought to campus in an attempt to "build campus unity," attracted enough students and faculty to require an overflow space in the Union. Sac State President Alexander Gonzalez and members of his cabinet also attended.
"Eva Rutland's visit is a continuation of Sacramento State's efforts to encourage the campus community to have conversations about difficult issues," Gonzalez said. "It's a conversation that was continued last October with NPR's Michele Norris, who discussed her memoir, 'The Grace of Silence.'"
Rutland has produced more than 20 novels in the course of her life, and received a Golden Pen Award for Lifetime Achievement in 2000. Many of her novels were fictional accounts of black families, written in an attempt to teach white mothers how to treat African-Americans in a respectful, normal fashion.
"It was really put out there as a way to say, 'Be nice to my kids,'" Fields said.
Because the 95-year-old Rutland has been blind for nearly 50 years, the younger generation read off excerpts from her memoir. One passage told the story of one of Rutland's daughters, Elise, and her white friend, who had been taught to stay away from "colored people" by her mother.
"Actually, 'When We Were Colored' makes the book sound like it's all sad stories, but a lot of it is stories about happiness experienced by a black family in really difficult times," Fields said.
The speakers presented slides, one illustrating a widely-published encyclopedia with a disturbing definition of black people, which plainly read, "Mentally, the negro is inferior to the white man."
"It's amazing that despite the backdrop of an oppressive white mindset, both of my parents were able to graduate with degrees," Ginger Rutland said.
Following a question about the area of Sacramento in the pre-Civil Rights Act era, Eva Rutland said her family was primarily greeted with respect after their move from Atlanta to Sacramento in 1952.
"I was nervous about it – coming from an all-black neighborhood in Atlanta, which is where I wanted to stay, to here," Rutland said. "We were treated well by many people in this area."
Jeff Redman, employee of Sac State's Academic Technology and Creative Solutions department, had more ties to the speakers than just being the person tasked with filming them for the university.
"I actually grew up on the same street as the Rutlands – in the Oak Park area," Redman said. "We spent a lot of time playing together when we were younger, when I was around (age) four."
Redman, who is white, said he never personally witnessed any racism or prejudice toward the Rutland family during that time.
"To me, they were just another family in our neighborhood," Redman said. "Racism is a concept that never occurred to me back then. It wasn't something I was aware of until years later, and it came as a shock. I never thought people would think differently of someone based on race."
Kimo Ah Yun, chair of the President's Committee to Build Campus Unity, said the personal stories shared by the speakers were a solid representation of the committee's goals.
"This event was exactly the sort of thing the committee was designed for," Ah Yun said. "We wanted to bring people together to have serious discussions and share experiences."
There was a resounding satisfaction in the turnout by the event's organizers, who are continuing plans to strengthen the campus bond with essay, film and photo competitions.
"With the multi-generational aspect of the storytelling and how comfortable it felt… the event was definitely a success," said Margarita Berta-Avila, associate professor and part of the unity-building committee. "You could definitely feel both the love and the hardships experienced by this family."
Brett Johnson can be reached at [email protected].