Six Sac State interns selected to work with state government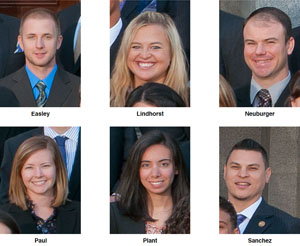 The Capital Fellows Program, which annually selects 64 students nationwide, has selected six Sacramento State students for its membership this fall, bringing them the opportunity to work with the state government and gain experience for future careers.
Students Matthew Easley, Lisa Lindhorst, Mark Neuburger, Michelle Paul, Amanda Marie Plant and Motecuzoma Sanchez will spend 10 to 11 months working as paid employees of Sac State serving as full-time members of a legislative, executive or judicial branch office, while also receiving graduate units in the Sac State Government Department or Public Policy and Administration Program.
Claire Bunch, outreach coordinator for the Capital Fellows, is a part of the selection process.
"We had 1,400 applicants this year. These students have gone through a lot of hurdles to get where they are at," Bunch said. "I'm sure they will do a great job representing Sac State."
Bunch said past recipients of the Capital Fellows Program have moved on to positions as government officials.
"It's a great way for future careers to begin, fellows can move quickly to other positions," Bunch said. "We do have former fellows that have had careers as Justices of the California Supreme Court, (memebers of the) United States Congress, state Legislature, state and government officials and community leaders, through all four of the fellowships."
Easley, a 2009 Sac State graduate with a degree in kinesiology/athletic training, has always had an interest in politics.
"My frustration with the direction in issues that the state and country are dealing with made me decide to change careers and get involved in politics," Easley said. "Becoming a fellow will open many doors for me."
Mark Neuburger graduated Summa Cum Laude with a bachelor's degree in criminal justice and a master's degree in international affairs from Sac State.
"The Judicial Administration Fellowship has allowed me to develop a working knowledge of the duties of executive-level administrators, as well as gain a deeper understanding of the issues that California's court system faces," Neuburger said.
The program is extensive, adding great responsibilities to each fellow while offering the opportunity to engage in public service. The program also provides experience for future careers while including each fellow in California public policy.
"The work experiences, professional environment and contacts I have made will be critical after the fellowship as I pursue a career in public service," Neuburger said.
Those who wish to apply to the program must have a bachelor's degree by Sept. 1 of this year, must be at least 20 years old and have a demonstrated interest in state government and public service. The fellowship is also open to all majors and applicants of graduate, postgraduate or mid-career status.
After orientation is complete, the fellows will be interviewed by an array of offices before they are placed in a branch. Weekly graduate seminars are also conducted by the program's academic advisers.
Donna Hoenig-Couch, director of judicial administration fellowship program, is currently working with Neuburger.
"The orientation is intended to introduce the fellows to their prospective branches and to give them a sense of the issues, policies, politics and the culture of the branches as it relates to state government," Hoenig-Couch said. "The academic seminars are conducted throughout the year, to link the theory of state government both in public administration and government to the actual practice and day to day work in state government."
The fellowships offered by the program are the Jesse M. Unruh Assembly, Executive, Judicial, and California Senate fellowships. Each of the fellowships involves working with a separate branch of the government.
The Jesse M. Unruh Assembly Fellowship provides the opportunity for a variety of students to work directly with the legislative process, establishing experience with the formation of public policy in the California Legislature.
Paul applied after studying abroad in Israel and Spain.
"The program is so well-regarded nationally and provides a more in-depth perspective into the inner operations of the Legislature, that I couldn't resist applying," Paul says. "I feel enormously blessed to have been selected for this opportunity."
The Executive Fellowship will provide each fellow work in the offices of California's executive branch, including the office of the governor, constitutional offices, cabinet secretaries, commissions and departments. They will receive briefings by the governor's staff, constitutional officers, legislative staff, academicians and others.
Lindhorst, recipient of an Executive Fellowship, studied International relations at Sac State and plans to attend law school next year to be a public attorney, or possibly come back to the executive branch.
"The fellowship is giving me invaluable and high-level work experience that I could never have received in an entry-level job," Lindhorst says. "The single best part of being a fellow is the access I get to amazing people, I spent hours recently talking to the secretary of Veterans Affairs about my goals and aspirations."
Those who are accepted into the Judicial Administration Fellowship Program will be working in the California Court System, committing to public service and the administration of justice.
"In this particular program, those who are accepted are those who show a passion for justice as it is practiced in the state courts. The fellows who come to us are interested in not just practicing law, but the policies and the laws that guide the courts and allow access to justice," Hoenig-Couch said. "We look for people who believe in equal access to justice and candidates who demonstrate a strong interest in public service."
The California Senate Fellows Program was constructed in an effort to provide citizens with insight into the legislative process through experiential learning. Its founding goals are to expose individuals with diverse life experiences and backgrounds to the legislative process by including research and other assistance by professionals of the Senate.
"It's been a really interesting experience. We're kind of just jumping in the deep end," Easley said. "There's no schooling that can prepare you for what it is actually like in the Senate. You can learn about it all day long but until you actually get involved, you really have no idea. Every day I learn something new."
Hoenig-Couch said she believes the lessons learned in the student's fellowships will provide an important advantage.
"The Capital Fellows program offers an on-the-ground training and a birds-eye view at the same time that is hard to find anywhere else," Hoenig-Couch said. "Each of the branches is unique and allows the students to explore an interest in service, theory and prepare them for incredible careers in the public sphere."
Applicants who would like to join the Capitol Fellows program can visit http://csus.edu/calst/programs or call (916) 278-6906 for further information.
Kaitlin Bruce can be reached at [email protected].