Men's basketball can't stop league-leading Weber State, still winless in conference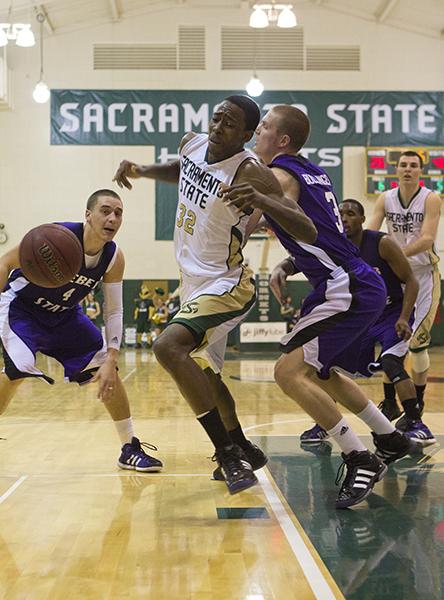 The Sacramento State Hornets men's basketball team fell to 0-8 in Big Sky Conference play after losing to Weber State University 75-60 Thursday night at The Nest.
The game was centered on the Wildcats junior point guard and Oakland native Damian Lillard, who came into the game as the leading scorer in Div. I basketball with 25.1 points per game.
Lillard was the MVP of the Big Sky last year and is a possible first-round pick in next year's NBA draft. In attendance to watch Lillard were Sacramento Kings players DeMarcus Cousins and Jason Thompson, Buffalo Bills wide receiver Stevie Johnson and 10 NBA scouts from around the league.
Lillard said the pressure from NBA scouts does not affect him and he just goes out there to play how he always has each game.
"I'm comfortable with it now," Lillard said. "It never bothered me, but I'm just more used to it now. I know what I need to do for my team, the same thing that I've been doing. I know they want to see me do what I do and as long I stick to doing what I've been doing all season, I know I'll be fine."
After the score was tied 3-3 to start the game, the Wildcats (16-3, 8-0) caught fire and went on an 11-0 run to go up 14-3.
The Hornets (5-14, 0-8) tried to climb back into the game and were able to cut the lead to single digits down 29-20 with seven minutes remaining in the first half, but the Wildcats finished the half on a 13-8 run to put themselves up 42-28.
In the second half, the Wildcats went up by 15 early, but the Hornets stuck around and were in it with nine minutes remaining and only down by eight, 53-45.
The Wildcats jumped right back to their big lead after going on another huge run, this time a 13-2 run that led to their 15-point victory.
The Wildcats shot the ball well all game at 53 percent compared to the Hornets 35 percent shooting.
Junior forward John Dickson said the Hornets' shots were just not going in.
"We did everything but put the ball in the hole," Dickson said. "We got some good looks, we got some looks around the basket, we got some post touches. We just got to finish around the basket."
Lillard was held below his Div. I-leading 25-point average as he only had a game-high 21 points, but scoring is not the only thing that defines him. Lillard contributes in every facet of the game and had six rebounds, four assists, one steal and was a perfect 4-4 from the free-throw line.
Hornet freshman point guard Dylan Garrity said guarding Lillard was a challenge.
"He's extremely quick," Garrity said. "I don't think there is anybody quicker in this league that I've played against so far. If you get up all on him, he's going to go by you. If you back off, he's going to hit a three in your face."
Lillard wasn't the only bright spot for the Wildcats as his supporting cast stepped up big all night with three other Wildcats scoring in double digits.
"We got a lot of good players that can do great things," Lillard said.
Junior guard Scott Bamforth scored 17 points, sophomore center Kyle Tresnak had 13 points and senior forward Darin Mahoney had his first career double-double with 14 points and a game-high 10 rebounds.
The Hornets were led by Dickson who had 20 points, four shy of his career-high and sophomore guard Jackson Carbajal with 14 points.
Garrity had 10 points and a game-high nine assists and Lillard said he respects his game.
"He's a good player, real crafty," Lillard said. "Not a scary dude, fearless. He's a playmaker, a great passer and I got a lot of respect for what he does for his team."
Hornets head coach Brian Katz said his team's rough shooting hurt them and that he thought they could have won the game if they played better early.
"Offensively, we're maybe trying a little too hard around the basket," Katz said. "We missed an awful lot of easy shots around the basket. I thought that if we played a good first half, we could have beat them."
The total attendance for the game was 823, a season-high for the Hornets.
The Hornets will look to win their first Big Sky game on Saturday against Northern Arizona University (5-15, 1-7). The Lumberjacks come into the game on a seven-game losing streak. Their last win came against the Hornets on Dec. 29, 73-64.
Tip-off is at 7:05 at The Nest.
Josh Stanley can be reached at [email protected]