Athletic offices move to new location on Sac State campus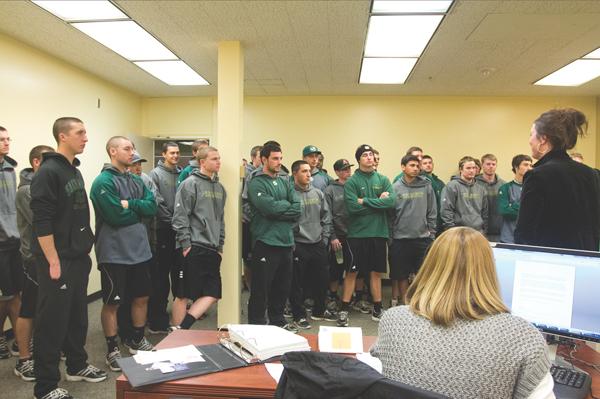 In perhaps one of the biggest housing upgrades since "The Jeffersons" moved into their deluxe apartment in the sky, the Sacramento State athletic department last month relocated its offices.
The switch saw the department go from the antiquated Yosemite Hall next door to the building formerly occupied by the health center. Sac State Athletics had occupied Yosemite since 1955, and Athletic Director Terry Wanless said it was time for a change.
"We are a Division I institution, and there's a certain image that you need to project as an institution of that nature," Wanless said.
The difference between the two spaces are easily noticeable. Whereas the paint was peeling off the walls in Yosemite Hall, the new offices appears fresh and new, complete with new carpeting and an upgraded data system, which Wanless said was several generations behind.
Perhaps the biggest beneficiaries of the department's new digs is the university's coaching staff, Wanless said. In Yosemite Hall, coaches for all sports shared offices; three men's basketball coaches shared the same office.
All these upgrades are meant to move Sac State toward becoming a desirable destination for the nation's top student athletes. Before, Wanless explained, the athletic department had nothing to identify its offices as its own. Now there's a plush reception area with a large logo.
The goal, he said, is to make athletes and new recruits feel like they are "part of the Hornet family."
"We're going to make it something that when we bring a mom and dad and a student-athlete in there's a little bit of a 'wow' effect to the building," Wanless said. "That makes Sacramento State kind of elevate in their image of who we are and what our athletic program is all about."
The renovation and relocation carried a price tag of roughly $750,000, Wanless said, $500,000 being paid by the university and $250,000 by the athletic department and its sponsors. He said the department brass was heavily involved in day-to-day decision making and was always interested in finding ways to save money on labor and supplies.
"I think we were very fortunate that working very closely with everyone that we were able to do it for the cost that we were able to do it for," he said.
There is, however, still more work to be done on the building. Wanless said toward the end of the renovation process the department ran out of funds, and so two rooms on the second floor remain empty.
He plans for one room to eventually be a "recruiting room," filled with track lighting and comfortable furniture, where coaches can bring the families of prospective athletes to discuss their futures. The other will be a film room where teams can view footage of previous games.
Wanless said, however, the athletic department will not seek any more money from the university to finish the project. One family, whom Wanless would not name, intends to make a donation big enough to finish at least one of the rooms.
Teams are currently in the process of touring the new facilities. The baseball team, which begins its season in February, walked through Thursday morning. Senior infielder Derrick Chung said it is good not to have everything crammed into one space.
"It's going to make a lot of things easier, like recruiting for the future of the program," Chung said.
As for the space vacated by the move in Yosemite Hall, it will be used as a new home for Sac State's ROTC. The officer training program will leave behind the top floor of the University Police Department station, giving everyone more room.
Program head Captain Matthew Suhar said he is not sure when, but anticipates to move in a few weeks.
"Our new offices will allow us to be a more active part of the university community, and not just sitting in a location where a lot of individuals forget that we have the Army and Air Force ROTC program on campus," Suhar said.
Moving forward, the members of the athletic department hope this move will help them put Sac State sports on the proverbial map. Assistant media relations director Ryan Bjork said he is happy they finally have a "real home."
"Yosemite Hall was home," he said, "but now this is like a mansion in comparison."
Alex Grotewohl can be reached at [email protected]