Spanos' donor pledge remains absent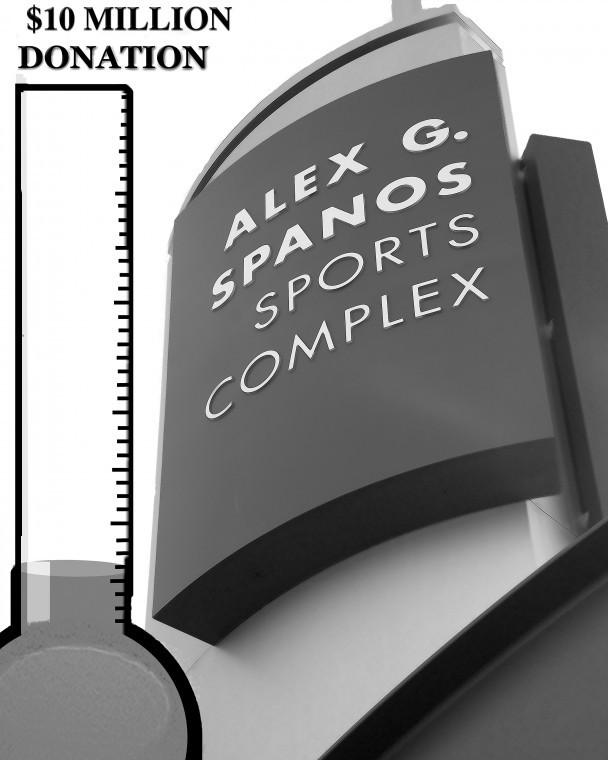 Media outlet Capitol Weekly unearthed information that indicated developer Alex Spanos has yet to pay the bulk of a $10 million promised donation to Sacramento State in 2004, leaving the school with a sizable financial burden.
Spanos, a billionaire listed in Forbes as being one of the 400 richest Americans, pledged the money to help build the Alex G. Spanos Sports Complex at Sac State, which now includes a reconstructed football stadium, and facilities for the baseball, soccer and tennis teams.
Spanos is founder and owner of Stockton-based A.G. Spanos Companies, one of the largest construction services companies in the United States. Spanos is also famously known for being majority owner of the San Diego Chargers football team.
Despite his financial success, Spanos has given $1 million to Sac State out of a $10 million pledge to fund athletic facilities six years ago, according to an Oct. 27 Capitol Weekly report.
Kevin Wehr, president of Sac State's chapter of the California Faculty Association, said he confirmed from sources who wish to remain anonymous that $9 million is the amount left unpaid from Spanos' promised donation. 
Wehr said to his understanding, there are generally accepted standards and practices around charitable contributions, with a contract protecting both sides. However, he said his sources indicated the proper donation process was not fully completed.
"I am not an expert on this topic, but to the extent that this is true – there appears to be severe mismanagement in the charitable donation process," Wehr said.
Wehr said, however, the unfortunate aspect is Sac State has been forced to solicit money from donors to this extent.
"The problem is, the Legislature will not adequately fund higher education systems," Wehr said. "This has made the university more reliant on private donations."
Capitol Weekly reported Sac State President Alexander Gonzalez wrote to Natalia Orfanos, communications director for A.G. Spanos Companies, on Jan. 16, 2009. In the letter, Gonzalez wrote he had not pressed Spanos "knowing that his intention was to fulfill the pledge."
The letter also contained an invitation for Spanos to visit the campus. Gonzalez also said he would be willing to visit Spanos in Stockton if needed.
This communication came a few months before the California State University's budget reduction of $584 million for 2009-10 due to cuts in state funding, which forced faculty to take furloughs and many schools to cut enrollment.
Orfanos did not reply for comment on whether Spanos' promised donation to Sac State would ever be ratified.
Sac State spokeswoman Kim Nava said she could not speak about specifics surrounding the pledge, as doing so "would have a chilling effect on the future donations to the university."
Most of Sac State's donations go through The University Foundation. California Gov. Jerry Brown signed Senate Bill 8, authored by Sen. Leland Yee, D-San Francisco, making auxiliary organizations such as UEI subject to the California Public Records Act as of Jan. 1.
Even with Yee's transparency bill, access to the donations agreements can be denied – as provided in the legislation is some protections for donor gifts given to universities.
"Confidentiality of donor agreements is allowed by law, including the newly passed SB 8," Nava said. "Protecting donor confidentiality is our sole reason for declining to discuss this or any other donor agreement."
Gonzalez said the donor process needs to be kept confidential in order to protect and foster more private donations.
"We guarantee this confidentiality so we can encourage future donors to provide support for student scholarships, academic programs and projects that enhance our university," Gonzalez said in a prepared statement.
Gonzalez used Spanos' first donation to Sac State as an example of why the school should be grateful for his contributions.
"Alex Spanos is one of Sacramento State's strongest supporters," Gonzalez said. "For instance, the university was able to host the U.S. Olympic Track & Field Trials in 2000 and 2004 as a result of his gifts."
Before making the $10 million pledge to rebuild the sports complex, Spanos had given $1.5 million to Sac State to renovate the school's track and field facilities. In November 1999, the CSU Board of Trustees approved the naming of the Alex Spanos Track and Field Complex in honor of Spanos' contributions to Sac State.
"Spanos has been a long time donor to the campus, and his contribution of $1 million enabled the university to rebuild its stadium track and construct a new practice field," former board member Martha Fallgatter said during the meeting.
Gonzalez said Spanos is living up to his end of the bargain, and has helped the university by paving the way for other private donors.
"Mr. Spanos is living up to his gift agreement, and because of his generosity, and his ability to inspire other donors, Sacramento State continues to raise funds that are helping us accomplish many of our campus goals," Gonzalez said.
Even though administration remains positive, debt left behind by the construction of the Spanos athletics complex forced Sac State administrators to make a highly criticized rearranging of funding last year.
John Kepley, special assistant to Gonzalez, told The State Hornet in 2010 the $25 million raised to fund the Well would instead be used to pay "ongoing costs associated with the Spanos Sports complex."
The move drew direct criticism from then-Associated Students Inc. President Angel Barajas, who said the fundraising was never meant to be used for this purpose, and was supposed to reduce the monetary impact of the Well's construction on students.
"Six years later, President Gonzalez has yet to demonstrate the ability to reduce the monetary impact for students by the money he has raised," Barajas said to The State Hornet.
Brett Johnson can be reached at [email protected]