Owayed brings foreign flair to Sacramento State basketball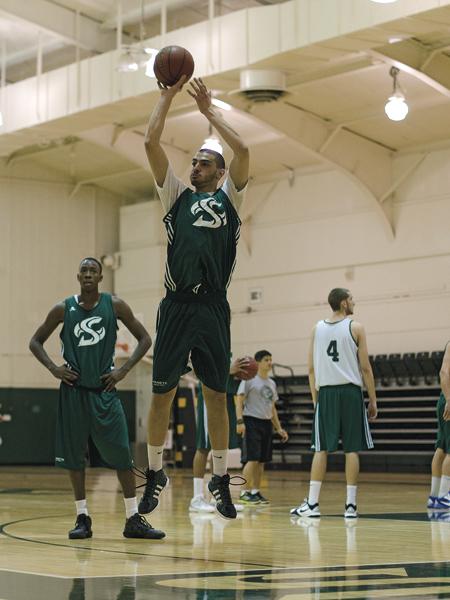 Magd Owayed, a 6-foot-7-inch redshirt freshman on the Sacramento State basketball team, arrived in the United States less than two weeks before the 2010-11 school year began.
In August of 2010 Owayed emigrated from his home in Northern Nazareth, Israel, to Sacramento.
As a boy, Owayed was fond of soccer. He would play with his friends at the YMCA in Nazareth until one day, at the age of 14, Owayed ventured onto the basketball court.
"The first time I played basketball with my friends it was hard because I didn't know what they were talking about," Owayed said. "I didn't know the basic stuff."
Now when he returns to Israel, he plays old friends and dominates in those same pick-up games.
"The changes that Magd has undergone were remarkably noticed by everyone when he came to visit in the summer, especially because he was gone from home for such a long time," said Bishara Owayed, Magd's older brother. "First of all, his entire body structure was different, his muscles got bigger and he was in better shape than ever."
Owayed was taught the game by friends and family before he was formally coached. Owayed's older brother had been playing the game long before he first picked up a ball, so naturally the older Owayed mentored the younger through many parts of the game. Owayed first remembers beating his older brother when he was a junior in high school.
"We always played against each other, and it's pretty easy to remember the times he beat me, simply because there are so many of them," The elder Owayed said. "And it's not like I would play bad on purpose because I was playing against my little brother; quite the contrary, I would try to make it as hard as possible on him so I could push him to the edge of his abilities."
The elder Owayed is now beginning a career as coach of a top-level youth team in Israel's national league.
The game the younger Owayed plays on Sac State's Colberg Court is, in many ways, a much different one than back home.
"Since I started playing with the (Hornets) I knew I had to work hard to close the gap between me and them," Owayed said.
When Owayed came to play on an American court, which hosts not only different zones and rules but also styles of play, it was apparent to him things were much different.
"The game, it's just different," said men's basketball head coach Brian Katz. "Just the sheer nature of the key is different. They've got the wider lane so there's not as much post-up action so the game is more a finesse, 'pick 'n' pop,' extend the floor type game rather than American basketball (which is about) transitioning."
Katz's program is no stranger to foreign players. Duro Bjegovic of Croatia and Alpha N'Diaye of Mali were featured on the 2009-10 and 2010-11 rosters and have each exhausted their NCAA eligibility. Both players shot 40 percent or better from the field in their final season with the Hornets.
Katz said he first heard about the young Israeli star through the recruitment grapevine. Former Hornet assistant coach Brady Bergeson was coaching at Metro State when he first heard from one of his players about the Israeli ballplayer. When Bergeson first came to Sac State in 2008-09 he gave the tip to Katz just as Owayed was coming of age.
Katz began the overseas recruitment process right away. He started by watching Owayed's play the only way he could, on YouTube. From there Katz initiated phone conversations with the online-intrigue, who he described after watching the videos as "bouncy" and "skilled."
The videos Katz was first able to watch showed Owayed playing in Israel's national under-18 league for a club team called Emek Yezrael out of the city of Nahalal. Katz was shocked by what he saw.
"You should have seen the tapes. It's sheer comedy," Katz said. "There are horns going off in the game, people playing music. It's crazy."
Owayed's last season of basketball in Israel was in the spring of 2009 when he averaged 18 points, 10.1 rebounds and two blocked shots per game. That season, his team, Emek Yezrael, reached the national playoffs but was knocked out by the champs.
In July of 2009, Katz and his staff first contacted Owayed asking for more film. During this time, Owayed was practicing with the under-18 national team. After many phone conversations between the two parties, Owayed committed to play basketball and get an education at Sac State.
The process was such a surprise to Owayed that he had less than a month to complete all the necessary paperwork and begin his new life in Sacramento.
"Once we made our decision, we offered. It took us (about) a couple months to work through the process," Katz said.
While in high school, Owayed said he considered continuing with both basketball and his education but he knew it would be difficult to do so in Israel.
The opportunity for Owayed to receive an education while playing basketball couldn't have happened in Israel because the country does not have scholastic leagues. For Owayed to play basketball at a high level and go to school would have been nearly impossible, he said.
"I think I would be playing somewhere in division II in Israel," Owayed said. "That's the place for young players to develop and get a chance to play."
Owayed has plans to return to Israel after his four years of NCAA eligibility are exhausted, but he said a decision made four years in advance is subject to change.
"For right now, yes, I think I'm going to go back, but I don't know if it's going to change yet. I still have four years to go," Owayed said. "I hope to play my four years here, have a good career and play overseas."
Owayed is now happy to revil in the opportunities he has and the fruition of his basketball dream.
"I made it," Owayed said.
AJ Taylor can be reached at [email protected].