Leader leaving Sac State for Hawaii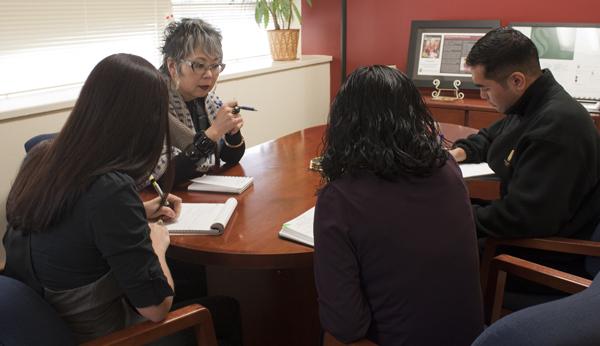 Carole Hayashino, vice president for University Advancement at Sacramento State, accepted what she considers to be her dream job as president and executive director of a statewide nonprofit organization in Hawaii.
She will continue to work for Sac State until January to get the transition in order, then will formally retire by early March to become president and executive director of the Japanese Cultural Center of Hawaii.
Hayashino has been a member of the organization for more than a decade, and said it was because of her dedication and expertise that she was offered the position.
"Since we have family and friends in Hawaii, we've been members of the organization for over 10 years and in California I have been involved with the Japanese American community for many years," Hayashino said.
She was told by a peer that she was brought up in a meeting, that they needed "someone like Carole Hayashino" to add to their organization.
"I accepted the position because it presented a unique opportunity to utilize my professional experience as a manager and fundraiser with my passion of preserving the history of Japanese Americans and serving the Japanese American community."
Her position at Sac State holds responsibilities such as university marketing, chief development officer and alumni relations – helping with the school's donations.
"In addition, I oversee University Marketing, Alumni Relations, and University Ceremonies and Commencement. I am the chief staff support to the University Foundation," Hayashino said.
One of her recent accomplishments at Sac State was a $1.8 million campaign to procure teaching equipment for the school of nursing's state-of-the-art labs in Folsom Hall, which was announced by Sac State President Alexander Gonzalez in September.
"Under Carole's leadership, University Advancement has raised unprecedented amounts of donations for scholarships, academic programs and other projects on campus," Gonzalez said in a statement.
Hayashino played a big part in "Destination 2010," a university initiative focused on creating new academic programs, student facilities and providing a more welcoming campus. The initiative was a great focus for Sac State, and was created to solidify the university as a vital resource to the community.
Some accomplishments included the redesign and launch of the new Sac State logo, organizing Sac State's event, the Green and Gold Gala and raising funds to build the Broad Field House and the Japanese Tea Room in the University Library.
"I am proud to have been involved in a number of initiatives under Destination 2010, working with outstanding professional staff, deans, faculty and volunteers, to raise over $80 million in private gifts for student scholarships and academic programs," Hayashino said.
Gonzalez said he was thrilled with her work on the project, and in a faculty statement shared his thoughts.
"Carole's commitment to creating and executing a plan for campus fund raising was essential to Destination 2010, and because of her efforts, Sacramento State's relationships with alumni and supporters are stronger than ever," Gonzalez said.
Along with the 2010 initiative, Hayashino said she believes the Build Campus Unity project has been an important step in the university's future.
"More recently, I've had a unique experience to work with a group of committed faculty, staff and students to organize two campus-wide convocations," Hayashino said. "The work of the President's Committee to Build Campus Unity has been a highlight in the past year. I believe our work is making a difference on the campus and that we are, in fact, fostering community on the campus.
As well as her vice presidential duties, Hayashino also plans Sac State's commencement ceremonies, which occur twice a year.
"Every semester, I had the privilege of putting together our graduation ceremonies and seeing thousands of students and their families celebrating the realization of their dreams," Hayashino said. "That is a feeling I will always remember."
But with the acceptance of a new opportunity in Hawaii, Hayashino is looking forward to her new career.
"I am honored and humbled to be appointed president and executive director of the Japanese Cultural Center of Hawaii," Hayashino said. "The opportunity brings together my professional experience as a manager and fundraiser with my personal passion of community service."
After working 18 years in the California State University system, Hayashino said she feels it is time for her to move on.
"While I am excited at this new opportunity, it is very difficult for me to leave my colleagues on the campus and the many alumni who volunteer to support Sac State," Hayashino said. "Seven years ago, I left San Francisco State because I was inspired by President Gonzalez's vision for the campus. I wanted to be part of his team to transform Sacramento State, and I will definitely miss working with Dr. Gonzalez and my colleagues."
Hayashino said her job at Sac State has changed into a much more meaningful position for her, and she said saying goodbye is going to be a hard task.
"Working at Sac State wasn't just a job for me – it was being a member of a big family and community. It's going to be difficult to say goodbye," Hayashino said. "Mahalo Nui Loa to my colleagues and friends at Sacramento State. It's been an honor and privilege to work with you. Warmest aloha until we meet again."
Kaitlin Bruce can be reached at [email protected]