Fall fashion is in full swing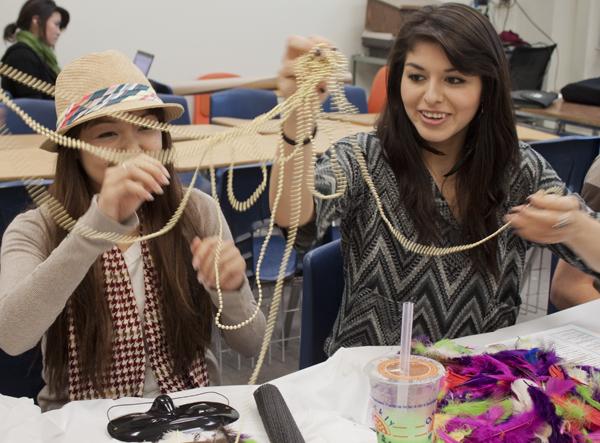 Clothing is far more than materialism to Sacramento State's Student Fashion Association – it is a means to an end.
The Student Fashion Association will hold a charity fashion show on Tuesday to benefit the Autism Center on campus. The proceeds will help with everything from more volunteers to better equipment and resources for the children at the center.
The theme of this fashion show is "Midnight Masquerade," executed with a black-tie touch. The Student Fashion Association has been hard at work since summer putting the show together, and have recently held mask-making workshops in which association members made masks to sell and wear at the event.
Most of the designers and stylists are Sac State students, and include senior apparel and marketing design major Tamika Bellamy, senior apparel and marketing design major Lacy Taylor, senior public relations major Jocelynn Brown, senior apparel marketing design major Breana Fields, senior apparel design and merchandising major Irma Tchamouurian and senior apparel marketing and design major Nikki Kotpanya.
The stylists are Angelica Grace, sophomore apparel and marketing design major Gina Sanchez, senior apparel and marketing design major Anakarina Pemintal, sophomore business major Elizabeth Poulos and senior apparel marketing and design major Adrienne Deloatch.
Many of the designers, stylists and other participants in the show have been interested in fashion since they were young – some of whom attended the Fashion Institute of Design and Merchandising – and have become skilled at creating and styling clothing collections good enough to work a runway.
Each designer will have eight to 10 pieces in their collections, including everything from avant-garde to ready-wear pieces.
"We give a wide breadth for designers to be able to express their designs in our fashion show to give some designing experience along with some feel on how to create a cohesive collection to present in a fashion show," said Cazzi Coleman, president of the association.
Along with student collections, clothing from local boutiques, Hearth clothing boutique, Legacy and Pink Kitty will also be featured and styled by Sac State students.
As a practicing stylist, sophomore apparel and marketing design major Gina Sanchez went to featured boutiques to find pieces to put together.
"I have helped out with the show a previous semester, but this is really my first time stepping into the spotlight. I'm ecstatic to be styling for Legacy Boutique and to be experiencing styling," Sanchez said.
Models for the show were picked through a casting call event in which the designers auditioned both men and women and made decisions based on specific looks and their collection pieces.
Those attending should expect fashionable fun, including music from a DJ, vendors and a master of ceremonies.
Along with putting on fashion shows, association members participate in activities such as road trips, scavenger hunts and fashion shows in the Sacramento area. They also have members teaching skills, such as hemming, to new members and workshops educating students on how to land jobs in the fashion, marketing or design fields.
"SFA has given me opportunities to expand my networks and a chance to create a business for myself in fashion and without this show I feel I would not be where I am today," Bellamy said. "This fashion show helps students gain courage to believe that they can actually do something if they put their mind to it."
The "Midnight Masquerade" fashion show is Tuesday at 6:30 p.m. in the University Union Ballroom. Tickets are $8 in advance and $10 at the door.
Janice Daniels can be reached at [email protected]