Volleyball defeats Seattle University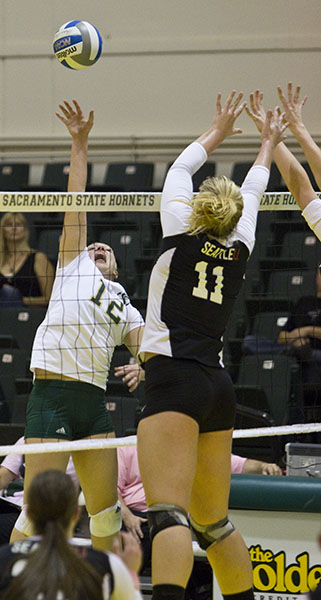 The Sacramento State volleyball team won its final non-conference match of the season Friday night against Seattle University in four sets at Colberg Court.
With the 3-1 victory (25-13, 20-25, 25-19, 26-24) the Hornets jump to 13-10 overall.
After the first eight games of conference play the Hornets are 6-2, their best record since opening 8-0 in 2007.
"It's definitely going to be a tougher second half of conference, we play some really good teams on the road," said junior outside hitter Janelle Currey. "We are going to have to pull our act together and play better on the road."
The Hornets are 5-3 on the road this season.
Entering Friday's game the Hornets were tied with the Northern Colorado Bears for first place in the Big Sky Conference. The Bears won their 12th straight match against Montana State on Friday night, bringing their conference record to 7-2 and pulling a half game ahead of the Hornets.
In Friday's match against the Seattle University Redhawks opposite hitter Maddison Thivierge powered the Hornets to a season high 19 blocks by coming up with 14 of her own, a career high for the senior.
"Every time you get a block it's a big momentum booster," Currey said.
Every boost in momentum helped on a night the Hornets came out flat.
"I feel like we didn't come out with that focused mind that we do during conference just because it was a non-conference game," said senior libero Breanne Menees.
Currey had 14 of Sac State's 46 kills to lead the Hornets. Currey also had a game high .217 hitting percentage.
"They weren't very good at picking up shots and that's my favorite," Currey said.
Currey was only bested in kills by Redhawk's senior outside hitter Cristin Richards who finished the game with 18 kills. The Redhawk's other outside hitter Kaytlyn Dill finished with 13 kills.
"I think our blocking feeds off our serving and to start the match off we got them to pass the ball outside," said head coach Ruben Volta. "And they have some pretty good outside hitters but I think
we're a pretty good blocking team if we know where the ball is going to go."
The Hornets' play against the two talented outside hitters of Seattle University speaks well for their chances the next time they face Northern Colorado whose Andrea Spaustat and Kelly Arnold possess the top two individual hitting percentages in the Big Sky Conference respectively. The last time the two teams met the Hornets beat Northern Colorado at Colberg court on Sept. 24 in straight sets.
The Hornets play their alumni game at noon on Saturday and jump back into conference play when they head to Northern Colorado to play the Bears on Thursday night at 6 p.m.
AJ Taylor can be reached at [email protected].