Sac State football down by three at half against NAU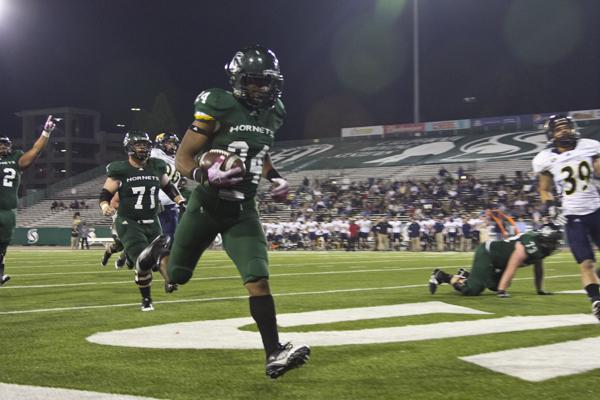 The Sacramento State Hornets are trailing the Northern Arizona University Lumberjacks 17-14 at half.
The Hornets were threatening to take the lead with 12 seconds left in the half and the ball on the 2-yard line but quarterback Tommy Edwards threw an interception in the end-zone.
In two quarters Edwards has completed seven of 14 pass attempts for 95 yards.
Garret Safron, the other half of the Hornets' quarterback duo, was an effective passer in the first half. He completed two of four passes for 61 yards and his first career touchdown pass.
In last week's overtime loss, Safron attempted only one pass in 16 plays.
Quarterback Jeff Fleming was sidelined yet again due to the same calf injury that kept him out of last week's homecoming game.
Safron completed his first pass of the night when he threw the ball up 48 yards to wide receiver Brandyn Reed who leaped between two defenders and hauled in the ball. The Hornets took the lead 14-7 as Safron connected on a pass with junior running back Sam McCowan who ran the ball 13 yards for each of the pair's first career touchdowns.
The Hornets' first touchdown was scored by defensive back Kyle Monson who took an interception 49 yards to the end zone.
The Lumberjacks scored their first touchdown just four plays later on a 44-yard rush by running back Zach Bauman.
AJ Taylor can be reached at [email protected].