Senior QB elevates program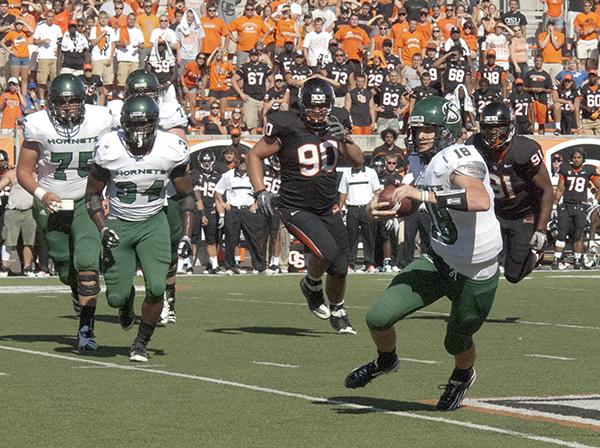 Sacramento State senior quarterback Jeff Fleming's tenure in college football has been anything but easy. Now Fleming, who recently led the Hornets to one of the biggest wins in school history against Oregon State, is finding his place here – wearing the green and gold. 
Born and raised in Orange County, Fleming began playing football around age 5. The 6-foot-4-inch, 200-pound captain of the offense did not always have such an athletic frame. As a freshman quarterback in high school he stood 5 feet, 2 inches tall and was one of the smallest players on the team.
After not receiving playing time in his first year at Brea Olinda High School, he began to leave his short stature behind. Fleming grew eight inches in eight months between his sophomore and junior season. The transformation would take him time to get familiar with.
"My body had not caught up to myself yet. I was really tall and really, really, skinny," Fleming said. "I was very slow because I was awkward and I was not very good on my feet."
Following high school, Fleming spent two years at Fullerton Junior College. After gray-shirting his freshmen year, which is when you do not play nor carry enough units to be eligible, he began to fill out his lanky body. With new confidence, he led the team to a 10-2 record and a National Southern Conference title – as fate would have it, they were the Hornets.
Fleming's good play at Fullerton gained him attention from the University of Idaho and New Mexico State University. After deliberation, Fleming decided on the Aggies of New Mexico State because of their insistent pursuance and an open quarterback position. Once there, he realized the coaching staff had other plans for him.
They told him that he would be used strictly as a wildcat quarterback, which is designed to confuse the opposing defense by running the quarterback more. Because the wildcat wouldn't be used on every play, the result was Fleming would be on the field much less. But the final straw was when Fleming arrived at practice and was issued a pair of receiver's gloves. They had designs on making Fleming, who had always played quarterback, a receiver.
"They said that I was a very good athlete and they needed me on the field to win," Fleming said. "They issued me gloves and sent me to the wide receiver line. Right then and there I knew this isn't what I was going to do."
With the coaching staff pressing for a change of position, Fleming weighed his decision to stay at New Mexico State, or start looking at another college. It was not until his family intervened that he knew what to do.
"My mother called me on the phone and said 'Jeff you need to get out of there,'" Fleming said. "One thing I've learned in my life is that when my mom tells me to do something, it's 99.9 percent right."
Fleming said those times were his worst moments as a football player.
"That was the bottom of the barrel for me. That was as low as I've ever felt," Fleming said. "I question the fact that I could play the game anymore."
The advice from his mother ignited new inspiration for Fleming. He began looking for a new home that would accept his talents as a quarterback for what they were. And for the second time, he became a Hornet.
A few short weeks before Fleming started his junior season at New Mexico State, he uprooted to Sacramento. He never played in a regular season game for the Aggies.
"He needed a home. He was looking to get out of New Mexico State and we told him we'd like to have him," said Sac State head coach Marshall Sperbeck. "I liked his mobility. He's multi-talented."
With only seven practices at Sac State, Fleming didn't expect to get much time on the field right away, but that changed when 2009 Causeway Classic hero, quarterback McLeod Bethel-Thompson got injured in the opening game against Stanford. Barely knowing the playbook, he was thrown into the game.
"(Coach) said 'Are you ready?' And I came walking into the huddle and (players) were looking at me like 'Who are you?' and I'm looking back like 'I can't tell you guys one of your names," Fleming said. "It was a surreal experience."
Senior running back Bryan Hilliard was impressed with Fleming as a teammate and how fast he was able to fit in at Sac State.
"He has a lot of experience and he's a quick learner," Hilliard said. "I think he's very passionate about the game."
Fleming went on to have a successful 2010 season at Sac State, going 138-248 in completions and threw 23 touchdowns with 10 interception. He also ran for 399 yards and crossed the end zone twice.
The team's record was 6-5 with a number of close losses including rival UC Davis and Football Championship Subdivision champions Eastern Washington University. Fleming looks to build off those experiences and change those close losses to big wins.
By winning at Oregon State to open the 2011 season, Fleming has turned his past struggles into nationally-recocgnized success.
In Oregon, Fleming completed 22 of 35 passes for 257 yards, three touchdowns and no interceptions. On the last play of the game in overtime, Fleming remained poised as he rifled the ball into the end zone to complete a two-point conversion in overtime to snatch a win away from the Beavers – completing one of the biggest upsets of the day for all of college football.
Because of his excellent performance in the game, Fleming was named Big Sky Conference and Football Championship Subdivision offensive player of the week.
Fleming's triumph against the odds will cement his place in Sac State history and could foreshadow a great season to come.
Despite the recent success, the road to becoming a college quarterback had several turns for Fleming, but he now knows this is where he belongs.
"I feel like I'm finally in the right place," Fleming said.
Joe Fleming can be reached at sports@statehornet.com.