Sac State beats Montana for first time in school history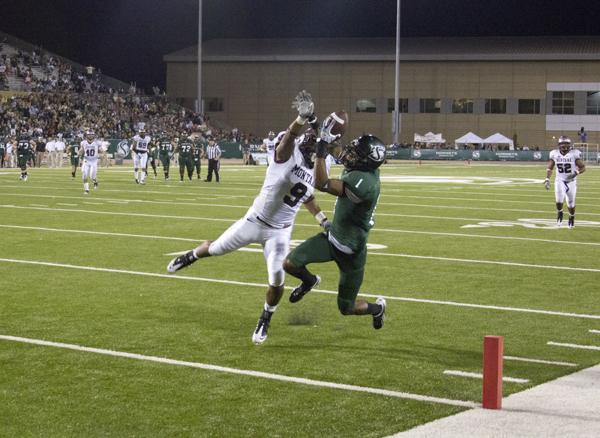 It took 17 tries over 18 years, but the Sacramento State football team finally beat the Montana Grizzlies, winning 42-28 in front of 12,751 sports fans at Hornet Stadium Saturday night.
Before this game, the Hornets were 0-16 against Montana since their first meeting in 1993.
"It's my fifth year, so it feels good to finally get a 'W' under our belt against the Grizzlies," said defensive end Zack Nash.
Quarterback Jeff Fleming lead the way for the Hornets, throwing for 224 yards and two touchdowns, and running for two more scores.
The game was close throughout the first half. The teams traded touchdowns before Sac State went into the locker room up 21-14.
The Hornets opened the game with a conservative offensive game plan, relying on the run and short passes. 
This strategy earned the Hornets an 82-yard scoring drive that lasted 7:20 and ended with a 9-yard pass from Fleming to Chase Deadder.
The next two Hornet drives concluded with touchdown runs of 7 and 9 yards by Fleming. The two run scores doubled Fleming's career rushing touchdowns to four.
"Normally, I'm not a touchdown runner," Fleming said with a chuckle. "For some reason, in my life I've never been able to get into the end zone very much, so it kinda felt good today."
If the first half felt good, the second half must have felt great.
The Hornets wasted no time increasing their lead, scoring off a blocked punt less than two minutes into the half. Deadder blocked the ball and defensive back Markell Williams picked it up and ran it 30 yards to the end zone.
On Sac State's next possession, running back Sam McCowan ran for a 42-yard score, breaking tackles and eluding multiple Grizzlies along the way.
Montana climbed within two touchdowns late in the third quarter, scoring on Jordan Johnson's 4-yard run.
Heading into the fourth quarter with a 14-point lead, Sac State came out, determined to run the ball. Hilliard and McCowan took turns carrying the load, tiring out a Montana defense that had been on the field twice as long as the Montana offense.
Hilliard ended the day with 22 carries for 100 yards, 70 of which came in the first half.
"The offensive line did a tremendous job today. They did their homework." Hilliard said. "I was able to execute, and me and Sam (McCowan) were able to do our part in the offense."
The Hornets capitalized on the strong one-two rushing punch by using it to open up the passing game.
After driving for 53 yards in eight minutes, the Hornets used a play action fake to get wide receiver Brandyn Reed running against single coverage deep downfield.
The ball was already in the air as Montana's safety raced over, just a split-second too late to defend the pass. Reed jumped to snag the ball at its highest point, falling backward in the end zone to complete the 37-yard score.
"We saw an opportunity, they were jumping our routes, and we thought maybe we could get one there," Fleming said. "In fact, they actually played it quite well. The safety peeled off and covered him, but (Reed) made an incredible catch for us."
Montana would score on Dan Moore's second touchdown run of the day, a 1-yard run with 28 seconds left in the game.
By that time, much of the Hornet crowd was filing out of the stadium.
When they were in the stands, though, the fans were loud and energetic, standing and chanting at every big play and first down.
"Playing (on the road), the other team always has the advantage, so having that crowd with us, that was big time," said defensive back Joe Larche. 
Larche gave the crowd a lot to cheer about, intercepting two Montana passes.
"Turnovers, those kinds of opportunities create momentum for you, and they create excitement and create energy for your team, and we fed off that pretty well tonight," said head coach Marshall Sperbeck.
Larche's big plays were key in stopping Montana's fast-paced no-huddle offense.
The Grizzlies tried to control the tempo of the game and tire the Hornets' defense with the no-huddle offense, but Sperbeck knew his defense was ready.
"We do shotgun huddles in practice," Sperbeck said. "We're running rapidfire, we're going to get 12 plays off in five, six minutes."
The Hornets are 2-2 overall and 1-1 in the Big Sky, a conference that seems more wide open than ever.
"It's a very, very competitive conference from top to bottom. Anybody can win on any day," Sperbeck said.
Sac State's next game is Saturday at Montana State. Kickoff is at 12:35 p.m.
Dante Geoffrey can be reached at asports@statehornet.com. You can follow him on Twitter: @dantegeoffrey.