New wrestling club forms at Sac State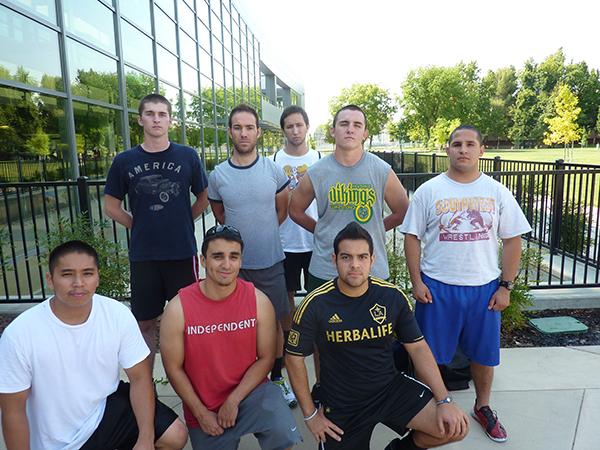 Twenty-eight years have passed since a squad donning the Sacramento State green and gold has competed in a wrestling tournament. But a couple students with a dream, along with an internationally renowned wrestling coach, are ready to end that streak.
For the majority of those 28 years, the club was dormant. There existed no place for wrestlers to come together on campus. But four years ago, freshman Michael Contreras gave new life to the wrestling community at Sac State.
Contreras rebuilt a wrestling club from the ground up. He held open practices for fun and reached out to wrestlers he met on campus. One wayward wrestler looking for a team was Javier Martinez, who is now the club president.
After Contreras gauged Martinez's interest, the pair attempted to gain notoriety for the club.
"(We) got a booth out in the Quad and I really pushed on joining the wrestling club," Martinez said. "So now we have up to 18 people showing up."
The pair kept the club going through difficult times when there was little to no funding and low membership. Their goals have been lofty from the beginning.
"Our main goal is to make a name for ourselves," Martinez said. "We don't want to be some school with the potential to have a great team. We want to be that school with a big name. We want to some day, perhaps, compete (at) NAIA/NCAA, but for now we'll start off as a club."
For the last four seasons, Martinez and Contreras had to separate themselves from learning and practicing wrestling to teach.
"It was frustrating but definitely rewarding. I'll do anything to keep wrestling alive," Martinez said.
Martinez and Contreras said they are excited to bring in August Wesley to take over as head coach. Wesley brings wealth of experience and coaching expertise and is excited to help enthusiastic wrestlers on campus.
As a wrestler himself, Wesley has medaled five times in international competitions. He competed in Guatemala and Bolivia as a part of the 1999 US International team and competed in the 1996 and 2000 Olympic trials.
Wesley has coached 11 international teams and has experience within the Sacramento area. He coached the Sierra College team to a state dual meet championship in 2003 and was the Sacramento City College coach from 2007 to 2008.
"You can't really ask for a better coach," Contreras said. "He's a top quality coach. He's worked with the best, and he was just at the Olympic training center so I'm really excited. Not particularly excited to get beat up by him every day."
Wesley has been coaching the team since the start of the semester and the club is already seeing significant changes.
"Last year they went through the process of being a sport club," Wesley said. "This year, we're taking it to a new level. We're in the NCWA and that's very competitive."
Wesley invites all who are interested in wrestling to join the club.
"We are a club sport and in that we are going to give any student on campus an opportunity to join, participate, feel good about themselves while learning a new skill," Wesley said. "However, we are a competitive sport."
Wesley's practices and training reflect the goals and the seriousness of his program.
"We're out there and we're running timed miles and we're doing those push-up pops and those plyometric explosive jumps," Wesley said. "They're running 800-meter sprints and 400-meters. I'm challenging them to push them. I don't have a base set of what my expectation is, except for push yourself."
The wrestlers' experience levels range dramatically. Neither Wesley nor Martinez require any kind of prior experience to participate in club events.
"We get transfers from Delta College, we get transfers from City College," Wesley said. "We get guys who know wrestling, we get some guys who have been wrestling since fourth grade, some guys have eight years, some guys have zero years experience, but everybody knows how to push yourself and if not that's what I'm there for – to motivate you."
AJ Taylor can be reached at [email protected].