Hornets stun Beavers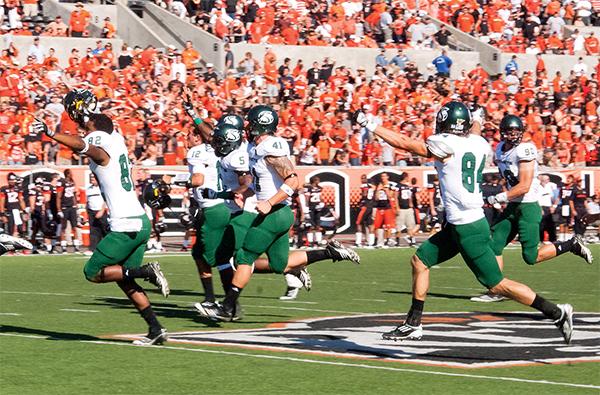 The Sacramento State football team pulled off
perhaps the biggest win in school history on Saturday when it beat
Oregon State University 29-28 in overtime.
It was Oregon State's first home-opening loss
since 2001, and the first loss against a team from the Football
Championship Subdivision since 1996, when it lost to Montana.
The Hornets won on the final play of the game,
with the winning play being a pass from quarterback Jeff Fleming to
receiver Brandyn Reed for two points.
The play that would catapult Sac State to No.
12 in The Sports Network FCS Top-25 Poll would also become the No.
8 "Top Play" on SportsCenter Saturday evening.
"There's really no words to describe it," Reed
said. "Jeff looked me in the eyes and I knew it was coming to me
and I had to make a play."
Reed, who caught the touchdown on the previous
play, finished with six catches for 85 yards and two
touchdowns.
The Hornets, who were 27.5 point underdogs,
relied on defensive stops and precision passing on their way to the
shocking victory.
Fleming went 22 for 35, throwing for 257 yards
and three touchdowns, and the defense relied on a
bend-but-don't-break philosophy.
Oregon State's first drive went to the Hornet
25, but was abruptly stopped when cornerback Osagi Odiase jumped a
route and intercepted Oregon State quarterback Ryan Katz' pass.
"I (saw) the quarterback's step and it was (a
three step drop) so I came down on it," Odiase said.
Oregon State's next drive went for 52 yards
but stalled at the Hornet 11-yard line. Sac State's staunch red
zone defense forced the Beavers to settle for a 29-yard field goal
by kicker Trevor Romaine.
Sac State responded less than three minutes
later, scoring on a 19-yard touchdown strike from Fleming to wide
receiver Chase Deadder.
The pair would hook up again with 2:39 left in
the half, this time from four yards out. Deadder finished with six
catches for 61 yards and two touchdowns. Fleming looked for him on
every big play, especially on third downs.
"(Our chemistry) is very good. We're like
brothers," Deadder said. "I'm really happy for him and really glad
we're able to be on the same team. I love that guy."
Emotions would wait to be expressed, however,
as Oregon State made a furious comeback in the second half thanks
to a substitution at quarterback and an unstoppable ground attack
led by true freshman Malcolm Agnew. Agnew finished with 223 yards
on 33 carries and three touchdowns.
Katz was pulled after an ineffective first
half in which he went 11 for 22 passing and threw an
interception.
With redshirt freshman Sean Mannion under
center, the Beavers scored 15 unanswered points in the fourth
quarter, pulling even with the Hornets and regaining momentum.
"We knew it was going to be a long day," said
head coach Marshall Sperbeck. "Oregon State is a top-flight
program. We knew they were going to show up and play four
quarters."
Despite the raucous crowd and a sense the game
might be slipping away from them, the Hornets remained focused.
"Adversity will always hit and it's all about
how we handle it," Reed said, "and we handled it well."
Both teams had a chance to pull ahead late in
the fourth quarter but neither team could capitalize on the
opponent's turnovers.
After Hornet safety Joe Larche returned a
fumble 58 yards, Sac State's 28-yard field goal attempt was blocked
with 2:35 left to play. On the ensuing drive, Oregon State's
last-second 27-yard kick for the win hit the right upright.
Oregon State began overtime on offense and
scored on its second play from scrimmage – a 17-yard run by
Agnew.
The quick Oregon State score meant Sac State
had to score a touchdown during its overtime possession in order to
extend the game.
But when quarterback Fleming threw to Reed for
a 6-yard touchdown, Sperbeck decided against extending the game,
and instead opted to go for the two-point conversion – and the
win.
"My heart went into my throat," said Pamela
Fleming, mother of quarterback Jeff Fleming.
Following an Oregon State timeout, Sac State
lined up with Reed flanked wide right, where he was facing single
coverage.
Fleming recognized the coverage immediately,
signaled to Reed and then threw to Reed's back shoulder after a
quick one-step drop. Reed turned toward the ball, backpedaled a
couple steps and reached up to haul in the winning score.
"I just took my step back, put it up and let
him work because he's a guy who's going to go up and get the ball
for you," Fleming said.
As Reed was falling backward in the end zone,
Sac State players were already storming the field.
The Oregon State squad dejectedly walked off
the field and the silent Beavers fans stared in disbelief.
But Sac State's players and fans believed,
even when no one else did.
"I knew that we'd do it," Pamela Fleming said.
"It was just a great win for the team, and for the fans, and the
parents and for the college itself."
Her son, whom she refers to as "Jeffrey," was
equally aware of the win's significance.
"Something happened today that will be with us
for the rest of our lives," he said.
Dante Geoffrey can be reached at
asports@statehornet.com. You can also follow him on Twitter:
"http://twitter.com/#!/DanteGeoffrey" target=

"_blank">@dantegeoffrey

.