Comcast to broadcast show featuring Sac State sports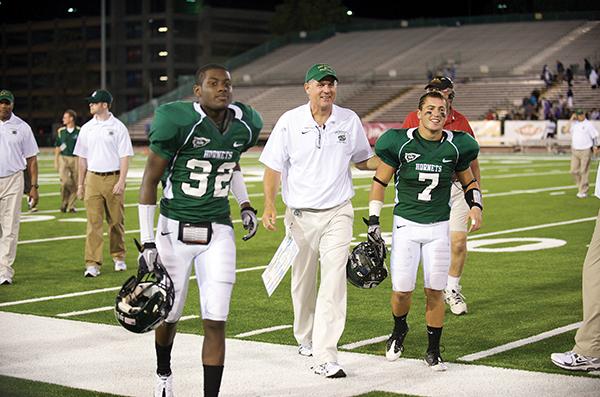 The Sacramento State coaches' show on Comcast SportsNet California was nearly scrubbed before its debut, and the setback was because of difficulties in the campus library.
The show was announced at the Quarterback Club luncheon that takes place every Monday at El Patron Bar and Grill. It was reported to debut on Sept. 22, but problems with airing it in high definition put the show in jeopardy.
The reason for the problem is that the show airs in the Sac State library studios and they are not HD equipped. This HD problem is why the show missed its airing and CSN-California backed out.
A few days later, Comcast Hometown Network entered the picture and took over for CSN-California according to Hornet media relations.
CHN is a local regional cable network produced by Comcast. It is available in the San Francisco Bay Area and Central California.
CHN's sports section will begin airing the show on Thursday and it will be hosted by Sac State football play-by-play announcer Jason Ross. The show will last 30 minutes and will be called Xfinity Hornet Football Weekly.
The show will feature Ross and Sac State football head coach Marshall Sperbeck every week. Ross and Sperbeck will go over game highlights and recap the game. They will also preview the next game on the Hornet football team's schedule.
Sperbeck thinks the show is a great idea to keep fans updated.
"The show will help promote the University and let people see what the new Sacramento State has to offer," Sperbeck said. "We are excited to let several million viewers know what is happening here on campus."
The show will also feature a player of the week segment as well as a segment that will feature another sport on campus.
This week's guest will be Hornets men's soccer coach Michael Linenberger.
Sophomore speech pathology major Greg Hernandez thinks the show will be a good way for fans to hear what the coaches think about their team's performance.
"I think it sounds like a great idea. It puts our school on the map just like our Oregon State victory did," Hernandez said. "I also like that our coaches are going to use their free time and come talk Sac State sports. It shows that they care about their fans."
The show will air at 7 p.m. every Thursday on CHN digital channel 104.
There will also be a weekend airing on Saturday at noon but that time is subject to change.
For updated information on the show, follow Hornets football on Twitter at http://twitter.com/SacHornetsFB or on Facebook at http://www.facebook.com/SacStateFootball.
Josh Stanley can be reached at [email protected].