Art exhibit draws important connections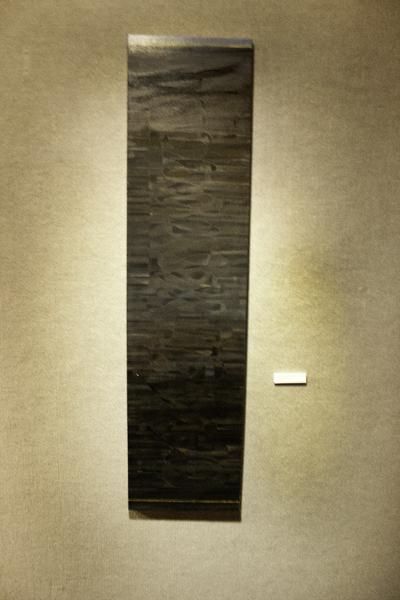 Seventy Days: Trapped in Two Thousand Ten is the name of Fernando Duarte's exhibit, and rightly so. Duarte worked on his art concurrently when the Chilean miners were trapped underground for the 70 days and 69 nights.
Duarte's exhibit, held in Sacramento State's University Union, displays 39 pieces. The exhibit started Aug. 29 and ends Sept. 29. The main medium of the art work is oil on canvas, with one piece of Sanguine on canvas. There are also some drawings.
Duarte has been painting all his life. He got started painting through his family.
"It was an easy way to go with a whole family of artists," said Duarte.
Carlos Puente, an inspiration to Duarte and a professor at UC Davis, was in attendance.
"Carlos is a scientist and we always talk about science and art as one form of expression," Duarte said. "Science and art, you know? They are so connected."
The economical struggle, the variance of lines, science, the human body, and the miners are all apparent in Duarte's work. Duarte feels the minerss experience was something to express.
"Economical struggle is kind of the base of the show. I like lines and tangle lines – rarely will you see a line finished," said Duarte.
Duarte enjoys the atmosphere of the university.
"Sometimes I feel less connected to galleries and more connected to universities. I've shown here a couple times. I feel like it is better to work on this level because it seems to be more appreciated. Galleries are more business like. This is about the effort."
The exhibit opening attracted people of all ages, from toddlers to 20-somethings to 60-somethings. There was an array of hors d'oeuvres waiting to be plucked by the guests. The jalapeno poppers spoke for themselves, as they disappeared quickly. Nearly everyone attending the exhibit was in their dressy attire.
Antoidominique Vaccaro, alumna of Sac State, notices the pieces in the exhibit. Vaccaro interprets Duarte's work as engineering life and death.
"It is a lot of work. It is extremely detailed and mechanical. The skulls have spirituality that relate to it. Did he really do all this with his hands?"
Quesstonnal Reed, alumna of Sac State, liked what she saw.
"I like the fact he softened the edges by adding the colors and he alternated by giving a lot of blacks," she said. "I love the color usage. These are good quality, he definitely has that. Color is very important to our environment. The work has a masculine feel, but he brings in feminine feel with the color."
Teresa Sosa, a junior at Sac State majoring in health science with a focus in community health education, had to take a closer look. When Sosa first saw the art, she was reminded of Picasso and cubism. With closer examination she noted the interesting perspective of the 2010 economic turmoil. "It is cool he is making connections (with the economic turmoil and Chilean miners.)"
Duarte recalls having 15 to 20 solo exhibits and about 40 group exhibits. He has been painting all his life. For Duarte, painting was a way to get out of his life. He is passionate about his work.
"Art is about work," Duarte said. "The more you work the more you inspire. I inspire myself painting every day. It is a profession; I work 9 to 5. There is no other way."