CSUS welcomes future leaders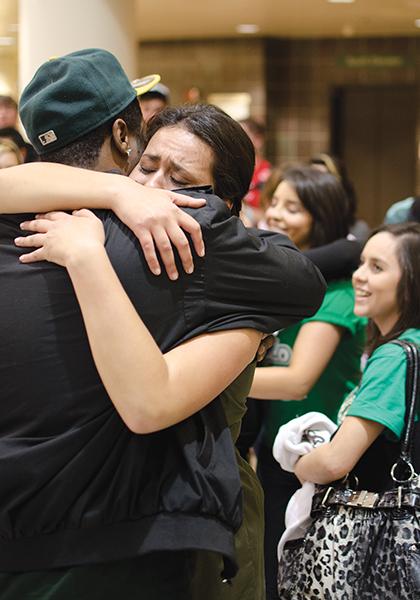 Sacramento State's Associated Students Inc. election winners were announced Thursday with a higher voter turnout than last year.
According to ASI's voter turnout results, 13.13 percent of students voted in this year's election. While it did not exceed the student government's goal of 20 percent, ASI president-elect Laura Gonzalez, senior women's studies major, said the turnout improved since last year's election.
"Although we did not reach the goal of 20 percent of the eligible student population to vote for ASI elections, the voter turnout this year exceeded last year's which demonstrates improvement, since usually high student voter turnout usually occurs when there were controversial ballot measures such as fee increases," Gonzalez said.
As the votes were counted, many positions were close in number of votes. The closest was between presidential candidates Gonzalez and senior English and film major Sarah Couch, who was beaten by a 2.32 percentage-point margin. Junior government major Avi Brotslaw, a third presidential candidate, was beaten by 13.75 percentage points.
"The results were very close and there was great competition in mostly all positions, which was great to see since four years ago there were many uncontested seats," Gonzalez said. "Also there was less need for candidates to be held accountable for their actions and their intention to reach out to students, whereas now reaching out and communicating your vision as a candidate is crucial to a campaign."
While ASI candidates who ran for office worked nonstop campaigning last month for students to vote and make a difference in the Sac State community, Couch said it was a worthwhile and memorable experience.
"It was a long process and yet, the most amazing experience," Couch said. "I am proud of every moment and wouldn't change a thing."
Gonzalez said her campaign experience was very excitingand emotional and has added a value to her leadership skills in listening and learning from others.
"I have met and discussed concerns with students that I did not know were a problem on our campus," Gonzalez said. "Importantly, I've learned to express my plans with students in an effort to receive feedback."
Now that elections are over, elected winners of ASI positions wait to be sworn into office, which usually takes place at the end of May or beginning of June. As of now, no one has received any information about the date.
While Gonzalez waits to be sworn in, she prepares for her position as president by fulfilling the goals she mentioned during her campaigning.
"I ran for ASI president because many students had suggested it to me before and I took the risk," Gonzalez said. "I had already been involved in ASI for four years as well in clubs and organizations but I wanted to bring a different perspective to the ASI Board by running with (Project Leadership, Excellence, Achievement and Determination). Our goal is to have that different perspective in order to represent students; as L.E.A.D. we offered unique ideas, new leadership, and collaborative means to fulfill our goals."
ASI's Board of Directors wants to be the voice for the students, Gonzalez said. She said student interest is the board's main goal and she plans to work together with ASI and Sac State students to fulfill her duty as president.
"I have committed to change the perception of student government by working with students on our vision for our campus and ensure that leadership opportunities are offered all throughout our campus," Gonzalez said.
Rachel Donald, senior photography major, said she hopes after seeing the amount of work and commitment from candidates running for office, they will fulfill the responsibilities they had promised.
"The thing I hope the most, from having seen the work and dedication it takes to fulfill the responsibilities placed on these individuals, is that the newly elected board will take it upon themselves to work with the past board members as well as the incumbents who were not able to make office, and use the collective energy for the students," Donald said.
The newly elected directors based their campaigns around the ideas that they have for the organization and the student body for what they would do once elected, Donald said. With this, she hopes the elected officials will work as a team to keep their word.
"The individuals elected from different campaigns will now need to come together to address the campus needs, and that will be the hardest work, but most important part for serving the students," Donald said.