Sac State snowboarder takes third in Nationals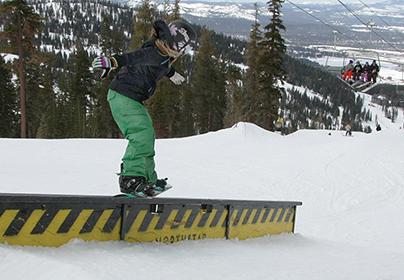 When it came time for junior Monica Koppit to pick a college she did not choose Sacramento State for the same reasons most prospective students would. It was not the student life or the curriculum for her major – it was to be closer to the snow.
Sac State's proximity to Northstar, Boreal and Heavenly ski resorts is what attracted Koppit to Sac State because it allows her to snowboard up to five times a week. Koppit, who is majoring in nursing, said she grew up in Rohnert Park, just north of San Francisco, and her family went to the snow around five times a year. But for her, that was never enough.
"My mom was a skier growing up, so we would daytrip from the Bay Area about five or six times a year," Koppit said. "I didn't start riding with a season pass until I moved to Sacramento."
Koppit is a member of Sac State's Snow Club and is a captain on the Ski and Snowboard Team. Being involved in the club and team allows her to go to the snow more regularly.
"She's a good teammate. She would provide instruction for people who needed help on technicalities like jumping," said team president Makaila Bird. "Me and her are close friends, and she keeps pushing you to do stuff that you wouldn't do without her there."
The snow team and Koppit went the United States Collegiate Ski and Snowboard Nationals in Idaho in March. Out of 50 schools, the women, including Koppit, finished third in slopestyle. Individually, she finished sixth in slopestyle and seventh in the half pipe events.
The goal of slopestyle skiing, or snowboarding, is to complete highly technical tricks while gaining as much altitude as possible. Slopestyle, Koppit's favorite type of competition, is very popular in the Winter X Games, but has yet to become an Olympic sport.
Koppit's ambitious mentality when snowboarding has led her straight to the doctor's office at times.
Last year Koppit needed surgery after she tore an ACL in her knee.
Koppit said she was in the Burton Amateur Series competition at Northstar at Tahoe ski resort when she "cased" a jump, meaning she hit the knuckle where the slope goes from flat to downhill. The impact was hard enough to completely sever the ACL tendon in her knee.
"When I went off the jump I didn't have enough speed, so I came up short of the landing. I hit the knuckle (of the landing) and my knee just exploded," Koppit said. "I tumbled down the landing and as soon as I stood up my knee just collapsed."
She also injured her shoulder during a snowboarding incident back in her junior year of high school, and she received surgery for it in May 2010. Koppit knows the dangers that come with her sport. After enduring several concussions from hard landings without a helmet,
Koppit wears one at all times.
The bumps, breaks and bruises that Koppit experienced worries her mom, Sue Koppit.
"I get the phone call from my mom everyday, 'Hi Monica, it's Mom, just wanted to make sure you're in one piece,'" Monica Koppit said.
Even though her parents are apprehensive about her snowboarding, they are very proud of the job she is doing in school and support her passion.
"It's very scary for us," Sue Koppit said. "Every time she goes I call her hoping she makes it down the hill without another injury."
Growing up, Monica Koppit participated in several other sports as well. She competed in gymnastics, played soccer and was on a fast-pitch softball team. Her mother said she was accepted to other colleges like San Diego State and Long Beach State, but because those schools are not close to the snow, Monica Koppit chose to be a Hornet.
"Snowboarding is her life right now," Sue Koppit said. "Growing up, she was always a big skier and then she went into (snowboarding)."
Monica Koppit said she is concerned about the injuries and punishment her body takes from riding, but in the end it is all worth it for the experience.
"It's kind of a scary thing to think about when I'm older because I've been putting my body through hell, but it's because I love the sport so much," Monica Koppit said. "As I'm doing the run I just notice I have a fat smile on my face. Especially when it's fresh powder and I'm slashing through the snow. It's all worth it."
You can reach Joe Fleming at jfleming@statehornet.com