Green-Gold Game gives glimpse at 2011 season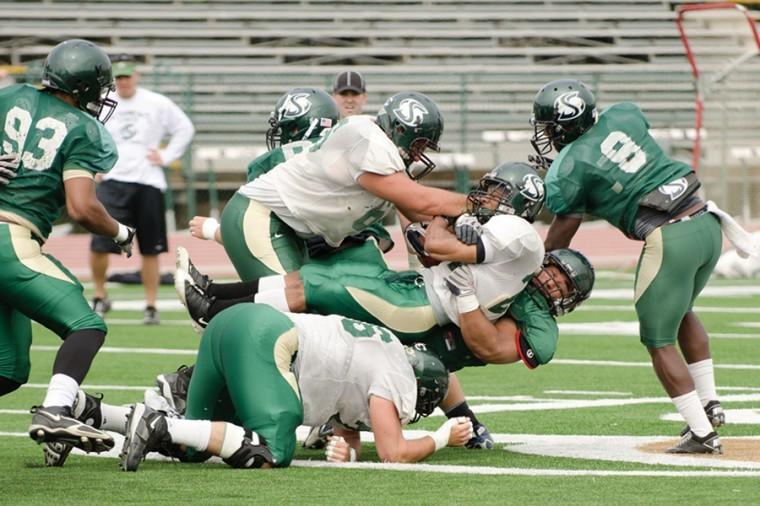 The Sacramento State football team took the field to play its third and final scrimmage of the spring on Saturday. The coaching staff was pleased with the play of the defense, while the offense, which was missing several key players, needed more consistency moving the ball.
The scrimmage was divided in two sides of offense in white tops and the defense in green tops, but is more commonly known as "Green-Gold Game." The practice was designed to resemble an actual game and the players held little back as the defense laid waste to the quarterbacks with several crushing sacks.
The offense was playing without their starting quarterback, senior Jeff Fleming, who was sidelined with an injury to his throwing arm from last season. Fleming took a hit that caused scar tissue to build up near his elbow, which caused nerve damage. He said the injury was an ulnar nerve decompression that required surgery. He said recovery has been great so far and he expects to be throwing in a week and he fully anticipates being ready for the first game of the season against Oregon State in September.
"The healing process has actually been way better than we thought it was going to be," Fleming said. "I expect to be 100 percent by June."
Fleming said that once the offense plays more consistently they will be hard to stop. He said that he's going to be putting in the extra work this summer to make sure he and his offense are ready for the season.
"Just coming out here and throwing routs, learning different players speeds and getting that sixth sense about what a guys going to do in certain situations really helps you because then you're on the same page," Fleming said. "We don't need to worry about opposing defenses. If we just do our thing, then it's going to be really hard to compete with us."
Another player the offense was missing was senior wide receiver Chase Deadder, who was named the team's most valuable player during last season. Deadder is also dealing with an arm injury he suffered from the second scrimmage of the spring. While catching a pass in the end zone, he hurt his acromioclavicular joint, or AC joint, in his shoulder. Similar to Fleming, Deadder's rehabilitation is going well and he expects to be ready in plenty of time for the first game.
"We have a lot of guys that have nicks and bruises, but everybody will be ready by fall," Deadder said.
This is Deadder's fifth season at Sac State and he's seen many players come through the program, but he's most excited about this Hornet team and students should be excited about possibilities this year.
"This is the best team that I've played with so far. The chemistry between not only the players, but also the coaches is better than it's ever been," Deadder said. "I feel like the way things are going we'll be a really good contender and probably take it all."
The confidence of Fleming and Deadder was not outdone by the play of the defense.
The overcast and breezy day did not slow down the green-topped defense, which swarmed the offense on each play. After every tackle, sack or forced fumble, the players on defense were high-fiving and cheering each other on and off the field. The team's defensive coordinator, Anthony Parker, appreciated the effort his guys gave him.
"We've got spots to fill and some of the young guys have stepped up and really improved," Parker said. "We've got some great leadership and a lot of good players coming back that are going to fill in and carry the load. I think it's going to be very, very positive."
Sac State's head coach, Marshall Sperbeck, said he was impressed with the defense as well, but the offense needs to do a better job.
"I thought the defense did a nice job. I thought they played hard, had some nice turnovers, and kept the offense off balance," Sperbeck said. "The offense had some nice plays, but struggled with consistency."
Sperbeck said this team will be ready come fall and he feels that this team can beat anybody they play.
"You've got to take it one week at time, but we feel we're capable of winning each game," Sperbeck said.
Sperbeck also said Fleming has the starting position locked down at quarterback, but there is definitely a competition over the No. 2 spot.
Aside from the issues on the field, both Sperbeck and Parker want to make sure the players focus on their schoolwork for the remainder of the semester.
"Our guys have two weeks of school left, so they have to knock it out and do great in the classroom," Parker said.
At the conclusion of the scrimmage, Sperbeck rallied his team at center field as he addressed players.
"I tell you what guys, I think we've got a chance to be pretty damn good," Sperbeck said. "Let's not let a day go by where we're not thinking about adding value to the team and making this team better."
You can reach Joe Fleming at jfleming@statehornet.com