Softball takes split against UOP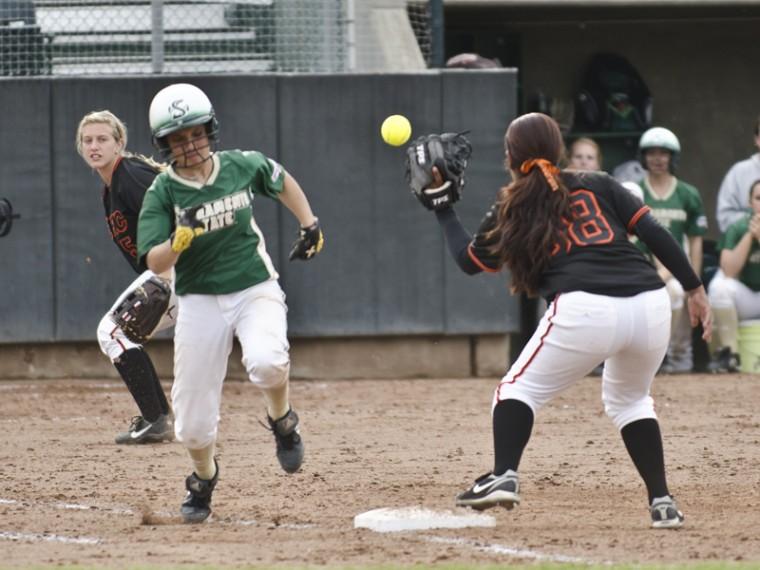 Sacramento State's freshman phenom pitcher Taylor Stroud continued to impress by leading the Hornets' softball team to a shutout victory of 2-0 in the first game of doubleheader against the University of the Pacific.
The UOP Tigers would turn around and return the favor in the second game winning 3-0.
Stroud went five hitless innings in her first appearance as a starter before allowing a double from UOP's Nikki Armagost. She racked up six strikeouts, gave up three hits and did not allow a walk throughout the seven-inning game. Stroud's confidence translated into good pitching on the mound.
"I just pitched my game and just tried to relax," Stroud said. "I'm excited because we have some tough teams coming up, but I think we have a chance to win and do really well this year."
Hornets' head coach Kathy Strahan was impressed with the performance she got from Stroud.
"She did a nice job. She shifts gears (on her pitches). UOP is good hitting ball club. You really need to keep them off balance and (Stroud) came out and did that," Strahan said. "We never really knew how far she could go and I think we're getting our answer and I'm pretty excited about that."
Strahan said performances like that will definitely earn Stroud a spot in the starting rotation.
"Right now I've got to say she's our starting pitcher," Strahan said.
Sophomore third baseman Emily McCormick was responsible for the Hornets' two runs in the game when she ripped a double in the third inning and a sacrifice bunt in the fifth.
"It's always important to come through and get the hit, but when your pitcher is pitching like that you just have to keep the intensity up and keep fighting at the plate," McCormick said.
In the second game,UOP's pitcher Tori Shepard amassed her own seven scoreless innings to split the doubleheader. Sac State threatened with runners on base throughout the game and had two on in the bottom half of the seventh, but again came up short of the big hit it needed to pull back in the game.
"Timely hitting, where was it?" Strahan said. "I think it was the difference in the game."
Strahan said the team is working daily at practice to get better in those situations.
"It's part of the game and it's part of the process. We spent last week working hard on hitting with live pitching," Strahan said.
Senior pitcher Megan Schaefer took her third loss of the season in the second game for the Hornets. Schaefer's record dropped to 1-3 on the year.
Sac State drops to 3-8 on the season and plays at Long Beach State on Friday.
You can reach Joe Fleming at jfleming@statehornet.com