?No Se Paga? director modernizes play for theater students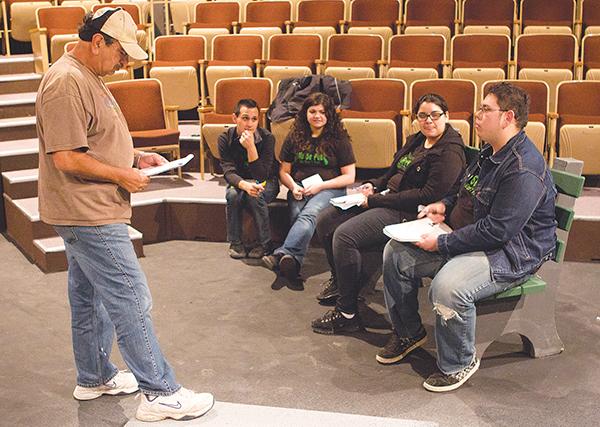 Drama professor Manuel Pickett's lifetime infatuation with theater, music and culture is familiar to those who have been taught or directed by him.
"Professor Pickett is a very passionate person," said senior theater major Marianne Gaona. "I'm extremely shy, and he helped me open up and grow as both as an individual and as an actress. He just has so much first-hand experience, and he loves what he does – that's what makes him such a wonderful instructor."
Pickett has been a professor in the department of theater and dance for 33 years. He planned to retire in 2007 to focus on Teatro Espejo, the theater troupe that he directs year-round, but he decided to teach until another professor could take over his courses. Next year is intended to be his last at Sacramento State.
Pickett himself was a graduate of Sac State before pursuing a doctorate in theater research at UC Davis. Over his years of being a professor, his Chicano heritage has been a major staple of the subjects he's taught – having done multiple courses focusing on Chicano theater. He's also taught courses in guitar, multicultural puppetry and appreciation of acting.
"A lot of Hispanic-Americans born here are disconnected from Chicano culture," said sophomore theater major Jose Perales, who is enrolled in Pickett's contemporary Chicano/Latino theater course. "Professor Pickett does an excellent job of reconnecting us to that culture through exploring their theater."
Pickett started playing music at the age of 12. Prior to teaching, he worked as a music director for El Teatro Campesino, a Latino theater troupe in San Jose. In his hometown of Fresno, he started up a band that combined rock "n' roll with Mexican ranchero at the age of 13. He now plays in Cactus Fire, a Sacramento-based Tex-Mex band.
"Basically, I started up bands everywhere that I went," Pickett said. "I absolutely love music. Up until10 years ago, I was still doing all my own music for plays. I recorded songs and sound effects to play during performances, sometimes I would even sing backstage."
Pickett directs two to three plays a year through Teatro Espejo. In recent years, he has put on performances of "Frida Kahlo," a play profiling of the famous Mexican painter, and "El Grito De Dolores," a play depicting the story of Mexican independence.
"I've spent a lot of my time dedicated to directing tragedies," Pickett said. "Which are no doubt important plays, but I get the most enjoyment out of directing comedies. Comedy is what I was trained in. It's my forte."
The latest of Pickett's theater productions at Sac State is the political comedy "No Se Paga" or "We Won't Pay." It was first written in 1974 by the Italian satirist Dario Fo. It was adapted to become a bilingual Spanish-English version in 1987 by El Teatro de la Esperanza in San Francisco.
"No Se Paga" is a story of serious political and cultural issues made funny through satire. Issues of profiteering and corruption are addressed through the two working-class characters who are forced to turn to theft when the price of food skyrockets. The play will feature five actors, all of whom have previously had Pickett as a director or teacher.
Pickett said when he was given the script, it was basically a draft. The play was written years ago, so most of the political figures and issues alluded to in the script were outdated. Pickett took the old script and rewrote entire portions of it in an attempt to modernize it.
"As an example, there was a line in the play that referenced Jackie Kennedy – it"s not that students wouldn"t necessarily recognize it, but swapping it out for a Sarah Palin reference makes it a lot more relevant," Pickett said.
Opening night for "No Se Paga" will be held at 8 p.m. Thursday in the Playwright's Theatre, and the show will continue Friday through Sunday and from March 9 to 13. Tickets for admission are $8 for students, and a discounted price of $5 on opening night.
He looks forward to having a live audience present to laugh along with all of the comedic elements, and to ponder over the political and cultural commentary.
"I'm not having to remain faithful to a script with "No Se Paga.' so I'm allowed more creative freedom than usual," Pickett said. "During the rehearsals, I can say, "You know what, let's do it this way instead.' Then we'll take parts and make it more funny, or give it a political twist. It"s been a great experience."
Brett Johnson can be reached at [email protected]