Fraternity provides weekly shoe drive for Shiloh Arms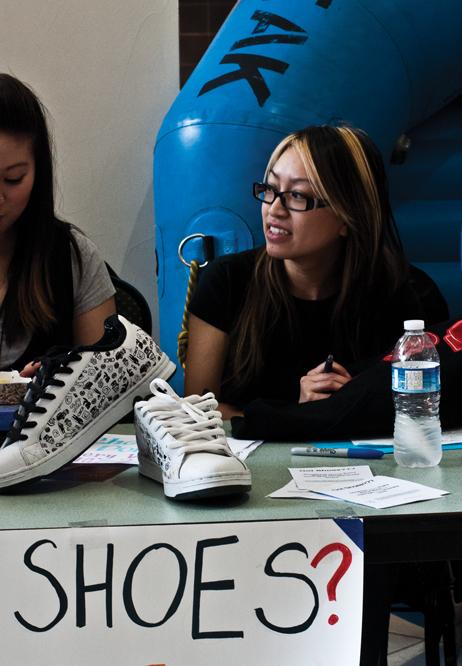 Students will have the opportunity to help underprivileged children and their families through the contribution of shoes during Alpha Phi Omega's month-long "Got Shoes???" donation drive at Sacramento State.
Sac State's chapter of Alpha Phi Omega is collecting shoes that will be donated primarily to local after-school program Shiloh Arms, with a portion going to the international charity organization Soles for Souls.
Donations of gently worn shoes will be accepted in the University Union at a table across from the information desk from 10 a.m. to 2 p.m. every Wednesday in March.
While this is its first time organizing a shoe donation, the community-service focused fraternity has run donations for the day-care center Shiloh Arms in the past.
Shiloh Arms is a state-funded program that provides childcare services to low-income families in Oak Park and the greater Sacramento area. Last semester the fraternity collected school supplies for children in the program.
"This could be the only time that we collect shoes," said Alpha Phi Omega member Lyn Banales, an organizer of the drive. "However, we work closely with Shiloh Arms, and we organize donations based on what they are in need of. If they need more shoes next year, then we'll organize another shoe donation."
Because donations are going to the families of the children at Shiloh Arms, and people of all ages through Soles for Souls any size shoe is acceptable. Shoes can be new or used, but they must be in decent condition if previously worn. Any type of wearable footwear will be taken for donation, even high heels.
"We have received mostly running shoes and sneakers so far," said Alpha Phi Omega member Ann Libranda, senior biology major. "We'll take any shoes, as long as they don't have holes or are otherwise unwearable. Children's shoes and practical, everyday footwear is preferable, but anything helps."
Michael Yadao, senior chemistry major, plans on bringing in some of his old Vans shoes that have gone untouched in the closet for months. Yadao said donating shoes is an easy way to help impoverished families, which can be rewarding.
"I realize that there are people less fortunate than I," Yadao said. "It feels good to be able to help out underprivileged children and families, even if it's a small donation. All that I'll do is give up some shoes that I hardly use or have grown out of, and it will be put to use by someone that really needs it. There's a great deal of personal satisfaction in that."
Co-ed fraternity Alpha Phi Omega takes part in multiple community service events every semester. Members are encouraged to both organize and participate in activities that benefit the less fortunate. One of the fraternity's regular activities is volunteering at St. Philimene's Church, feeding the poor and hungry.
Planning for the most recent service to low-income families began in early February, but the fraternity had to wait for permission from the University to host the "Got Shoes???" donation within the Union.
Once the donation drive opened up for the participation of Sac State students, members of the fraternity set their expectations high.
"I would like to have somewhere near 100 shoes in donations by the end of this month," Libranda said. "The first day, March 2, was slow. Only two pairs of shoes were donated that day. A lot of people were just finding out about it though, and most people were saying, 'I'll bring some shoes in next week.' I think we'll get more donations once word spreads around."
One hour after opening up the donation table in the Union on March 9, Alpha Phi Omega had already received two pairs of shoes. This, combined with the 10 pairs of shoes donated by members of the fraternity, brings the total up to 14.
For the fraternity to reach its self-imposed goals, an increased amount of donations from Sac State's students will need to be brought in through March 23, the final day of the donation.
T Nguyen, senior kinesiology major, said the fraternity's funding is limited, and the lack of resources has led to members struggling to meet their own expectations for the donation. While he would be happy with at least six pairs of shoes donated every Wednesday, having more than that "would be amazing."
"We really need to spread awareness of the donation," Nguyen said. "We've been trying our best to reach students with what we have to work with. More fliers around campus, advertisements through social networking and word of mouth will hopefully help to gain more attention. The more people find out about it, the more likely it is that we receive donations for those in need."
Brett Johnson can be reached at [email protected]