Student teachers study at Sacramento State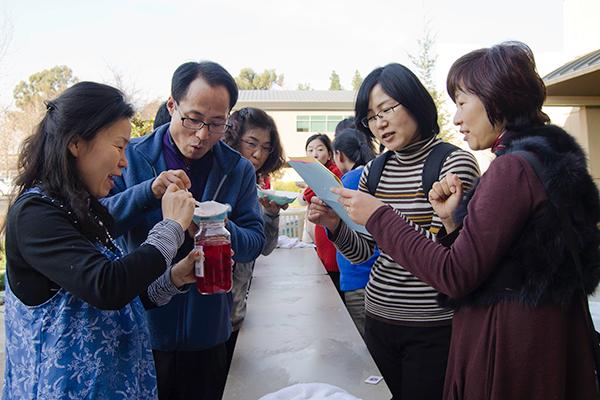 Twenty elementary school teachers from Chinju University of Education in South Korea graduated Friday from Sacramento State's International Teacher Training Program.
The four-week program is offered by the College of Continuing Education and is intended to give the already credentialed Korean teachers professional development in their careers.
Michela Lombard, junior conference planner and project manager for the Chinju group, which is made up of all elementary school teachers, said the program aims to give the students a full perspective of teaching in the United States.
"It hopes to accomplish a more well-rounded American teaching experience, trying to give them practical experiences in the classroom that they can take back and teach to their students as well as a more broad view of American teachers," Lombard said.
They were in Napa Hall fulfilling a requirement from their university in South Korea.
Since they are from outside the country, and do not know the area, Lombard's job is primarily to make sure the students in the program are where they need to be.
She said that being involved in the program allows her to break out of her usual routine.
"Most of the time when I come to work I'm just sitting in my own little world and communicating with hotels and other state agencies," Lombard said. "Since the majority of events we do are conference and training programs, the international aspect is very refreshing."
Noue Leung, the program manager who oversees the curriculum, who also acts as an English as a Second Language instructor, said the International Teacher Training Program hopes to teach the students through an immersion process, that give them an understanding of American culture they can express to their students back home.
"The goal of the program is to bring the elementary school teachers here &- to immerse in the American Culture," Leung said. "They need to learn about American culture and that's done through living with their home-stay families, field trips they take, as well as through their ESL classes."
So far they have taken trips to the Discovery Museum and the Sacramento History Museum in order to give them a better understanding of the history of Sacramento. The trips also act as a lesson on how to conduct field trips.
Since they will be teaching when they return home, another objective of the program is to get the students to observe and interact with elementary school students, which they did when they went to Golden Empire Elementary School on the Jan. 26-27.
Leung said she finds making a difference in their American experience through making their visit comfortable, and welcoming is rewarding and that they often form long-lasting friendships with the students because they get to know each other well during their time in the program.
Song Mi Sun, a student in the Chinju group, said she was impressed with the students she observed at Golden Empire.
"The students here are so diligent and kind," Sun said.
Hwang Eulja, a student in the program was particularly taken with the program, even though she misses her family back home in South Korea while she studies here.
"It's fantastic here, it's better then we expected," Eulja said.
The families who host the students during their month here have given them a glimpse of the lives of typical Americans in comparison to their own in South Korea.
"I'm living with a man and a woman who have been together for 15 years but are not married," Sun said. "That rarely happens at home."
Chang Jin Kim, a student in the program who also goes by "James," said his home-stay family would exchange cultural traditions, and recently had a New Years celebration.
Kim said that it is exciting to learn about America, while experiencing the country but that he could use some more time here.
"It's too short, but too long for my wife," Kim said.
Sean Keister can be reached at [email protected]