Softball remains positive headed into new season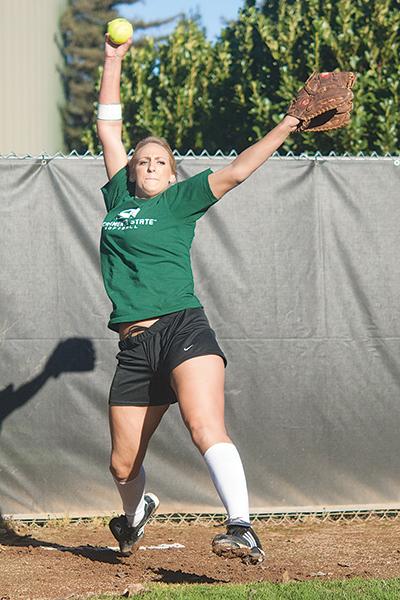 Despite a preseason snub, the Sacramento State softball team remains optimistic.
A poll from head coaches in Sac State's conference predicted the team would finish third in the standings for the Pacific Coast Softball Conference. The team suffered a slow start last year going 3-12 in nonconference games to begin, but finished with a 23-31 overall record and 13-7 against Pacific Coast Softball Conference opponents.
The season starts Friday with a double-header against Fresno State. The team will play the first eight games on the road. The season will begin with the lady Hornets competing against nationally ranked teams such as Missouri, Washington and San Diego State.
"It gets us ready for conference," said first baseman Alyssa Nakken, "I don't care that we're (ranked) third."
Nakken said she paid no attention to the latest rankings and thought the team will do even better in spite of the poll results.
The Hornets will have to survive on the road until they play their first home game against Portland State on Feb 25.
Head coach Kathy Strahan, who is a 27-year veteran of the sport, realizes the difficult start could be a big challenge for the women.
"This may be one of the toughest schedules we've ever played since I've been here," Strahan said.
Strahan said she is encouraged by what she has seen thus far and there is plenty of competition for starting spots on the team.
However, the team is still reeling from the loss of two "big bats" in Desiree Beltran, who transferred to Oregon State for personal reasons, and Erin Jones, who was removed from the team due to conduct detrimental to the program.
"One of the challenges for us is fitting those offensive roles because they were huge hitters for us," Strahan said.
Sophomores Emily McCormick and Kelli Frye, along with Nakken, will have to fill the holes left by Jones and Beltran, who hit .391 and .462, respectively.
The women are eager to gain the team chemistry and commitment to each other that will help them prevail.
"Our strength is our heart," said junior pitcher Shelby Voelz.
Voelz is one of three pitchers returning from last season. The pitching staff should be a valuable asset for women this spring. Voelz enjoyed 11 wins, 20 complete games, 5 shutouts and 118 strikeouts in 164.1 innings in 2010. She was also named Pacific Coast Softball Conference Pitcher of the Week two times for the Hornets last year.
Sac State looks to unseat Saint Mary's College this year after falling just short of them last season.
"I hope it lights a fire under our ass," said senior pitcher Megan Schaefer. "Excuse my language."
Schaefer will most likely factor as a larger part of the team's success this season. Not only is she a solid starting pitcher, earning a 1.77 ERA in conference, but can also drive in runs. Schaefer batted .368 in 19 plate appearances against Pacific Coast Softball Conference teams.
Hitting with runners in scoring position was a problem the Hornets faced all last year and is something the girls are trying to work at improving.
"That was something we struggled with last year," Nakken said. "Stringing our hits together."
Nakken has emerged as a star on the team, and may be a key player for the game. She believes it is going to take a collective effort from everyone in order to be successful and play to their strengths.
"I think we're all key players," Nakken said, "What we do well (is) we capitalize on other teams mistakes."
Joe Fleming can be reached at jfleming@statehornet.com