Sacramento State gets hypnotized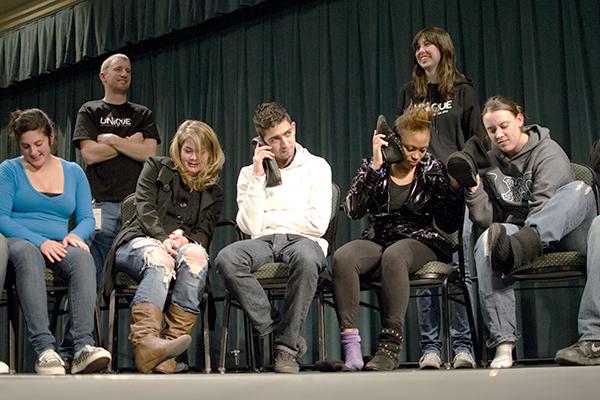 Hypnotist Tom Deluca entertained a crowd of Sacramento State students by "employing the power of the imagination" to persuade a group of volunteers into performing unnatural, comedic actions.
The show was organized by UNIQUE and took place Thursday in the University Union. Admission to watch Deluca's performance, hailed by LA Weekly as the "hippest hypnotist show in the country," wasfree.
Deluca has an extensive history performing at Sac State, one that stretches back 30 years. Up until five years ago, the annual hypnotist's performance was an event that charged for entry.
Zenia LaPorte, UNIQUE programs adviser, said the audience significantly increased in size after it was made free.
"We have him in year after year because, as you can see, he attracts a large crowd," LaPorte said. "Students will pack into nearly every seat during his performances. He's always a lot of fun."
Deluca first learned the art of hypnotism through a psychology professor in college. After earning his master's degree in psychology from the University of Illinois, he worked as a therapist for quitting smoking and losing weight using hypnotic suggestion.
Through his job as a therapist, he was presented with the opportunity to start doing hypnotism on stages. He started off performing small local shows at bars and nightclubs. His first performance for a college crowd was in 1979.
Deluca said he enjoys performing at colleges because "there's a really nice energy to it" and students "tend to be very creative."
In just one year, Deluca does anywhere from 80 to 200 performances nationwide. He does performances for corporations, usually at a charge of $1,500 per show, according to People magazine. McDonalds, BMW and Microsoft are just a few of the companies for which the self-proclaimed "corporate hypnotist" has performed.
"There's certain things that I can do at a college that wouldn't be appropriate for a corporate environment," Deluca said. "When I do shows for corporations, it's more about presenting a metaphor for the company's values than it is about just having fun."
At the beginning of his Thursday performance, Deluca stood on the stage and took 18 members of the audience as volunteers for the show. Once all of the volunteers were seated onstage, Deluca asked for the room to quiet down as he spent five minutes performing his hypnosis.
One of the volunteers for the show was Nick Huppe, senior sociology and deaf studies major. Deluca gave hypnotic suggestions to Huppe, who then carried out actions based on what he was told. The audience erupted with laughter multiple times following the outlandish behavior the hypnotized participant exhibited.
Near the end of the show, Deluca suggested that Huppe stand up and act like a cheerleader for the Hornets upon hearing the words, "Sacramento State." As soon as the words were uttered, Huppe sprang up from his chair. He flailed his arms, kicked his legs high into the air and began screaming, "Go Hornets!"
After the show, Huppe appeared to be in a trance-like state and completely oblivious to his onstage actions.
"I really don't know what to say," Huppe said. "The last thing that I remember is walking onto the stage, and everything after that is hazy."
The hypnotist's performance lasted two and a half hours, with a majority of the audience remaining for the entirety of the show. As the crowd flooded out of the Union, people discussed back-and-forth about whether the show was real or fake.
"It's important that people walk away from my shows not just laughing, but in amazement," Deluca said. "There's a lot of people that tend to think the performance is fake &- my goal is to make them into believers, but also keep them interested."
Brett Johnson can be reached at [email protected]