Majority of Health Center services paid for by tuition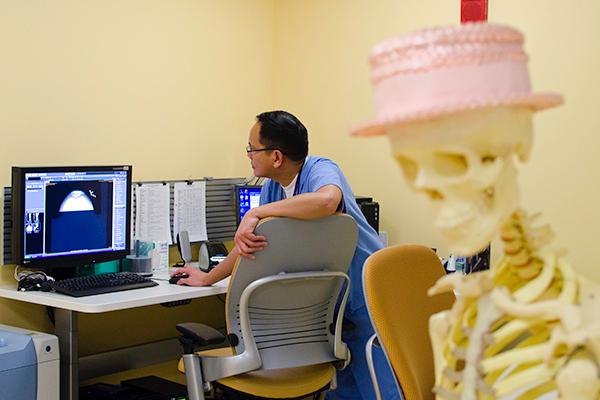 After moving into The Well last semester, the Health Center is now settled into its new location.
The new facilities contain in addition to other services available to students, an urgent-care center, counseling and psychological services and a vision care center.
"Anyone who pays regular tuition already pays health fees as part of their tuition," said Lisa Johnson, associate director of clinical operations at Student Health Services. "Whether or not they have insurance really doesn't matter."
Johnson said the health Center sees 100-150 students per day and 30-40 percent of the student population has used student health in the past year.
"It's most beneficial for students without health care," said Janet Dumonchelle, doctor of pharmacy at the Health Center. "Most services are free or at cost."
Johnson said she is proud of the up-to-date equipment the center has added since re-opening, including computerized radiography in its X-ray department.
"We have a more modern facility that created a more welcoming environment from the very start," Johnson said.
In additional to physical health problems, the center also deals extensively with mental health. The Counseling and Psychological Services program, for example, is offered to help students who might be coping with stress or personal problems that are interfering with their school work.
"The most rewarding part of my job is helping students feel better and have the tools they need to make sound decisions regarding health," Johnson said. "Disease prevention is what we encourage."
The Health Center claims that the care students would receive is the same type they would receive anywhere else.
"The physicians and providers at Student Health Services are board certified and licensed by the state of California," Johnson said. "They are no different than providers in any health care setting."
However, if a student had a more serious issue, such as ongoing cancer treatments, the Well could not completely manage his or her care.
"If they had a chronic illness we could co-manage, but we couldn't fully manage their condition," Johnson said.
Johnson said students can easily make appointments online at csus.edu/hlth for primary care visits and other medical issues.
Joy Stewart-James, the executive director of Student Health and Counseling Services at the Health Center, said they are updating the center's website to make it even more convenient to students in terms of programs it offers.
"We've actually started looking at different sites, our goal is to get it up and going this summer," Stewart-James said.
Janet Dumonchelle, doctor of pharmacy, said it is a busy time of year for them with students still getting the flu, and spring allergies coming up, but the Health Center encourages students to keep conscious of their health all year round.
"Wellness is the new prevention," Dumonchelle said.
Senior organizational communications major Matt Prosser said his experience at the Health Center has been good for the most part.
"The facilities are fantastic, and the convenience of it is nice as well," Prosser said.
The move into the Well allowed for the Health Center to expand and incorporate new equipment into its offerings.
"We are so excited to be in our new facility," Johnson said. "Any challenges we have seen as a result of our move are far overshadowed by the opportunities we have in serving our clients in a facility that offers so much promise."
The Health Center was formally in its own facility called the Student Health Center near Parking Lot 1.
"The move to the Well couldn't have gone any better – especially since before I had no idea where it was," Prosser said.
According to the Student Health Services department, its mission is to provide exceptional, cost-effective care.
"It's a good alternative for students who don't have health insurance," Prosser said. "Most of the time you can come in here and see someone within 40 minutes. It beats the hell out of an ER."
Johnson said not every service is covered; lab fees, specialty services, crutches would all be charged.
The Health Center is not only for addressing urgent health needs of students, but also an outlet for outreach programs on campus.
One of the programs Johnson said she is particularly proud of is the Student Health Advisory Committee, which includes both alumni and current students working to spread awareness of certain issues on campus.
Through such programs as alcohol, tobacco, and other drug education, mental health education, and violence and sexual assault support services, these groups aim to make a difference in the lives of students.
Johnson said one of the main goals of the Health Center is to help make students successful academically as well.
Now that the Health Center is in its new home, Johnson said she is grateful for the support that helped bring it there.
"We look forward to serving students and appreciate the vision and support we have had over the last three years in helping us make the Well a reality," Johnson said.
Sean Keister can be reached at [email protected]