CSUS designers at fashion week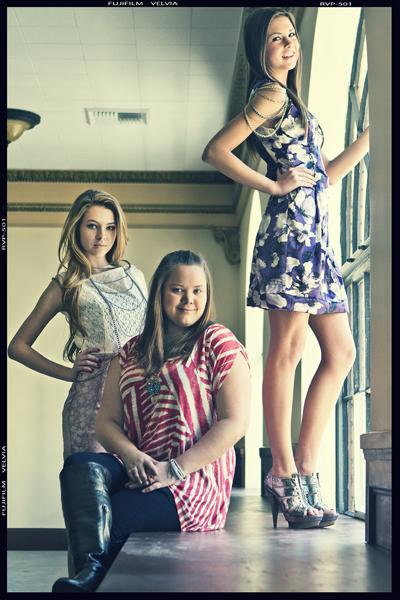 Fashion capitals like Los Angeles and New York have Prada, Gucci and Chanel. Here in Sacramento, local designers display just as much talent.
Three Sacramento State students were asked to show their lines during this year's fashion week in the Emerging Artist Showcase, at 8 p.m. on Friday Feb. 25 in the Elks Tower Ballroom on 11th Street.
JULES THOR, senior, apparel marking and design major
After spending four years working on the nursing program at Sac State and not being accepted due to waitlists, Jules Thor had a change-of-heart and switched her major to apparel marketing and design.
"I have been sewing for quite some time and this just seemed right," Thor said. "After taking an introduction to fashion class, I was hooked and knew I needed to change my major to this."
Designing her own clothes, Thor will be one of the three Sac State students participating in the Fashion Week here in Sacramento. Along with students from other schools, Thor said applied to be in the student designer during Sacramento's fashion week.
"We are emerging designers, privileged to show our work to all of Sacramento," Thor said.
Thor said she looks forward to introducing her line, which consists of 10 pieces that are influenced by her favorite female singers.
"I listen to a lot of their music while I design and sketch my work, so I decided to portray these women in my line," Thor said.
From Lady Gaga to Cher, Thor hopes to rock the event with her models.
"For each girl who walks down the runway, there will be a different song," Thor said. "To stand out, I wanted to do something different what will turn some heads."
By hosting fashion week in the area, Thor said Sacramento is making progress in becoming a more "fashion-forward" region.
"We are hoping that this event helps people recognize fashion in the areas around them," Thor said. "You don't have to be in Los Angeles or New York to express yourself through design."
KIRA MARTINSON, senior, apparel marketing and design
Designing clothing has been a way of life for Kira Martinson, starting at the age of 3.
"Ever since I was little, I have always drawn sketches and put together my own outfits," Martinson said. "I am just a very creative person."
Upon graduating high school, Martinson began her education in fashion and attended the Fashion Institute of Design and Merchandising in San Francisco. Since the institute does not provide credentials and is only part of her schooling, she decided to come to Sac State to finalize her bachelor's degree in apparel marketing and design.
"There are a lot of jobs out there in the fashion industry," Martinson said. "A lot of companies require designers to have a bachelor's just to work for them."
Martinson hopes to gain some exposure in the emerging designer show on Friday, where these Sac State students will showcase their work.
"I have done a lot of small shows – Sacramento's fashion week is on a higher scale," Martinson said. "A lot more people are coming to see our work."
Having more people see her collection, Martinson said, is important for her future in fashion.
"I would like to be a part of the design team for an already established company," Martinson said. "Getting my name out there is necessary, which is why I am using my name as the title of my line."
The main inspiration for her line, Martinson said, comes from traveling abroad.
"I am designing a lot of outerwear that incorporates the fashion I've seen in Europe," Martinson said. "My pieces bring a lot of other cultures into the designs that we would wear here."
According to Martinson, Sacramento has a rising fashion industry that a lot of people do not know about.
"Even though this is only the second fashion week for Sacramento, it will hopefully get people aware of what is in the region," Martinson said. "I've traveled to many places -fashion is everywhere."
NOOGNUV THAO, senior, psychology major
From designing clothes for her Barbie dolls to using burlap fabric for her newer collections, Noognuv Thao has always had an interest in fashion.
"I have been sewing since I was a kid," Thao said. "What really got me going was the feeling I got when I would enter competitions and win, based on my designs."
Before Sac State, Thao said she took a basic sewing class at her local junior college when she was approached by a professor to showcase her work.
"After seeing just how successful I could be, I started to design and sew more a little more aggressively," Thao said.
Since the fashion industry is highly competitive, she said majoring in psychology would give her more stability when it comes to a career choice.
"For now, designing is a hobby," Thao said. "Psychology gives me a foundation in this cut-throat industry."
Even though she designs on the side, Thao said networking and exposing her talents continues to be important, which is why she is participating in this year's fashion week.
"This collection is a little different from my traditional designs," Thao said. "I am looking forward to seeing the reaction to my line and seeing the other designers' work."
Known for using unique fabrics like burlap, the material used on potato sacks, Thao said the theme of this line is based around clowns.
"I wanted to dress the clown image down a bit, make it a little less frightening," Thao said. "My color palette is all blacks, grays, and creams – none of the crazy colors that clowns wear."
Eventually, Thao can see herself with a future in fashion.
"Of course I would like to work with someone like Alexander McQueen," Thao said. "But we all have to begin somewhere and this is definitely a good start."
Erin Rogers can be reached at [email protected]