Change for a safer semester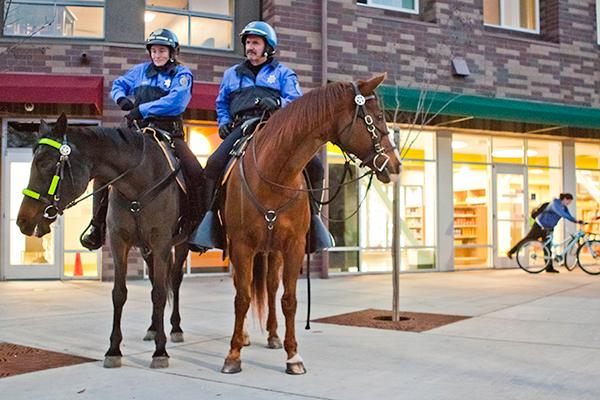 Police officers patrolling on horses is something Sacramento State students will be getting used to as the University Police are taking extra steps to provide a safer semester.
After sexual assaults last semester, University Police Lt. Joseph Green said this semester the police staff is working hard at creating a safer environment for students walking around campus.
"We're making sure that we have every single officer, including investigators and lieutenants, spending the time out on patrol being very visible," Green said. "We're kicking off this semester by bringing in extra patrol officers in the evenings for the first couple of weeks and we just hired an additional eight or 10 community service officers."
Statewide University Police Officers Association President Jeff Solomon said campus police have made some positive adjustments for spring 2011.
"Their reaction to last semester is definitely a plus," Solomon said. "And now that we have the appropriate amount of staff to have a two-officer minimum patrolling campus is a major plus."
Community service officers will be spending this semester passing out "safety tip cards" to students, reporting any suspicious activities on campus and informing students about assault prevention.
"What we do is we patrol around. If we notice anything suspicious, we radio it in," said Community Service Officer Stephanie Remlinger. "Basically we're the eyes and ears for the cops since they can't be everywhere at once. We try to be saturated on campus to let (students) know what's going on."
Students have even made sexual assault prevention tactics a part of their lives. For freshman Nicole Bee, she said carrying a whistle and mace on her keychain made her more comfortable on campus this semester.
"I'm 18 and I'm not trying to get raped or sexually assaulted, so I think it's the best idea any girl can have," Bee said. "I was scared getting out of my 5:15 (p.m.) class walking to the parking structure because that's where a majority of them happened. I've actually had the mace on my keychain since I was a junior in high school. I used to get out of work late, so it was a precautionary gift from my mom."
Traveling around campus has been seen as a sexual assault risk to students, but Green said the blue phones around campus should be used for all students if they are scared to cross campus.
"For anybody who feels uncomfortable for any reason, only needs to pick up a phone and give us a call," Green said. "We'll have either an officer or a Community Service Officer meet them and either give them a ride in a golf cart or walk with them to their next class, dorm room or car."
The university police have also made efforts this semester to escort students leaving campus to their surrounding apartments.
Even with the help the university police are providing this semester, students still fear the police will not do their job in a better manner.
Freshman sociology major Unique Orduna said she walks in a group with her good friends to class instead of relying on the campus police.
"They didn't really do their job last semester so how are they supposed to do their job this semester?" Orduna said.
Police Chief Dan Davis recently got a 14-1 vote of no confidence by fellow officers based on eight sexual assaults and a homicide on campus this past year.
While Remlinger was informing students on campus about safety tips, she said students were not as originally informed as they should be.
"It was quite a surprise that a lot of students on campus didn't know dispatch's number or know what the blue emergency phones did," Remlinger said.
It is not hard as a student to notice the abundance of officers providing help and patrolling campus.
"I've actually had three or four instances where I've had people come up to me and say, "There sure are a lot of cops walking around campus,'" Green said. "And that's how we're going to stay. We're going to remain very, very visible."
Green and the rest of the staff are making improvements to last semester's approach to providing a safer campus for students and said students should not hesitate on a sexual assault situation.
"Be aware of your surroundings. Have our number programmed into your phone and use the escort services," Green said. "And most importantly, if someone is a victim of a crime, please don't hesitate to report it. The longer the delay, the less of a chance to apprehend someone."
Marshall Hampson can be reached at mhampson@statehornet.com