Baseball begins 2011 season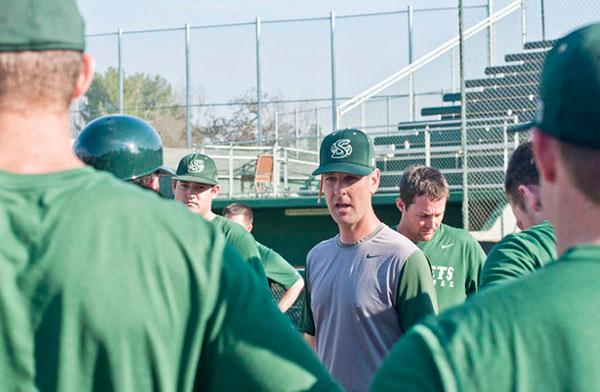 After 32 seasons head coach of Hornet baseball, John Smith has retired, making room for Reggie Christiansen to take over, marking the beginning of a new era of Sacramento State baseball.
The program has failed to chalk up a winning record since 2003 when the Hornets finished 33-24. But now under new leadership, bolstered by a nationally recognized class of freshman, and motivated by a new a fire, the Hornets have all sights set on turning the program around.
The Hornets of 2011 are returning 17 players from the 2010 season, 11 of whom are seniors who want nothing more than to end their college careers with a championship season.
One senior who is expected to lead the way for the Hornets offensively is designated hitter Trevor Paine.
Paine, No. 28, will see the majority of his at bats in the heart of the Hornets lineup. After he led the team in batting average (.381), home runs (10), and RBI's (67) last season he has little else to prove. Paine was, in fact, one of the toughest at bats in the nation last season as he finished in the nation's top 75 in fewest strikeouts per at bats.
"Offensively, Trevor Paine is going to be "the guy' for us," said freshman catcher Dax Turner.
Turner, like many of his new Hornet teammates, has a resume full of rare accolades. As a senior in high school, Turner was named to the second-team All-America, and the first team All-California.
It is likely that Turner will help center fielder and junior college transfer Eli Davis roam the outfield of John Smith Field.
Senior Derrick Chung, No. 6, has proven he can fill multiple roles for the Hornets. In both his freshman and sophomore seasons he played shortstop, but now Chung will be putting down the calls from behind the plate, managing the Hornets revamped pitching staff.
Chung is back after missing the majority of the 2010 season due to a broken hand.
In 2009, Chung's sophomore season, he hit .291, with a .378 on base percentage. Chung was perfect on the base paths in 2009 going 7-7 in steal attempts, and at the plate he belted four home runs.
Those young pitchers, inked by Christiansen, who served as both assistant head coach and recruiting coordinator in 2009, are the hallmark of this year's nationally ranked recruiting class.
"I think that Tanner Mendonca, Sam Kuykendall, Dallas Chadwick and Hunter Greenwood- those four have a chance to throw a lot of innings for us," Christiansen said. "We're trying to figure out (whether it will be out of the bullpen or starting) – we've gone back and forth."
Freshman Tanner Mendonca was once recruited to play quarterback for the Hornets, but instead he has landed himself the opening day starting job when his Hornets head to Davis.
And to close out the series Christiansen has written up freshmanKuykendall and Chadwick to start games two and three, respectively.
After losing Jesse Darrah, the only full-time starter for the Hornets last season, to graduation Christiansen was in need of a few starters to give the team the consistency they lacked on the mound.
"Freshmen are going to be a factor right away," said senior infielder Trevor Paine. "I think a lot of freshman pitchers like Kuykendall, Mendonca, and Chadwick, they're going to have to step in right away. There's not going to really be a break in period or a period where we can just throw them out there and get innings just to see guys. They're going to have to come in right away in big situations and perform well."
The Hornets finished the 2010 season with a team ERA of 6.45. The only two members of the Hornet pitching staff who posted winning records last season, James Chamberlin (3-2) and Brandon Creel (3-0), are both returning this season.
Only one Hornet managed an ERA under 5.00, Andrew Galvan (4.98 ERA). Galvan will also be returning for the 2011 season.
When recruiting, pitching was the commodity most highly sought after by Christiansen and with the addition of Chadwick, and Greenwood, both MLB draftees, the Hornets got what they were looking for. Freshman catcher Derek Goodwin was also drafted in this year's MLB draft.
Along with the new additions, the pitching staff does have some veterans, though, who will be expected to anchor it.
Returning senior Logan Todd, No. 32, led the Hornets with 20 appearances, making four starts, and is slated to see a similar amount of appearances this season. And returning senior Brandon Sandoval, No. 55, will likely see a lot of innings coming out of the bullpen this season, after he posted a 1.53:1 strikeout to walk ratio last season.
"Every series in conference play is important," Kuykendall said. "Fresno State, Nevada, Hawaii, San Jose State, they're all important, there's not one that stands out. We need to compete in every single one and win every series to accomplish our goal of winning the WAC tournament and going to regionals."
Every conference series is a test for these new-look Hornets, but for the Sac State fans there might not be a more important series than the first of the season. On Friday the Hornets will travel to Davis to begin a three game series with their causeway rivals.
"It will be a really big series," Paine said. "Coming off of a bad season last year we want to come out and want to just lay it on them, and send a message to people in the beginning of the year that we're a team to be feared."
AJ Taylor can be reached at [email protected]