President Gonzalez addresses budget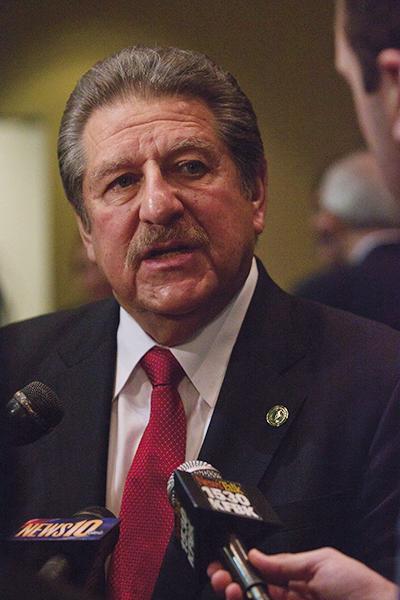 During his Spring Address on Thursday, Sacramento State President Alexander Gonzalez informed hundreds of faculty and students about the extreme budget cuts being proposed for the California State University system in 2011.
While success stories like the nursing program moving into Folsom Hall and a plan for a new science center were brought up in the address, the concern about future budget cuts to the CSU system overshadowed the positive progress of the university.
Gov. Jerry Brown has mapped out a proposed $500 million budget cut to the CSU system. Despite no exact amount being cut from Sac State until the official budget gets released in February or March, Gonzalez and the University Budget Advisory Committee already began planning for Brown's proposal.
"We're focused not only on the immediate things we need to do effectively, but the long-term is what we're looking at," Gonzalez said. "We're going to have to respond to the budget reductions. We've managed our resources very well. This year will hurt. But we'll get through it. Next year will be tough. If we don't deal with the budget appropriately, we'll be in trouble."
In recent years, Sac State students and faculty have seen different ways of handling budget cuts. Whether it has been cutting programs, classes, majors or raising tuition fees, Gonzalez said no idea has been ruled out.
"It pains me to say that the CSU cannot rule out furloughs, enrollment reductions and more deep cuts," Gonzalez said. "The chancellor has said that we need to look at all options, and no single solution will be enough to solve a cut of this magnitude."
The $500 million budget cut is not the full potential of what could hit the CSU system. Brown's purpose for the budget cuts are to start erasing debt from the state of California. Brown's proposal is seen as a best-case scenario for the CSU system.
Budget cuts and fee hikes are nothing new to the campus. Undergraduate students have dealt with a 242 percent rise in tuition fees since 2002 on top of budget cuts in recent semesters. Junior psychology major Lindsey Pavao said she has lost hope in what college is supposed to be about due to all the changes in the CSU system.
"I've kind of given up on the idealism of higher education as far as undergraduate goes," Pavao said. "It's become from this thing after high school where you go and make your dreams happen to "you need to get through it' and either go on to graduate school or make something of yourself from what you have within you."
An estimated 3,000 students will be able to start their undergraduate education with the help of vice president for student affairs Lori Varlotta and the University Budget Advisory Committee. In the case of accepting new students, Varlotta said the "stretch" number of possible new students could be upwards of 4,000. Varlotta said not reaching the stretch goal will in turn be beneficial in the long run.
"We've really come together and have a collective goal in mind. To a large extent, not a complete extent, people really understand the tradeoffs that we're making," Varlotta said. "I think people understood that we're not going to chase that stretch goal because that would put us in a precarious position for fall 2011 and letting new students in."
Even though he has been working two jobs throughout his college career and has been given no financial aid, senior accounting major Gaurav Seth said the budget cuts in the past have not swayed him away from his original plan to graduate.
"I just want all my academia to go well and graduate the way I've planned," Seth said. "I certainly believe that I have received a quality education out here. The professors have mastered in their professions and are always willing to help."
But the budget cuts of 2011 could be a bigger issue than budget cuts in the past. In fact, Gonzalez said Sac State has not had this little support from the state of California since 1999.
"We are now being asked to deliver a 21st-century education with 20th-century dollars," Gonzalez said. "Much of this will rely on an approval by the Legislature and voters in a special election."
As Sac State administrators and the University Budget Advisory Committee plan for the official budget numbers these next few weeks, Provost Joseph Sheley said he wants to make sure Sac State academics keep moving in a favorable manner.
"We are trying very hard to provide a schedule for our students to make progress towards their degrees," Sheley said. "We want to look in the mirror and say we did our best. We didn't freeze at the switch."
Marshall Hampson can be reached at mhampson@statehornet.com