Dancers communicate by putting emotion in movements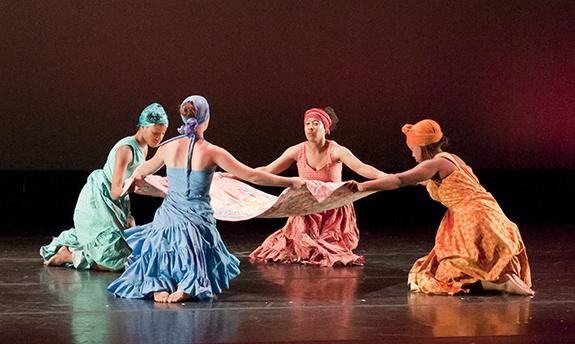 More than 30 hours of work per week for the last four months were all part of the journey for students and choreographers in the department of theater and dance's annual performance, Dance Sites 2010. This year, students really focused on communicating through this art work by putting emotion into all their movements.
This year, Dance Sites expresses many emotions, from a more powerful masculine energy to ballet influences like softness and thoughtfulness.
"This year there are three guest choreographers &- not faculty &- on the program. This is the most we have ever had and I think this just reflects the growing dance community in Sacramento. Sacramento State's dance program has become a central hub for dance in this area. There are also two pieces in the show with all-male casts which is also a first for Dance Sites," said Randee Paufve, director of Dance Sites, choreographer and faculty member.
The evolution of the dances in Dance Sites usually begins with the vision of the choreographers, picking music or exploring a literary subject as a theme for their dance, Paufve said.
"For me, I usually begin by developing movement, both alone and with my dancers, and then I try to let the piece tell me where it wants to go," Paufve said.
The title, Dance Sites, refers to many different places or sites of dance. Each of the choreographers has his or her own site.
This year the choreographers used seven unrelated stories to showcase different styles of dance, including parkour, hip hop, African Caribbean and modern dance.
One of the pieces used modern dance to show the story of a soldier writing love letters from war, requiring just as much acting as dancing.
"The face is the most important part of this piece. If we only move, we can't really say anything so we express with our faces. At one point, when we move very slowly, the only thing we have is our face to transmit what we are saying," said Diego Campos, sophomore dance major.
Because of the amount of acting involved in dance, rehearsals tended to be hard, with occasional touches of humor. One of the choreographers,Tony Nguyen's, senior dance major, rehearsals was conducted over Skype. A small computer and a larger cast made it hard for the company to get feedback from their choreographer.
"We had to resort to using gestures, large facial expressions and fitting into a small window of space for the cameras," he said. "It was particularly funny because our piece is rather seriously themed but none of us could stay serious at all."
For these dancers, Dance Sites 2010 has been a fun journey involving a lot of hard training and learning how to transmit feelings from stage.
Campos' final performance required calm energy, something he had to practice.
"We want to base everything on human feelings and experiences so that we can transmit that to the audience. They can then catch that and relate to it. I've seen pieces before that make me want a cry or scare me. I hope the audience catches these feelings and think "I can relate to that. I get that,'" Campos said.
By the time these dancers were under the spotlight, all their hard-work paid off, Paufve said.
"We were interested in well trained dancers that are virtuosos and good performers. As you can see, we have had an amazing combo of both in our cast. I am very happy with that," Paufve said.
The dances in this program varied between more athletic movements and more gestural, emotionally based dancing, but all of the dancers were passionately involved in practicing and perfecting their dance, Paufve said.
Leia Ostermann can be reached at [email protected]