Norah Jones shines with a little help from her friends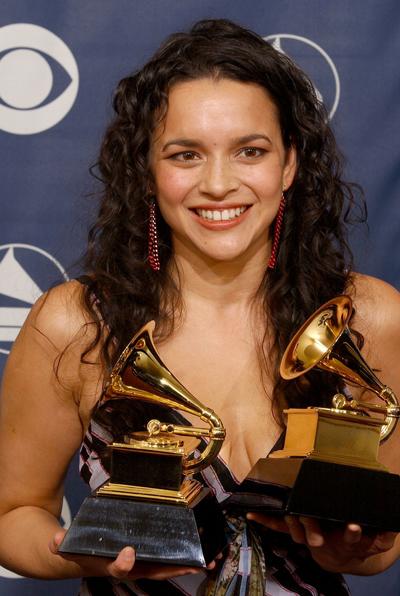 Norah Jones is someone my mom likes. Telling people your mom likes something instantly puts it into a category that you are unwilling to talk about, whether praising or insulting.
Norah Jones' new album is more than something my mom likes. It is something that I adore. Not because my taste is particularly antique or because I only listen to jazz. "Norah Jones . . . Featuring" showcases how diverse this jazz-diva can be with songs from funk, soul, acoustic, pop, blues and hip-hop genres, quite different than any collaboration she has done in the past.
The album features 18 tracks with songs recorded from 2001 to 2010. It is a mix tape that includes Jones' best songs that have yet to be heard, collaborations and projects that Jones knew were worth hearing, an album with no fillers included. It is the perfect mix-tape for every type of mood music.
Because the album does not stick to one genre, it becomes easily entertaining. Jones' voice is sultry and every track she touches is golden, even her collaborations feel as if they were written for her voice, a voice that can sometimes been soothing and calm and other times emotional and excitable.
Instantly, Jones has outdone herself by making music with holiday favorites, thigh-slapping twang and head-bobbing, hip-swaying funk, something that anyone who likes music can appreciate.
One of my favorite collaborations was with the Foo Fighters, featuring a song I was already a fan of before Jones added her touch. Partnering with the Foo Fighter's lead singer, Dave Grohl, one might assume that Jones was going to get a chance to rock. Instead, the Foo Fighter's lesser known song, "Virginia Moon" felt like it was written for the dreamy tenderness of Jones' tone. It is a blues and jazz combo with an addition of Jones' raspy voice, making it the perfect soundtrack for winter twilight.
Jones' creative spark ignites with the catchiest tune on the album, "Life is Better" featuring the rapper, Q-Tip. Unlike the pop-stars of today, Jones holds onto the instrumental quality of her voice, adding a beautiful contrast between Q-Tip's rhyme and Jones' lyrical chorus. The music sways between the funk of the beat and the saucy lilt of Jones' tone. Something about this song makes life better; the happy and playful sound of Jones' voice certainly changes a bad day into a charming one.
The versatility of Jones' voice does not limit her to one genre which often drives the genre purist nuts, thinking that Jones is not a true (insert genre here) singer. Instead, her originality should inspire any musician.
The sauciness of Jones' voice takes a different turn as she collaborates with Herbie Hancock on a jazz odyssey, "Court and Spark." Hancock's jazz-piano spins against the Zen of Jones' voice, not really turning up any new surprises about Jones' proficiency, but also never ceasing to showcase her talent. It is hard to complain about someone who continually turns out a phenomenal performance.
If you are looking for a holiday-centric impulse buy, this album might be a quick grab off the shelf. Luckily, I doubt many on the receiving end of this gift will complain. For those who are Norah Jones fans, this is a must buy. For those with serious reservations about her style being too boring (or too much like your mom's taste), you will be happily surprised. This album holds a little bit of holiday pleasure for everyone.
Leia Ostermann can be reached at [email protected]