Men?s rugby club holds onto national ranking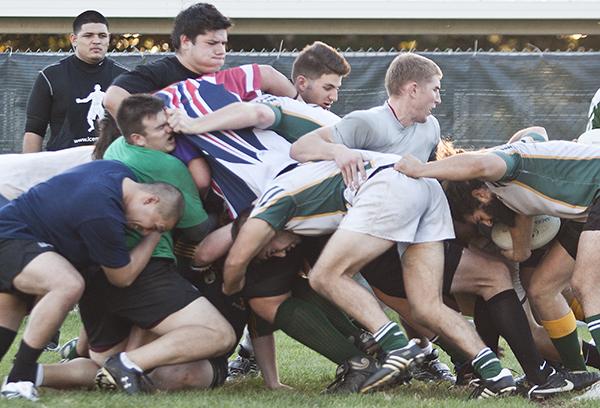 Not football, nor baseball, nor basketball, nor soccer at Sacramento State claim a top-15 national ranking. Only men's rugby has earned such national prominence. And only men's rugby at Sac State fills their display case with a National Championship trophy.
How ironic that the only Hornet team ranked in the top-50 receives no funding from the university it represents, nor does the men's rugby team have any facilities to call their own. The program goes without these luxuries because rugby at Sac State is a club sport.
The eleventh-ranked team in the nation plays and practices on the same torn grass where amateur flag-football teams play their intramural games.
And at home games about 100 fans line the homemade-pitch to watch them play.
But the team, which practices with little more than a bag full of balls, has never let any lack of attention, high-quality equipment or training facilities hinder their striving for excellence.
"Even though we might be under-facilitated with the equipment, we still make best of what we have," said men's rugby president Chris Turner. "You don't really need all the fancy equipment to be a really good team. All you need is to have camaraderie, team effort and a great coaching staff – which we all have."
Rugby may be a club sport at Sac State, but that does not take away from their work as a competitive team. Head coach Mason Gunn recruits players from all around California.
Some players have even turned down football scholarships in order to play rugby at Sac State.
"Coming out of high school I had already played (rugby) for four (years)," said team captain Craig Manno. "I had the option of continuing to play rugby and coming out to Sacramento State or going up to Oregon State for football and I chose to follow my passion and continue playing rugby."
Aside from games, the team meets just twice a week for practice and workouts. But what drives the eleventh-ranked rugby team in the nation is their work off the pitch.
"It's more of a lifestyle," Manno said. "If you want to be a real rugby player and compete in this league you have to be 100 percent dedicated and give your all the whole time. We're out here on the field two days a week, but there's a lot of work that goes in off the field as well."
The Hornets have their eyes set on a league championship and a spot in the Sweet Sixteen – the national college rugby playoff bracket.
"We were relatively at the top of our league – without mentioning Cal because they're always at the top – in the early 2000's, and then competition just got tougher and tougher," Gunn said. "We are kind of in the middle of the pack right now."
Senior Robert Kwoka said he knows who is standing in the Hornets' path to a league title.
"Our biggest road block for winning our league title is Chico State," Kwoka said. "This year however, we have a tight group of guys who have been playing with each other for the last four years."
The two teams have always been evenly matched, and a rivalry has developed out of the constantly intense competition.
"Because of our close encounters with (Chico State) year in and year out, we have built a very strong rivalry," Kwoka said. "The Causeway Classic has to be one of the biggest rivalries for any Sacramento State team, but there is nothing that compares to how pumped up we get a week before we play Chico State."
AJ Taylor can be reached at [email protected]