Double Coverage: Mia Hamm tops the list of women athletes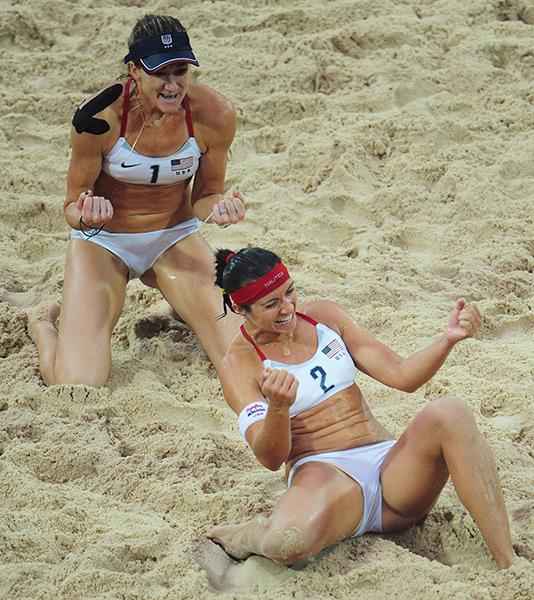 Cassie Kolias
Men are constantly recognized for the athletic abilities, but sometimes a woman comes in and gets the kudos she rightly deserves. Here are the top 10 female athletes.
10. Danica Patrick
In case you didn't know, she's a pretty talented race car driver. In 2008 she won Twin Ring Motegi and became the first female to win a major closed-course auto race. Girl power at its finest.
9. Venus Williams
Venus Williams is ranked World No. 3 in singles. She is reigning champion for women's doubles at the Australian Open, and both the French and U.S. opens Williams has won three Olympic gold medals. The only tennis player more active than Venus is her younger sister Serena Williams.
8. Michelle Kwan
Michelle Kwan is quite obviously the most renowned figure skater in U.S. history. She's taken home 42 championships, which include five World Championships, eight U.S. Championships, and two Olympic medals.
7. Jennie Finch
Jennie Finch is the most famous softball player in history. She won gold in 2004 and then won silver in 2008. She was the pitcher of the U.S. National team, and also for the Chicago Bandits. Oh yes, I'd be daft not to mention that she tops many of the "hot lists" written by men. By all means, she's a stunner.
6. Serena Williams
Serena Williams is ranked World No. 1 in singles and is the reigning champion in two categories in the Australian Open, the champion in singles at Wimbledon, and in women's doubles at the French and U.S. opens. She has won two Olympic gold medals in women's doubles and when she has played against her sister Venus, she has won 13 out of 23 professional matches.
5. Kerri Walsh and Misty May-Treanor
Kerri Walsh and Misty May-Treanor are considered to be the greatest beach volleyball team of all time. The gruesome-twosome took home gold medals in both the 2004 and 2008 Olympics. During one point in their career, they had a winning streak of 112 consecutive victories.
4. Natalie Coughlin
Natalie Coughlin is best-known for her 11 Olympic medals in swimming. In the 2008 Olympics, she was the first female athlete in modern history to take home six medals at one Olympics. She also was the first woman ever to win gold in the 100-meter backstroke at two consecutive Olympics.
3. Lindsey Vonn
Lindsey Vonn is the most successful American woman skier in history. Let's do the math, shall we? Thirty-three World Cup wins. Olympic gold and bronze. Two World Championship medals and two World Championship silver medals. Looks like the numbers add up.
2. Lisa Leslie
Lisa Leslie was one of the most prominent female basketball players of her time. She played for the Los Angeles Sparks for 12 years and during her time with the team, she won three WNBA Most Valuable Player awards and took home four Olympic gold medals. Oh, did I forget to mention that she was the first player to dunk in a WNBA game?
1. Mia Hamm
Mia Hamm played on the U.S. Women's National soccer team from 1987 to 2004. With 158, she has scored more goals in her soccer career than any other athlete, female or male. Hamm may be one of the most iconic women athletes of all time, and she was successfully able to popularize women's soccer. She was inducted into the World's Soccer Hall of Fame just three years after her retirement.
Cassie Kolias can be reached at [email protected]