Sacramento State Hornets win football home-opener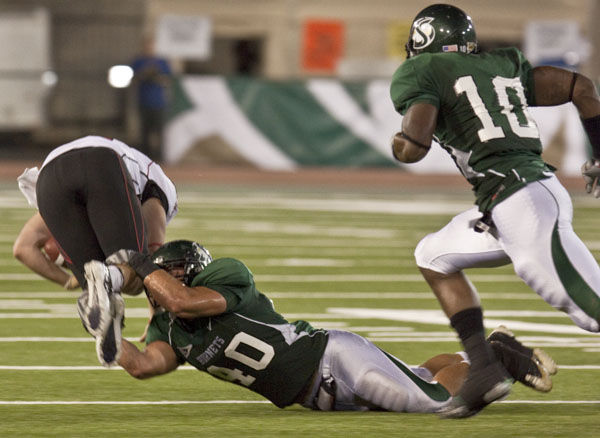 Transfer quarterback Jeff Fleming led the Sacramento State football team to its first win, scoring twice as the Hornets won 31-17 on Saturday.
The home-opening win gives the Hornets a 1-1 record on the season.
Fleming was acquired on Aug. 30 after transferring from New Mexico State University. He started his first game as a Hornet on Saturday. He was added to the roster and played in the game against Stanford University on Sept. 4 after starting quarterback Mcleod Bethel-Thompson injured his ankle in the second quarter.
In his first start on Saturday, Fleming went 10-22 passing for 209 yards, throwing for one touchdown and also had a rushing touchdown of his own. Fleming said his first start was a lot to take in for only being in the offense for two weeks.
"It was tough. I just got in there and started working really hard with (Hornets' head) coach Sperbeck," Fleming said. "Not only did I have to get coached by them, but I also had to re-coach it back to make sure I actually understood what I was doing. They gave me a small package of plays to work with and we slowly added more plays as time went on."
Fleming connected with running back Curtis Shaw for a 49-yard gain on the first pass of the game. In the second quarter, Fleming ran from eight yards out for his first touchdown of the game.
"I'm just really excited to start it off on such a great foot and start the season off the right way," Fleming said. "I think I did OK for not being in the offense too long. It was an eye-opening experience. I came out really well in the first half and I also made some bad mistakes in the second half that I learned from."
Despite throwing two interceptions in the second half, the Hornets had 391 total yards for the game. Fleming said he stuck to a limited amount of plays in the playbook and his touchdown pass came in the second half as wide receiver Chase Deadder caught a 28-yard pass from Fleming.
Fleming said taking the role of a leader in his first start was difficult because he did not know everybody on the offense.
"The thing is, they didn't really get to know me as a player when I got here so it was tough," Fleming said. "I had to come out and give them my all and running the offense in a way that can produce. That's what it's going to take for me to be a leader."
Fleming also found support from Bethel-Thompson. Bethel-Thompson had surgery earlier this week on his ankle and is expected to miss 4-6 weeks. But Fleming said Bethel-Thompson has showed him the way of the Hornet offense.
"Mac has been really helpful to me. Ever since I first walked out on the field, he was like, "When this happens, this is what you have to do' or "This is your read for this play,'" Fleming said. "At Stanford, he was on the sidelines telling me what I had to do. He's been great and I'm really, really glad to have him."
Many other players had a successful game on Saturday. Running back Bryan Hilliard became the primary back as Shaw left the field in the second quarter with a concussion. Hilliard finished the day with 107 yards rushing and two touchdowns. The 100-yard rushing game moved him to fifth all-time in school history for most 100-yard games with nine.
Hilliard said he was impressed with Fleming taking advantage of his first start.
"It was a great experience for him and he did well for only being a part of the offense for 10 days," Hilliard said. "It just shows that he can be a great contributor for us this whole season."
Hilliard capped off the first drive with a 5-yard touchdown run. Hilliard missed all of last season after having surgery on both shoulders.
"It felt good playing in front of the home crowd again," Hilliard said. "It felt like I'm back home. I just was battling with my teammates, everybody was doing what they were supposed to do and executing the plays."
Wide receiver Morris Norrise caught four passes for 41 yards. Norrise said he felt practicing hard throughout the week with Fleming showed up on Saturday.
"He led the team. He found the open receiver and all we had to do was run our routes," Norrise said. "In practice you could tell that he had a good arm and that he was a great quarterback. For him to pick up the offense in 10 days is great."
Defensively, linebacker Peter Buck had six tackles and an interception while defensive lineman Zack Nash tallied three sacks and four tackles-for-loss.
Safety Evander Wilkins had his first career interception.
Fleming will be the starting quarterback for the next game this Saturday against Weber State University at 6:05 p.m. Fleming said he enjoyed the fans' appreciation after his transfer from New Mexico State University.
"It was really just a great feeling to get out on the field again with new fans and a new crowd," Fleming said. "It really just felt great being a Hornet."
Marshall Hampson can be reached at [email protected]