New quarterback takes the reins in Sac State's victory over Western Oregon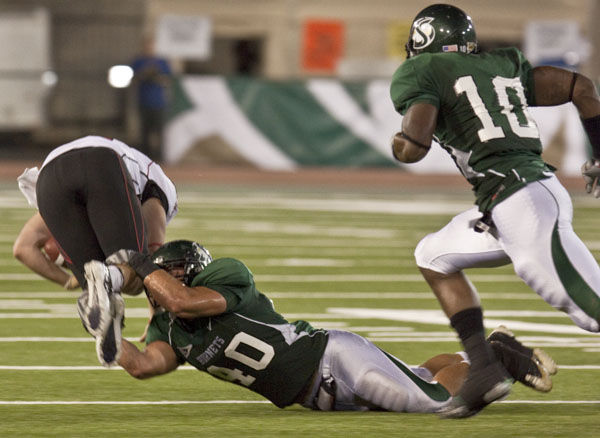 The football team defended its new turf with a 31-17 victory against the Western Oregon Wolves tonight at Hornet Stadium.
Jeff Fleming, transfer from New Mexico State and the Hornets' new starting quarterback, has been practicing with the team for less than two weeks. You wouldn't ever guess it though, in the first drive of the game the Hornets marched down the field and put six points on the board.
"It's just a feel thing," Fleming said. "It's great to just get the first completion under your belt. I just knew we were ready to fly."
The first drive set the tone for the rest of the first half. After that, it was all Hornet football.
Running back Bryan Hilliard scored two touchdowns in the first half and went on to rush 107 yards on 23 carries. It was his fifth game rushing for over 100 yards. The junior is now fifth all time in Sacramento State Hornet history in that category. The Hornets rushed for 182 yards as a team.
"It feels good, but I'm not No. 1 yet," Hilliard said, "so I've got to keep climbing."
Starting quarterback for the season opener, McLeod Bethel-Thompson, suffered a high ankle sprain in last week's game at Stanford. He is set to undergo surgery Monday and it looks he will miss at least the next four to six weeks.
With the first-string quarterback out, the stage was set for Fleming to take the reigns and face the pressure of playing in an offense he was not fully comfortable with yet.
"The quarterback position is always about trying to find out what the quarterbacks strengths are and I don't really know what his strengths are yet," said head coach Marshall Sperbeck. "And so as you go through a game you're kind of learning about what he does well and I felt like as we went through the game we got a little bit better feel this week than we did last week"
Fleming's first half was the more positive of the two. Fleming threw for 209 total yards, his only touchdown pass was in the first half, while he threw two interceptions in the second.
The football team will look to keep the momentum in full gear as it hosts the Wildcats of Weber State on Saturday. Kickoff is scheduled for 6:05 p.m.
AJ Taylor can be reached at [email protected]