?Mac? focused on rehabilitating after surgery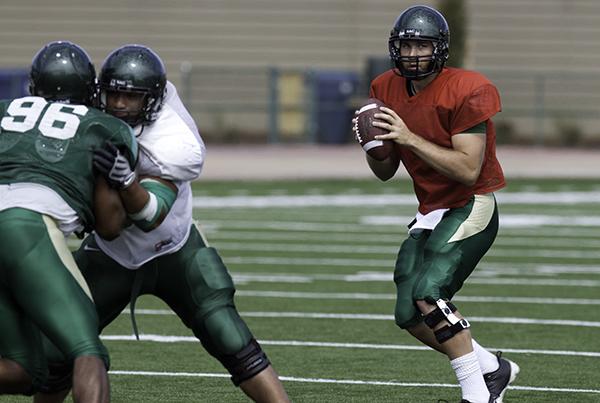 Quarterback McLeod "Mac" Bethel-Thompson found himself back at home watching television and on painkillers Sept. 18 when the Hornets beat Weber State University.
After an ankle surgery that repaired three ligaments on Sept. 13, the Causeway Classic star had no other option. Bethel-Thompson now finds himself patiently waiting for the next time he can take the field.
During the season-opener against Stanford University, the senior quarterback said the second-quarter play that resulted in an injured ankle was like any other tackle.
"It just seemed like a regular play. I went down, got hit from the front and my guard rolled up on top of me," Bethel-Thompson said. "I felt a little pop, but I didn't think much of it. I played the rest of the half, but when I came out from the second half, I couldn't push off of it for anything."
The ligaments between his tibia and fibula were all torn and needed surgery in hopes of a chance to play again this season. The surgery consisted of a plate being inserted in his ankle with two screws to hold the ankle in place.
"Without the surgery, it probably would've taken eight weeks to heal this or longer," Bethel-Thompson said. "Maybe the ligaments would've never come back together. With the screws in there, it takes four weeks for it to heal and then its a matter of how much pain I can deal with."
Graduate Assistant Athletic Trainer Kirk Kaps and the rest of the trainers started rehabilitating Bethel-Thompson last week after he arrived from being on bed-rest.
"We finally just started doing rehab stuff with him this week. Mainly things for his injury, we'll do stuff like range of motion and try to get his range of motion fully back," Kaps said. "In Mac's instance, it's kind of hard to prevent something like that because of the way things happened. We do the best we can to prevent it, but sometimes things just happen like that."
The training staff focuses on making sure that athletes take the training seriously so they can have things heal the right way.
"We'll have them ice, put ice-wraps on, do rehab stuff and do exercises on the floor," said Kolby Bradshaw, athletic training student. "It's super important for them to come in here so they can play at the level they were used to."
For an athlete who also injured his knee in 2008, Bethel-Thompson has an optimistic attitude towards a situation that caused him to miss the game that he loves.
"Considering my whole career, you have to appreciate each snap you get because you don't get very many and you never know when it's going to stop," Bethel-Thompson said. "When you get back, your ankle is going to tell you what you can do and what you can't do."
Bethel-Thompson led Sacramento State to a comeback win over UC Davis in last year's Causeway Classic on the final drive. The Causeway Classic was the last full game Bethel-Thompson has played since the injury.
"It's kind of a sucky time because I just want to start running, but I have to wait for it to heal and everything," Bethel-Thompson said.
As the four-week healing mark approaches, Kaps said it will take time for Bethel-Thompson to regain his football motion.
"As they start getting closer to healing, we start doing more sport-specific stuff," Kaps said. "We'll start getting him more in his stance, popping out of his stance, getting him to do lateral movements and we progress them into practice. We don't just throw them back into practice because the doctor says its OK."
Bethel-Thompson said he hopes to be back on the field by the time the Hornets play Eastern Washington on Oct. 23, after the bye week.
He acknowledges that he still has a competitive mindset for the final part of his last season as a Hornet.
"It is what it is. This is not how I wanted my senior year to go," Bethel-Thompson said. "I want to play football forever and that may not happen now. The only goal to work for is the four to five games that I'll get at the end of the season. You have to have a short-term memory and make the most of it."
Marshall Hampson can be reached at sports@statehornet.com