Local Breweries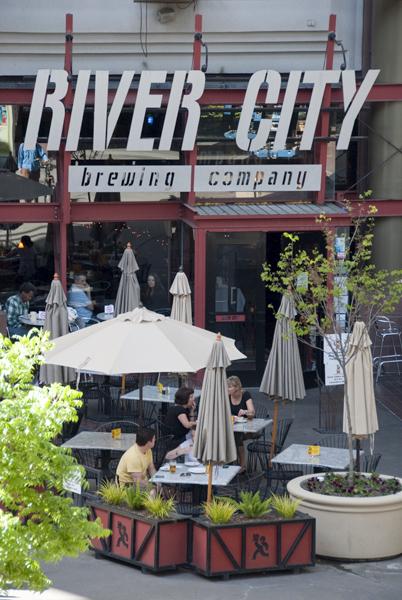 RUBICON: 2004 Capitol Ave.
Rubicon Brewing Company has created a reputation for itself by experimenting with brewing.
"I feel like I'm a mad scientist and the brewery is my lab," said Alfred Griffin, a brewer at Rubicon. "Good brewing is like art and science mixed, if you focus only on science you'll never get anything out of the ordinary, if you focus only on the art you'll never make drinkable beer. Working here we get to find a balance between the two."
The brewery's experimental beer has led them to create many award winning beers like their India Pale Ale, which won gold medals at the Great American Beer Festival.
The brewery opened in 1987 and since then has become an active part of the Sacramento community. The pub holds events like Oktoberfest and celebrations on St. Patrick's Day that draw a lot of business, Griffin said.
ORIGINAL BEERS
Chech Pilsner: Is made of imported European malts and hops.
Amber: Crafted from a blend of three malts and imported German Hops.
Oatmeal Stout: Brewed with roasted barley and flaked oats, and a healthy dose of Cascade hops.
Monkey Knife Fight Pale Ale: An American Style Pale Ale. Made with Crystal Malts and just enough Mt. Hood hops in the finish.
India Pale Ale :Made with portions of Cascade and Chinook hops.
RIVER CITY: 545 Downtown Plaza
Inside the K Street Mall, is one of the few micro-breweries left in town, River City Brewing Company, opened in 1993. Brian Confresi, brewer, said the brewery is one of the only breweries in Sacramento that still uses California-grown wheat in their beer.
River City has a complex two-part brewing process that draws in crowds of white-collar workers and mall shoppers daily.
"When we first opened business was booming because the mall had a nightclub inside of it, things have simmered down since then but it's still a nice area," Confresi said.
River City brews six original beers and holds happy hours from 3 to 6 p.m. Monday through Friday, when all pints and house wines are served for only $3.25.
ORIGINAL BEERS
K Street Kolsch: A light yet flavorful beer with a crisp and clean citrus finish. This is a German-style ale that tastes like a lager.
Hefewizen: Bavarian-style Hefewizen and has more spicy flavors than most wheat beers; unfiltered and has hints of clove and banana.
Cap City Pale: Golden colored with a crisp, malty taste; a fresh take on the American pale ale.
Black River Stout: A dry stout in the Irish tradition, served with a nitrogen dispenser for a creamy head.
HOPPY: 6300 Folsom Blvd.
Hoppy Brewing Company opened in 1999. Located near Sacramento State, the brewery has a consistent flow of customers that change faces every four years, said Troy Paski, founder of Hoppy Brewing Company.
Consistency is an ongoing theme at Hoppy, Paski said. Beer is usually all made the same with four main ingredients: hops, water, grain and yeast.
What sets Hoppy brewers apart is their ability to keep the taste of their beer consistent, which requires a great deal of concentration to small details while producing the beer.
Ernie Felix, a regular customer at Hoppy, said he has a mug engraved with his name at Hoppy. Hoppy gives out a self-titled mug to each of its club members who pay $50 annually.
This membership also gives them up to 25 percent more value on pint beers. The brewpub participates in charity events like on April 10 when they raised money for Multiple Sclerosis.
The brewpub holds daily happy hours from 3 to 6 p.m. and a late-night happy hour from 9:30 p.m. until closing.
ORIGINAL BEERS
Golden Nugget Cream Ale: Ale beer fermented with ale yeasts at lager temperatures to produce a smooth brew. The beer is balanced with Munich Malts.
Liquid Sunshine Ale: Features a dose of Crystal hops that lend a grapefruit-like flavor. Brewed with barley, wheat and rye for a dry multigrain complexity.
Hoppy Face Amber Ale: Amber ale with caramel malts.
BREW IT UP: 801 14th St.
Brew It Up! is a fun-filled brewery that offers one thing the others do not: a chance for customers to come in and brew their own beer.
The small brewpub is a favorite location for local businesses to bring their employees. With starting packages beginning at $220, the brewery offers a workshop, brewing materials and bottling of the beer.
Customers can even create labels for their own beer bottles. Each package allows the customer to create 12 gallons of beer.
Thomas Castillo, who has been working as a brewer at Brew It Up! for the past four years, said the brewpub provides an outlet for people who want to brew beer but do not want or have the money to invest in opening a brewery.
Castillo's favorite part of working at the pub has been his experience in learning.
"When people come in to brew beer we get to work with them and sometimes it's not just us teaching them," he said. "We learn things from them too and get to incorporate that into the beers we make and sell here."
Besides making beer the pub also features happy hour from 3 to 6 p.m. daily.
ORIGINAL BEERS
California Common: Made from pale two-row malts, American-grown British hops and California-style hybrid yeast.
Wet Dream: Made with Coriander, orange peel, local orange blossom honey and cracked wheat.
Irish Amber: Made with high roasted caramel malt, pale two row malts.