Women?s indoor track team wins Big Sky Conference championship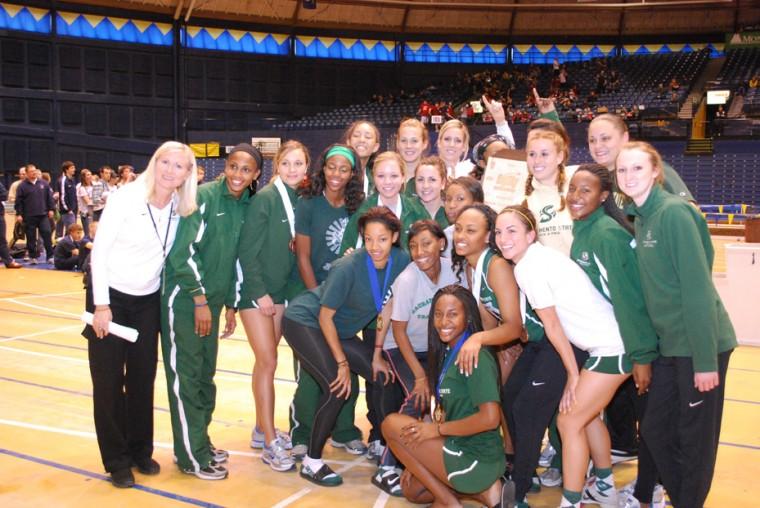 The women's indoor track and field team set a school record Sunday by scoring 167.5 points, beating second-place Northern Arizona University by 76.5 points in the Big Sky Indoor Championship.
The Hornets scored points in all but one event and had five women win their respective events, giving the team its second Indoor title in three years.
Head coach Kathleen Raske has coached the Hornets for seven seasons and was thrilled with the results.
"Our women just dominated," Raske said. "They knew they would be the team to beat and they came out of the gate with barrels loaded."
During the first day, Naima Goodwin and Moria Robinson managed to tie in the high jump, becoming co-winners. Goodwin also got second in the pentathlon with 3,691 points and helped put points up on the board in two events in the meet.
Ericka Violett went into the Big Sky Indoor Championship to defend her long jump title from last year's meet. Violett jumped two inches farther than the second-place contestant to earn her back-to-back title.
"It was awesome to repeat. It's something we always talk about during the season," Violett said. "I'm so proud of our girls team."
Sakya Bolton won the 55-meter hurdles with a time of 7.94 seconds, while her teammate Renisha Robinson took the 800-meter title in 2:11.32.
Triple-jumper Nicole McGlory leapt into the record book with a jump of 40-07, third-best at Sac State.
The women competed and scored points in many events.
"We had a lot of girls who were able to do more than one event," Violett said. "Our coaches do a good job of strategizing to get the most points during the meet."
The men scored 113 points throughout the two days, coming up 19 points behind Northern Arizona and 14.33 points behind second-place Montana State University.
Ronald Brookins led the Hornets both days, claiming the long-jump title during the first day while breaking the school record in the 55-meter hurdles on the second day with a time of 7.28 seconds.
Raske said Brookins had a standout performance and with his hurdle time of 7.28, Brookins now has the 12th-fastest time in the nation.
Assistant coach Scott Abbott praised the men's third-place finish, as they competed against fully funded programs and did not have a deep lineup.
"Our score of 113 points would have been good enough to win any other year," Abbott said. "That was a sign that our guys really stepped up."
Andy White took first in the 55-meter dash with a time of 6.42 seconds. White, Brookins and A.J. Reed were part of the Hornet sweep of the 55-meter dash and gave the team some much-needed help.
"It was an incredible sweep and it takes a lot of hard work," Raske said. "During finals, everybody had to execute."
The teams will participate in Last Chance Meet in Seattle to try and qualify for the NCAA Indoor Championships on March 12.
Marshall Hampson can be reached at mhampson@statehornet.com