Puppets, stilts and props, oh my!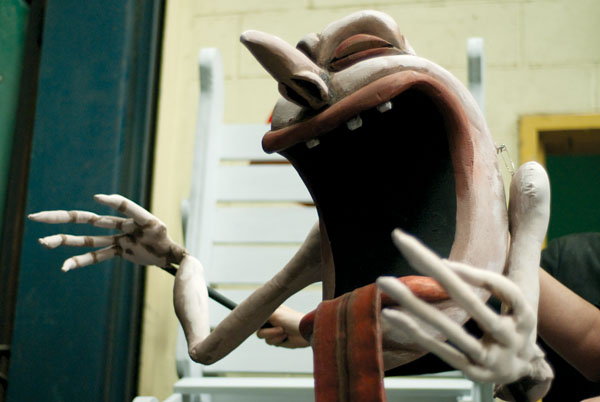 On Friday night, lights from the center of Sacramento State's University Theater stage bounced off soft white drapes that dangled from the ceiling.
Musical sounds took cue as a clan of performers marched slowly onto the stage holding candles and softly singing a Latin melody.
Then suddenly, the show jolted – a lost young woman came to the front of the stage searching for answers on how creations on Earth transform from one state to another.
These are the kinds of answers given in Mary Zimmerman's award-winning play, "Metamorphoses," which is being shown at Sac State this month.
The play explores the progression of humans as they set off dealing with different emotions and desires.
Zimmerman inspects these desires and emotions by mixing the rational with the irrational and reality with fantasy.
Richard Bay, director of the play, said Zimmerman based the play on Greek myths as written by Roman poet Ovid.
He said Zimmerman gives these myths a twist by giving characters modern mannerisms.
"The play has traditional Greek myths, like that of King Midas and his touch of gold and Orpheus and Eurydice and their journey of the underground. It also reflects today's society," Bay said. "If you think about King Midas, and examine what kind of characters we have today that behave like that you can find that, we have a lot of politicians and businessmen for whom gold comes first."
Other traits of today's society seen in the play include Aphrodite, the goddess of love, smoking a cigarette.
These modernizations of the Greek myth make the play more relatable for today's audiences, Bay said.
One member of the audience, Robin Aurelius, a retired professor, said he thought the playwright took a good look at what was happening in the myths, extracted the essential lessons and portrayed them perfectly.
He said the script was strong because it explained the story from various angles.
The play's inventiveness gave him appreciation of myths that he never understood or tried to understand before, Aurelius said.
"I've seen other plays and I've always been bored. I give "Metamorphoses' five stars. Everything worked for me. The music was right there bringing me along with bass. It was more than I ever expected in terms of myth," Aurelius said.
Bay said the production is more lyrical than literal so it was more difficult than usual to bring characters' emotions to life.
"We had to use a lot of narrative; we don't usually do narrative work a lot as an actor," he said. "So the actors couldn't really use their words to portray the emotion they just had to wear it on their face."
In each scene of the play, instead of dialogue, the actors would be accompanied by other actors who would provide a narrative voice.
Experimenting with narrative was not the only hurdle the cast of the play had to overcome, Bay said.
When Zimmerman originally directed the play, she had a pool of water onstage for the actors to perform in, which brought the play to life by making it visually abstract.
Unfortunately, Sac State was at the disadvantage of not having the resources to create such a pool.
Therefore, the production team had to look for different ways to make the play visually abstract, Bay said.
"The most challenging thing about this whole production was just doing it and not relying on a set way of doing it. It also made it more exciting that we weren't just doing something that someone else has done before," Bay said.
The cast was three times the size of what is regularly needed to perform the play, Bay said.
They put their creative minds together and from scratch, sketched and created 3-D puppets, hand-painted canvases, created costumes and filmed footage for the projection screen.
In addition to their own creations, they also had original choreography and music to learn.
Bay said, overall, the show has been a huge collaboration between himself and the cast. The students have been responsible for a lot of the designs in the show, he said.
Christopher Carlson, senior theater major and puppet designer, said he has spent most of his waking hours working on the production of "Metamorphoses."
"The idea of having an audience take time to see your show makes you want to give them the best show you can," Carlson said.
Morgan ManFredi, production stage manager, said although it was difficult to get all the individual creative ideas to come together as one, it was possible because Bay brings in talented people.
ManFredi said Bay was a perfect candidate to direct the play because he listens and collaborates with who he is working with.
"Students perform better when they have a director like Richard. We all come in on our off hours and work for him," ManFredi said.
This was Carlson's third show with Bay, he said, and every show he has done with Bay has been artistically and visually challenging.
"If Richard does a show, you have to be in it," Carlson said.
Carlson said "Metamorphoses" is an ensemble so it has allowed the actors to see themselves as a team and feel like the have equally contributed to the show.
"All the work is worth it. The show is like nothing I've ever seen before, "Metamorphoses' will make audiences love theater," Carlson said.
Author can be reached at [email protected]