International dance festival brings folk dance to campus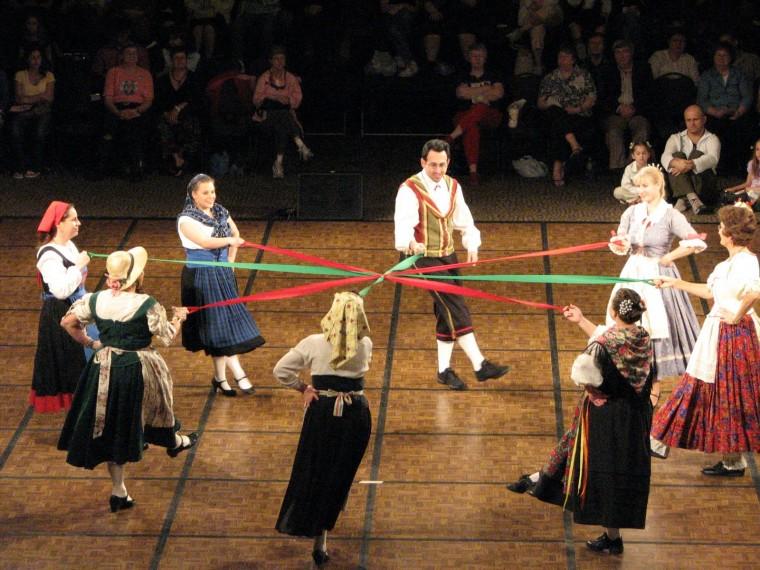 In a celebration if its diverse student population, Sacramento State and The Sacramento International Folk Dance Council have teamed up to hold the 54th Annual Camellia International Festival on Friday and Saturday in Sac State's University Union Ballroom.
"This festival is a great way for students to learn about different cultures through dance and music," said Toba Goddard, chair of the Sacramento International Folk Dance Council.
Goddard said because of the decay of cultural diversity nowadays, events like the Camellia Festival are important because they restore lost traditions.
"Fabricated cultures have spread throughout the world and everything is beginning to look and feel the same," Goddard said. "It seems that international dance is one of the few places different cultures are being represented anymore."
Goddard said the Camellia Festival was named after a 17th century Moravian Jesuit, Georg Josef Kamel; the festival started out with a number of different features like flower sows, a camellia queen contest, a camellia ball and a children's parade.
Goddard said Sacramento's fondness of the camellia led to the City Council taking it up as the city flower in 1955.
"The festival is celebrated annually during the month of March, when the Camellia flower suitably begins to blossom," Goddard said.
Goddard said the first festival she attended was in the Memorial Auditorium in Sacramento, when she was a teen in the early 1960s.
She performed in front a full house, she said.
Since then, Goddard said, she has seen the number of attendees become smaller and smaller over the years.
Fortunately, she said, the festival has found new ways to keep itself alive.
Previously the festival was more of a performance but now it has been transformed into more of an interactive dance lesson, Goddard said.
"Over the last several years, since we've brought mastered teachers in, the festival has started to grow again with increased participation," she said.
Goddard said the growth and culture shift among generations could also be the cause for reigniting an interest in international dance.
"When the generation before last came to America, they wanted their children to adapt to the American culture. They wanted them to learn to speak English, and tried to avoid speaking the language or customs of the old country," Goddard said. "Now the children of those kids want to know what their old countries were like. There is a renewed interest and international dance is one way to get that."
Last year, Sac State gathered a crowd of 700 people for the Camellia Festival, said Zenia LaPorte, UNIQUE programs adviser.
They are expecting a crowd of no fewer than 400 to attend this year.
"We reach out to different departments, create press releases and have professors encourage their students to go – we also have web promoting and reach out to other dance communities to make this event possible," LaPorte said.
Goddard said the council has chosen Yvonne and Andre Couvillion,
Ryan and Dani Sandler and Jaap Leegwater to teach in the dance workshops this year.
These teachers have put together various dances that will represent different aspects of foreign cultures.
"Jaap Leegwater is doing a Bulgarian dance. You may not go to Bulgaria and find these exact dances, but you would see forms of them because there are typical Bulgarian dance moves in each routine," Goddard said.
She said the dance moves being performed are taken from everyday rituals that describe the countries' ways of life.
"Dances may have very old dance steps that were used to celebrate weddings or births, or working or even going to get well water. All these thing may be represented through the dances," she said.
Yvonne Couvillion, a regional teacher of international folk dancing, has been dancing with her husband Andre Couvillion for nearly 20 years now.
The couple said although they have not been able to travel farther than Canada and Mexico, they feel they have gotten a good sense of the world through dance.
"International folk dancing is a way for us to see the world without leaving home. You learn a lot about the countries that you learn the dances for," Yvonne Couvillion said.
The Couvillions said they will be teaching couples dances from various locations, including Israel, Scotland, England, Mexico, Cuba and Texas.
Goddard said being fun and energetic are two factors the Camellia festival is known for.
"Besides presenting and keeping ethnic dances alive, the festival doesn't have a political agenda, and that's what makes it special. It's one of the few things that everyone can gather in and join, no matter what their beliefs are," Goddard said.
This year's festival features a master teacher from Holland teachingBulgarian Dance (Jaap Leegwater) on Saturday afternoon and a lively and popular Balkan dance band named Chubritza at the festival's Saturday night party.
The Concert will include 13 performing dance groups from countriessuch as Serbia, Egypt, Austria, Italy, Russia, Ukraine and Croatia.
The Camellia International Dance Festival includes a youth workshop(taught by college students), international workshops (taught by a combination of master teachers and local instructors) and a Dance Concert which is followed by general, taught, easy dancing.
All events are in the University Union Ballroom.
Youth under 18 and Sac State students with a valid One Card are free for all events.
Prices are otherwise noted for the general public. There is also a $30 special package available for all Friday & Saturday events.
Friday, March 12 6:00 p.m. – 7:00 p.m. Student Workshop- Learn the Rhythms of the World, free.7:00 p.m. – 11:00 p.m. Opening International Dance Party, $10 at the door.
Saturday, March 131:00 p.m. – 3:30 p.m. Dances of Bulgaria, taught by Jaap Leegwater, $7 at the door. 3:30 pm – 5:00 p.m. International Couple Dances, taught by Yvonne & Andre Couvillion, $7 at the door.7:00 p.m. – 11:00 p.m. Dance Party feat. Live music by Chubritza, $12 at the door.
Sunday, March 141:00 p.m. – 3:30 p.m. Camellia International Folk Dance Concert- $10 at the Union Box Office.3:30 p.m. – 5:00 p.m. Easy Dance Lessons, free with admission to the International Dance Concert.
Author can be reached at [email protected]