Women's tennis beats Davis, 6-1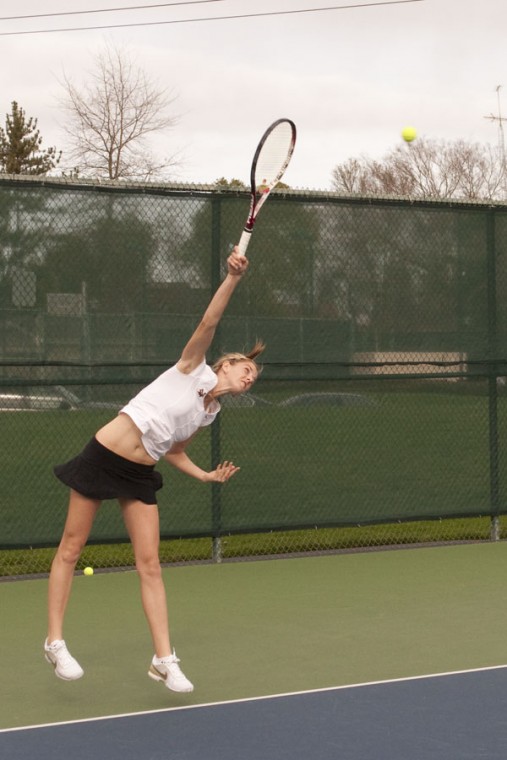 Sacramento State women's tennis team beat rival UC Davis 6-1 today at the Rio Del Oro Racquet club.
The 59th-ranked Hornets started off the match well, winning all three doubles matches to give them an early 1-0 lead.
No. 1 doubles Katrina Zheltova and Clarisse Baca def. Herzyl Legaspi and Desiree Stone 8-5 while the No. 2 pair of Rebeca Delgado and Tatsiana Kapshai won their match 8-2. Gayane Sarkisian and Aileen Tsan won the No. 3 doubles match 8-1.
The singles matches followed, and the Aggies didn't make it easy for the Hornets. Sac State was quite shaky in the first couple of games in the first set.
"It was tough at the beginning of a couple of (singles) matches," said Hornet head coach Dima Hrynashka.
The Hornets stayed strong and had Baca win over Curry for the first singles point, 6-0, 6-1 in the No. 4 match. Delgado also managed to get her win easily over Legaspi with a 6-3, 6-1 victory at the No. 3 singles. Tsan then defeated Eldes at the No. 5 slot with a 6-3, 6-2 victory.
No. 2 Kapshai rallied back from being down a set to win the match over Zamudio 3-6, 6-2, 6-0. But the real story of the night was 26th-ranked Zheltova beating out Stone in a second-set battle.
Zheltova said she didn't play her best game, especially in the second set. She also battled an illness during the match. Zheltova ended up winning the match 6-3, 7-6 as the Hornets move up to a 4-2 record overall.
"The team is getting stronger every match," Baca said. "We're looking forward to playing Washington because they're our rival."
Sac State also increased its lead in the Causeway Cup standings. It now leads UC Davis, 42.50-33.67 with 10 games remaining across various sports.
The women's tennis team returns to action on Feb. 20 at the University of Washington at 10 a.m.
Marshall Hampson can be reached at mhampson@statehornet.com