Men's rugby loses to Davis, 34-5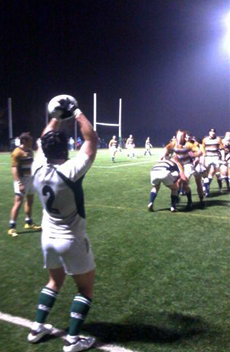 Sacramento State men's rugby club lost to rival, 16th-ranked UC Davis, 34-5, on Friday night at Granite Regional Park.
As soon as the opening kickoff was underway, both teams came out more physical than usual, as the rain came pouring down.
"It was really intense out there and lots of emotion," said Sac State fullback Nic Muhn. "This was a big rivalry game. It's a hard loss."
The game kept the physical play and stayed scoreless until flanker Gio Troja got the Hornets on the scoreboard, 18 minutes into the game.
The Aggies rallied right back with a quick tri of their own as the momentum started to shift in the Aggies direction.
Less than five minutes later, the Aggies scored again, making it 12-5 going into the half.
As the second half got underway, the rain fell harder and made it difficult to move the ball.
"You gotta just concentrate on that ball," Hornet flanker Mark Pimentel said. "It's usually tighter play and not too spinning out wide."
UC Davis kept knocking Sac State off their game plan and forced turnovers multiple times when the Hornets got close to scoring.
"We got away from our game plan," said head coach Justin Prichard. "They kind of relied on their old habits and got away from our game plan we've been working with for the last week and half."
The men's rugby team returns to action Feb. 6, when it travels to Saint Mary's College for a 1 p.m. meeting.
Marshall Hampson can be reached at [email protected]