Etiquette Dinner serves up lessons in manners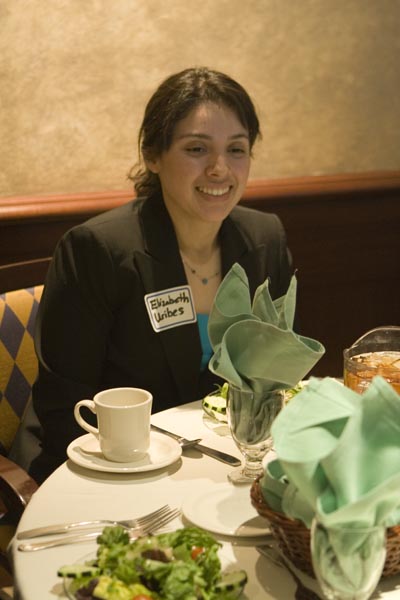 Students who think their mother's constant nagging about table manners was a ruse to annoy them may want to reconsider.
As students who attended the Etiquette Dinner hosted by the Career Center learned, knowing the rules of business dining could be the difference maker toward landing that dream job.
Jessica Wilbur, promotion and events specialist for the Career Center, said that when it comes to etiquette, many students do not know how important it is in a restaurant interview.
"A lot of students don't have the experience of being in a dining situation with an employer they are working for, or may work for in the future. Good etiquette displays a different way somebody may carry themselves," Wilbur said.
Table manners were a major point addressed during the dinner. Students also learned what to wear to an dinner interview, as well as what wine to drink with chicken, red meat and fish meals.
Guest speakers advised students to always wait for your host to sit before you sit down at the table, always put napkins on your lap, sit up straight and above all, use moderation.
A student's future manager or boss does not want to see somebody overindulge themselves, as it shows that they have no self control, said Suzi Potts, director of recruitment at Southern Wine and Spirits.
Potts wanted to get students in the know to let them feel competent and wine savvy in the presence of an employer.
"We want to make sure that you (employees) have a peace of mind when it comes to putting networking, wine and food together," Potts said.
The floral arrangements and crystal glasses on the table let the approximately 40 students attending know that the meal was to be strictly professional.
Students in attendance felt that the dinner would help them to get used to being in a professional atmosphere, not just in the office, but in a dining environment as well.
Senior accounting major Elizabeth Uribes came to the event because she wanted her future employer to get a good impression of her.
"(Etiquette) is important because it reflects your behavior and mannerisms," Uribes said. "If a person is tidy, it will reflect how you are in the working field."
This dinner is in its fifth year and is organized to help those who are looking for a job to interview in a more comfortable manner.
Vanessa Johnson can be reached at [email protected]