EDITORIAL: Facing two years in exile, the Hornet fights to stay on campus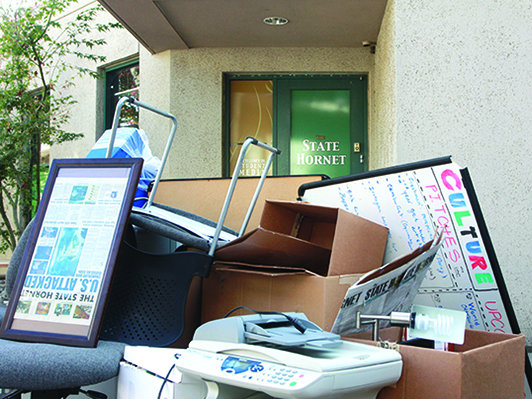 State Hornet
November 15, 2016
Read letters of support from professional journalists and State Hornet alums.
The State Hornet is at serious risk of being moved off campus in a decision that will decimate our ability to cover your campus as it deserves to be covered.
The current newsroom, located in the University Union, is going to be demolished at the end of this semester to make way for an 18-24 month construction project. Several other campus organizations and facilities are being moved, but The State Hornet is the only one being moved off the Sacramento State campus.
At worst, this demonstrates the administration's desire to keep student reporters at arm's length, and at best shows its ignorance of the importance of a free student press to the students it serves.
The State Hornet already pays $21,000 annually to the University Union for space, which we will continue to pay during our exile in addition to improvements we will have to make to the new space that awaits us in Folsom Hall.
It's imperative that you — who along with your 30,531 peers and classmates pay $165,000 per year for a student newspaper — have an independent voice and platform on our campus where you can make your voices heard and where we can keep the administration honest and accountable. 
"Now more than ever, the next generation of journalists and media workers must be ensured adequate education and training."
In moving The State Hornet off campus, reporters will be limited in being able to respond to and report on breaking news. The 30-40 minute round trip alone will result in newsworthy situations being over by the time a reporter gets there, or the matter being 'resolved' by police without any eyewitness being available to us.
The concept of The State Hornet moving to Folsom Hall is as ludicrous as the concept of The Sacramento Bee working from Folsom, California.
If we had not been on campus, we may not have known about dangerous amounts of lead discovered in Santa Clara Hall, a protest in the wake of the police killing of Keith Scott in North Carolina, a protest by anti-abortion activists (and subsequent counter-protest) in the Library Quad, and protests just last week following Donald Trump's election to the U.S. presidency.
This not only hinders our ability to do our jobs as journalists, but as students. Some of us take full loads of classes and would not reasonably have the ability to stop by a far-away newsroom during the day without jeopardizing making it to and studying for classes or attending office hours.
Not only journalism majors are on the staff of The State Hornet, either, but also students from 13 majors including photography, graphic design, economics and environmental studies.
Now more than ever, the next generation of journalists and media workers must be ensured adequate education and training.
Established newsrooms and newspapers are closing their doors because those newspapers are rapidly losing income. How are investigative stories such as the Washington Post's reporting on Watergate or the Boston Globe's Spotlight series going to be done without the resources a newspaper provides?
The president-elect of the United States has banished reporters to press pens and singled them out for the derision of the crowd. How can the press do the best reporting it can on a presidential election in an environment like this?
Whether or not Sacramento State intends to be party to this disturbing pattern that is undermining our free press, it is still moving us away from you, the students of this university, and the stories that matter to you.
Doing so not only casts doubt on whether this administration wants the next generation of journalists to be "Made at Sac State," not only whether it takes the fees you pay for a student-run press seriously, but indeed whether it takes journalism's crucial importance to our democracy seriously in a time when the profession is under attack.
The State Hornet is being faced with an ultimatum from the University — exile to Folsom Hall, or nothing.
This is your money. This is your newspaper. This is your voice. Now is the time to use your voice.
President Robert Nelsen can be reached at [email protected]. His phone number is 916-278-7737.