UPDATE: Oct. 14, 7:17 p.m. This story has been updated to reflect that Sacramento State student Kya Hunter was responsible for organizing the event, and not the Black Student Union, as previously reported.
A demonstration addressing police violence and systemic racism toward the black community drew over 100 students, staff and administrators, including an attentive President Robert Nelsen, to the Library Quad on Thursday.
The event, organized by Sacramento State student Kya Hunter in coordination with the Multi-Cultural Center, gave attendees who wished to speak an opportunity to address the crowd using a bullhorn.
"They call us thugs when we protest," government major Khalil Ferguson told the crowd. He said that he gets frustrated when he hears complaints against both rioting and peaceful protests — such as San Francisco 49ers quarterback Colin Kaepernick not standing for the national anthem.
"A protest is supposed to make people uncomfortable. It's a protest. There's something wrong that we're protesting," he said.
Ferguson said that the event was intended to show solidarity with other recent protests, including those held by the Black Lives Matter movement.
"We're out here standing in solidarity with every black man for every injustice, every person that's been killed unjustly … by the police or by a hate crime," Ferguson said.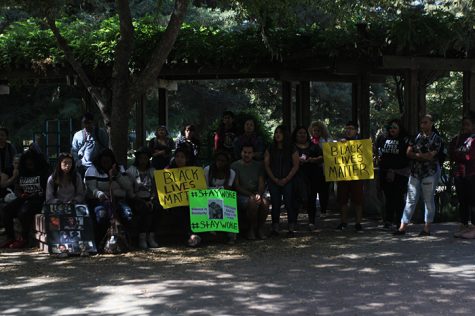 The open-mic-style event was intermittently paused to allow Hunter to read the names of people who've recently been killed by law enforcement officers.
Nick Harris, a business major, talked about Tuesday's shooting of Keith Scott by police in North Carolina that sparked nationwide protests and a riot Wednesday that lead to 44 arrests and one death.
"You see this countless times where a white assailant has arms and creates a risk and (police) take him down with (non-lethal) methods but someone who is black or a person of color, they use lethal force," Harris said.
Harris was there with his friend Isaiah Alexander, the vice president of the Black Student Union. Alexander spoke for six minutes about his interactions with police both in Los Angeles and Sacramento.
When asked why he came to Wednesday's protest, he said, "numbers. We need numbers. We need to participate in engagement and dialogue. I support my people. That's what I'm here for."
Prescott Edmonds, a senior and psychology major, quoted Martin Luther King Jr.'s "I Have a Dream" speech, saying that what King was talking about in 1963 is still relevant today.
"I woke up this morning and realized I'm part of the problem because I've watched this happen and haven't done anything until now," Edmonds said. "I was sitting down watching (Hunter) break down into tears and it was then that I realized I could no longer sit down and watch."
President Robert Nelsen watched the protest from a bench in the quad for about two hours. He had been attending a graduation initiative meeting in Long Beach, but flew back to Sacramento when he was notified of the planned demonstration.
"My students are important to me and I wanted to hear what they had to say," Nelsen said. "There is a lot of pain out there, there is a lot of sadness, but there's also a really strong sense of community."