Ribbon cutting opens Golden 1 Center basketball arena to Sacramento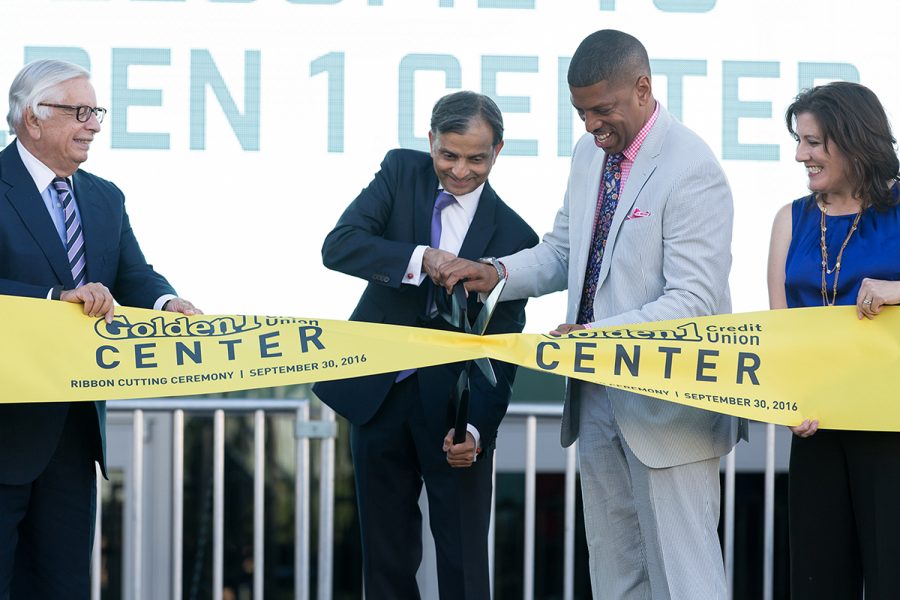 Sacramento Mayor Kevin Johnson was up all night prior to the Sacramento Kings' Golden 1 Center ribbon cutting ceremony on Friday, thinking to himself that "nobody thought we would be here."

After years of rumored relocation, the Kings basketball organization found a new home — not in rumored locales such as Anaheim or Seattle — but at 500 David J. Stern Walk in downtown Sacramento.

"This moment was not supposed to happen," Johnson said to a crowd of media, community leaders, elected officials, Kings owners and personnel. "It was the longest of longshots, but we as a community rose to the occasion for one of the greatest comebacks for the ages."

The resurgence began with former NBA Commissioner Stern — who is the namesake for the address of the 17,500 seat, $557 million arena — as he worked tirelessly with NBA owners, Kings owner Vivek Ranadive and Johnson.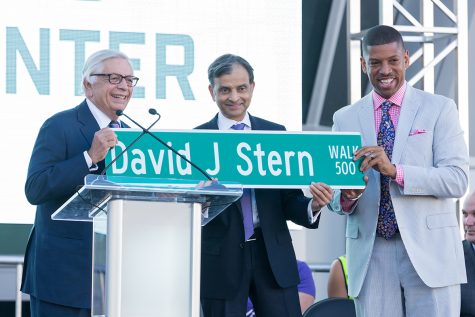 "The mayor was willing to bet the farm and he really went out there and it turns out that this arena is not going to cost the city anything because of the payment from the Kings together with the additional tax money that's being generated by a rejuvenated downtown," Stern said after watching Ranadive and Johnson cut the Golden 1 Center ribbon.

The list of attendees watching the ceremony included former Kings' owner Gregg Lukenbill, who originally introduced the team to Sacramento after leaving Kansas City in 1985, and Sacramento State President Robert Nelsen.

"This is an important day for Sacramento," Nelsen said. "Now not only are we revitalizing downtown, but we're making a major statement about what the city is and who we are. It's about Sacramento proud and I'm proud to be a part of Sacramento (and) a part of Sacramento State."
Kings Owner Vivek Ranadivé makes it official and cuts the ribbon @Golden1Center. Confetti is flying. @TheStateHornet @Cowbell_Kingdom pic.twitter.com/zamZVl0aTU

— Angel Guerrero (@AngelGuerrerooo) September 30, 2016
Also with Nelsen was former Sac State communications student and Sacramento Bee President Cheryl Dell, who's witnessed the turmoil for the past eight and a half years in what she considers her hometown.

"You know it's a dream come true," Dell said. "If you think back to where we were a handful of years ago — wondering what the fate of this community was going to be like without the Kings because there was a very real danger of them leaving at the time and you flip to today — it is the realization of dreams as commissioner Stern said last night: 'we couldn't have even imagined.'"
Current Sac State men's basketball players, such as senior center Eric Stuteville and junior forward Justin Strings, will do more than imagine, as for the next four years the Hornets will play against crosstown rival UC Davis on Nov. 21 in the annual Causeway Cup at Golden 1 Center.
"It's an honor to be a Sacramento school and to come out and represent should be a lot of fun playing against UC Davis," Strings said.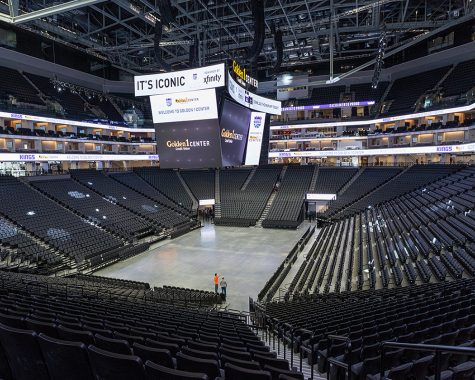 Stuteville, who grew up attending Kings games at Arco Arena as an Orangevale native, remembers the atmosphere of day's past and hopes to experience the same on his favorite team's home court.
"I remember playing in high school, the challenge was always to get to Arco and I never got to play there so playing at the new Kings' arena should be something very fun for myself and also everybody on the team," Stuteville said.
For now, the Golden 1 Center has kept itself busy with a turnout of nearly 100,000 fans at Saturday's fanfest, a Paul McCartney concert for the opening act on Tuesday and the Kings' home opener against the San Antonio Spurs on Oct. 27.
"I said that it was going to be bigger than basketball," Johnson said in regards to the new arena's impact on the community. "It was about job creation, it was about economic development, it was about the revitalization of downtown, it was about creating an economic civic space that was uniquely Sacramento."